With National Signing Day complete, scouts and college football fanatics are already looking at the top high school recruits for the Class of 2014 season. Past No. 1 overall recruits like Jadeveon Clowney, Dorial Green-Beckham and Robert Nkemdiche have all become national names before playing a down in college.
Here's a look at five players that could be the heir to current top recruit Robert Nkemdiche's throne.
Da'Shawn Hand (DE)
Hand, a senior from Woodbridge H.S. in Virginia is currently the top recruit for 2014 by Scout.com, Rivals.com and 247Sports.com. Like Clowney and Nkemdiche before him, Hand is a man child. Listed at 6'5", 247 pounds and with a 4.6 40 time, the defensive end had a ridiculous 110 tackles in 2012, 40 for a loss, 16 sacks and 3 fumble recoveries. Hand took to Twitter to reveal his top-five schools: Alabama, Michigan, North Carolina, South Carolina and Virginia Tech.
Leonard Fournette (RB)
MaxPreps' No. 1 overall recruit, Fournette is coming out of St. Augustine High School in New Orleans, LA, and already has a college build and unusual speed for his 6'1", 232 pound frame. In 2012, Fournette rushed for 2,136 yards and 31 TD, all while averaging 11.2 yards per carry as a junior. There is talk Fournette could be an even better prospect than fellow Big Easy native and NFL Hall of Famer Marshall Faulk and MaxPreps' Tom Lemming has compared him to Bo Jackson. "He is powerful, but he also has the speed to turn the corner. Effortless is the one word that comes to my mind," said Jason Howell, an analyst at Rivals.com. Some of the schools he's believed to be favoring are LSU and Alabama.
Cameron Robinson (OT)
We might need a birth certificate to prove Robinson isn't actually 35. A five-star OT recruit out of West Monroe, LA, Robinson looks like he's been doing this for a long, long time. He's a junior in high school but his 6'6", 330-pound build give him a professionally intimidating presence on the field. "He already has the size to be an elite offensive tackle in the NFL, let alone in college football," wrote Andrew Kulha. Robinson is reportedly looking at Alabama or LSU for 2014. You better believe LSU head coach Les Miles is already drooling over the prospect of Robinson blocking for Fournette next year.
Jabrill Peppers (CB)
Peppers is currently the No. 2 overall recruit in the nation according to Rivals.com with NFL-ready size (6'1″, 210 pounds) and speed (4.4 40). Peppers not only stars on the football field as a dual-threat corner and running back (1,552 rushing yards and 18 touchdowns as a junior), he holds a New Jersey state record in the outdoor 100-meters (10.77 seconds). Drawing comparisons to former Florida star Joe Haden, Peppers has already received offers from blue-chip programs like Alabama, Florida, Michigan, Notre Dame, Ohio State, Rutgers, South Carolina and UCLA.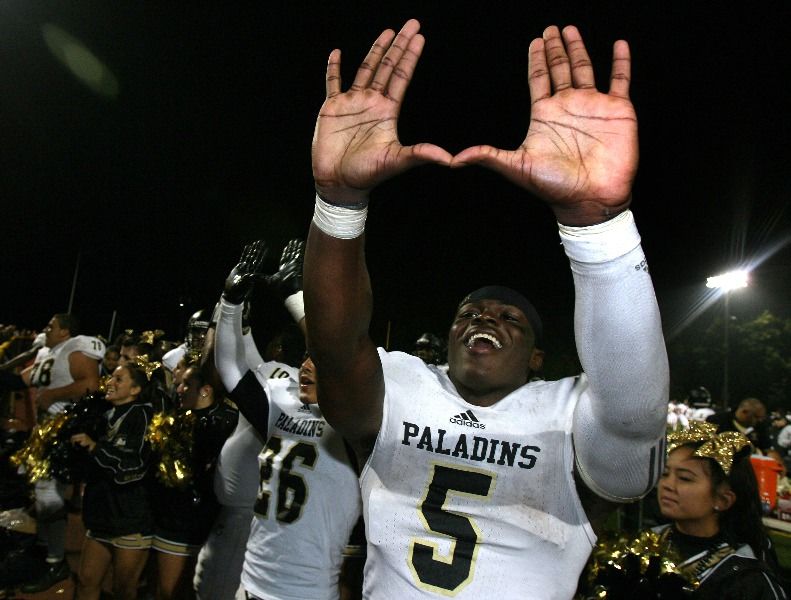 Andrew Brown (DT)
Andrew Brown is a massive defensive tackle recruit from Chesapeake, VA with an excellent first step. At 6'4", 285 pounds, Brown showcases intimidating run defense and a knack for locking out and anchoring against offensive linemen. Brown had a stellar 2012, with 82 tackles (12 for loss) and four forced fumbles. He's listed his final 10 schools as Ohio State, Michigan, Virginia Tech, Virginia, North Carolina, Clemson, Florida, Florida State, Alabama, and Georgia Tech.