In light of Nike's tour-de-force through college hoops and its unis, we examined the sport's Top 10 uniforms in their traditional form on Thursday. But not all the threads in college basketball are easy on the eyes.
We examine the Top 10 worst uniforms from BCS conferences.
.
10. Seton Hall
Not even Somali pirates would be caught wearing these. Like other Adidas uniforms on this list, the look is just very cheap with the awkward font and massive blue collar.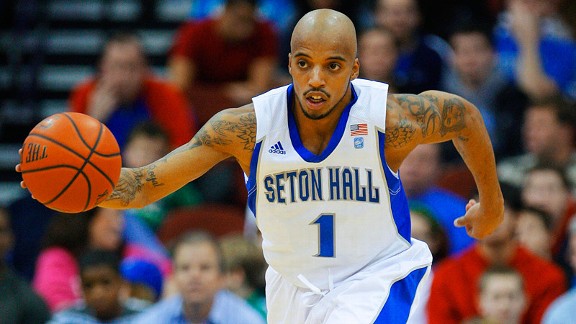 .
9. Texas A&M
We love Texas A&M's maroon color but these uniforms are just so poorly done by Adidas. The school name is located too low, the font is too big and cheap looking and the whole thing is a rag-tag look. We know that football is king at A&M but there's no reason for the basketball team to look like this.
.
8. Boston College
Boston College has a rich basketball history from the days of it being coached by Bob Cousy to when Troy Bell was the best player on the floor for either team on most nights. But the Eagles – who have played in both the top-flight Big East and ACC conferences – have such low-rent uniforms. For starters, there is a color clash with the dark red and gold that look as if two random paint cans fell on the uniforms. And here's another thing, B.C., shrink the size of "Boston College" on the jersey, it's way out of proportion.
.
7. Louisville
We guess we should just be thankful that the Cardinals don't show up in white suits like Rick Pitino. But these uniforms are bad. As much as we would like Kansas to return to its "circus font," we hope that Louisville retires whatever that is on its chest. It's not working. To make matters worse, there's a weird disconnect going on with uniforms' collars. We know that the school is always in competition with in-state rival Kentucky, which we have on our list of the best uniforms in college hoops. Step up your game, Louisville.
.
6. USF
The actual composition of the Big East's basketball conference going forward is still up in the air. But South Florida must realize that it's not in Conference-USA; this is the big time. The Bulls have to dress the part. We can barely live with the "U" that has bull horns and the rest of the unis just don't work, starting with the font. Everything about them seems a bit oversized – like threads on a high-school player who has yet to grow into his body. It's time for South Florida to grow into major-conference basketball.
.
Pages: 1 2