Sometimes, a blast from the past is necessary. After looking at the 20 best college football helmets, we are now counting down the top 10 retro college football helmets that should make a comeback based on their looks, history and tradition.
.
10. Duke (1966-1969)
Just like the stereotype of Duke itself, the Blue Devils' current helmets are a bit boring and upper crust. The block 'D' does nothing for us. Now, if Duke wants to spice things up, it should bring back its lids from the late 1960s.
The helmets had an intimidating blue-faced devil who popped off the white background. Sure, it was a little sadistic looking, but they are the Blue Devils after all. Duke's nickname, though, was a nod to a French army battalion during World War I and has nothing to do with Lucifer. But if Duke ever wants to makeover their program and actually – you know – win games, they can start by using this menacing logo on their helmets.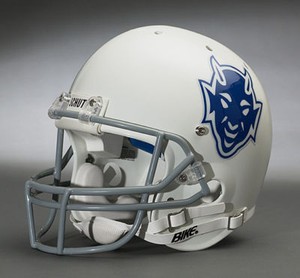 .
9. Marshall (1971)
Most of the time, Hollywood ruins things, but "We Are Marshall" did a good job of striking a nostalgic chord in more ways than one. For uniform lovers, it was the sight of Marshall's old helmets, which sported a prominent "UM" and a fierce, galloping buffalo on the helmet.
It was a tragic time in Marshall history after the 1970 plane crash, but it turned out to be an era that defined the program. The classic helmets represented the school's fighting spirit on and off the field in 1971 but were inexcusably worn for just one season. Anything is better than Marshall's current cookie-cutter block-letter helmet.
.
.
8. West Virginia (1970-1979)
When Bobby Bowden swooped into town in 1980, he added some spice to West Virginia's bland look. He got rid of the Mountaineers' blank white helmets in favor of ones that featured a giant blue state of West Virginia behind a football with the initials "WVU" inside of it. We know what happened to Bowden, but why did his helmets last only to a decade?
In January 1980, Don Nehlen, two coaches removed from Bowden, said he couldn't tell WVU apart from its opponents on game tapes, so he overhauled the team's look. The "flying WV" replaced it and remains an awesome and iconic look, but Bowden knew what he was doing as well. The old helmets showed how the Mountaineers carried a piece of the state out with them on the field. They should definitely be brought back on occasion – minus the stars on the front, of course.
.