Seemingly every year an unknown school pulls off a mini-Cinderella run in its conference tournament and sneaks into the NCAA Tournament field with a terrible record and even less hope of winning a game. Here are the 10 worst NCAA Tournament teams ever.
Note: Rankings based on performance throughout season and in NCAA Tournament first round.
.

10. 1961 George Washington (9-16)
After getting pummeled most of the season by teams on the East Coast, the Colonials shocked Virginia Tech and The Citadel to win the conference tournament. George Washington was so bad throughout the regular season that 11 of their losses were of the double-digit variety, including a 16-point loss to VMI. The Colonials faced a highly regarded Princeton Tigers team that mercifully ended their season, 84-67.
.
9. 1993 East Carolina (13-16)
While East Carolina's record and overall team obviously wasn't great, they made it to the NCAA Tournament because of Lester Lyons' scoring ability. The Pirates beat James Madison in the Colonial Championship, 54-49, to squeak into the tourney and earn the right to play that little in-state rival of theirs, North Carolina.
They lost to Eric Montross and the Tar Heels 85-65, which was actually pretty respectable considering the Heels won it all that year. Too bad they didn't play like that. And oh yeah, the Pirates were down 20 pretty much the entire second half.
.
8. 1996 Central Florida (11-18)
When they started the season 1996 at 2-12, including a 103-54 loss to Georgia, the Knights probably didn't expect to be dancing come March. But they did. Prior to reaching the tournament, Central Florida managed a surprising run through the Atlantic Sun Conference Tournament, toppling Mercer to gain tourney admittance.
Technically speaking, Central Florida is the only team not to lose in the NCAA Tournament on this list. Why? Because they played the infamous UMass Vacaters of 1996. They had a unique way of stopping Marcus Camby though, as he was clobbered so hard he needed four stitches and a jersey change. The Camby Man still ended up with 17 points and 14 boards in a 92-70 win.
Said Camby afterward: "Somebody stepped on me, you know, on my groin area. I got into a funk a little bit."
Hey, it was worth a shot.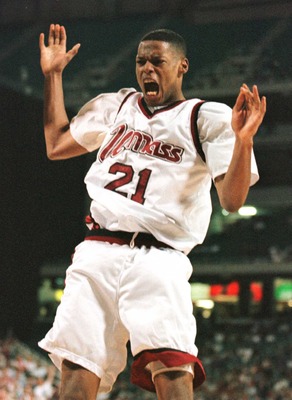 .
7. 1996 San Jose State (13-16)
The San Jose State Spartans entrance into the NCAA tournament was due to one man: Olivier Michael Saint-Jean (you probably know him as Tariq Abdul-Wahad). Abdul-Wahad is pretty much why they weren't more like 0-29, as the Michigan transfer averaged 17.2 points per game that season and put up 27 in the Big West Conference tourney final.
Of course, they lost in first round of the real tournament, 110-72, to the eventual champion Kentucky Wildcats and arguably the best team of all time, the Kentucky Wildcats. But that championship game is one reason why Championship Week is a good thing for everyone. When asked if he wished that his squad was playing on Friday instead of Thursday, coach Stan Morrison responded: "It would give us one more day of preparation but then Kentucky would have an extra day of preparation, too."
.
6. 1991 Georgia State (16-15)
The Panthers did have a record over .500 so we can't be too critical of them. But they also finished fifth in the regular season conference standings. Georgia State's defense was especially woeful, allowing 113 points and 106 points to Texas-Arlington and Butler, respectively.
After a run to make the Big Dance, Georgia State quickly proved just how much they didn't belong by losing 117-76 to Nolan Richardson and No. 1 seed Arkansas in the first round. In fact, we think the Hogs might still be scoring on Georgia State from that game. Talk about 40 Minutes of Hell.
.
.