By Jim Weber
Like most college football fans in America, the first thought in my mind when I heard that John L. Smith was named Arkansas' interim head coach last April was, "This can only end badly."
After all, this is the same John L. Smith's whose tenure as Michigan State's head coach came to an end in 2006 with him completely losing the team – and his mind.
After an 8-5 first season in 2003, John L.'s last three seasons at Michigan State were characterized by second-half meltdowns, turnovers, mental miscues and player discipline issues off the field. A woefully botched field goal attempt that ended with a block returned for a touchdown to end the first half of a game with Ohio State in 2005 summed up John L.'s tenure, including his epic sound bite while storming off the field: "The kids are playing their tail off and the coaches are screwing it up!"
In his last post-game press conference coming after a dreadful home loss to Illinois in '06, Smith talked openly about how he'd lost the team – "I don't have the answers. We can't get them to go hard in practice." – and then literally slapped himself silly at the end in what has become the enduring image of the John L. Smith Era in East Lansing.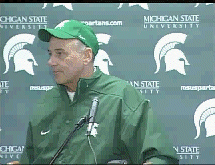 I admittedly thought the Razorbacks' hopes for the 2012 national title were dead on John L. Smith's arrival back in Fayetteville despite the fact the Hogs are absolutely loaded this season – especially at the skill positions – and have a favorable schedule for SEC West standards that includes LSU and Alabama at home.
There just appeared to be no conceivable way that Arkansas could make it through the toughest division in college football – which includes preseason LSU and Alabama as preseason No. 1 and No. 2 – plus the SEC Championship Game to be holding the crystal ball next January in Miami. I thought an 8-4 season seemed most likely.
But in the months since then, a funny thing started to happen: the shocking John L. Smith hire started to grow on me.
There was QB Tyler Wilson talking about how much motivation all the naysayers were giving the football team.
There were the SEC Media Days two weeks ago where the players spoke about John L. like he was a father figure to them. Meanwhile, Smith won the media over again with his kooky team slogan – "Get Your Piss Hot" – and knee-slapping one-liners like responding with this when asked if he would like to be Arkansas' coach after this season:
"Well, certainly. Do I look stupid? – Don't answer that!"
And last week when the Hogs opened fall camp, the team talked about how excited they were to be playing for the always-enthusiastic Smith, who called the first day the best first practice he's ever seen.
Suddenly, I found myself thinking: "Is this just crazy enough it might actually work?"
Hear me out.
John L. Smith has always been and will always be a player's coach. Personally, I think that is eventually the kiss of death because a team with a player's coach always seems to be undisciplined on the field with costly turnovers, stupid penalties and crushing mistakes during crucial parts of the game.
That being said, I do think that a player's coach can temporarily be a breath of fresh air that rejuvenates players used to an over-demanding head coach.  The best example I can think of is the marriage the New York Jets and Rex Ryan. Tired of Eric Mangini's grating style, Ryan circled the wagons in 2009 with an "Us Against The World" attitude players love and nearly led the Jets to the Super Bowl as players talked about how much they loved playing for him.
As so often happens, the care-free style of a player's coach eventually came back to bite Ryan in the rear last season as he lost control of the team.
But over the span of just 10 months – the length of John L.'s contract – I can picture John L. rallying the Razorbacks like Ryan with that same "Us Against The World" attitude by telling them that each Razorbacks win proves the critics wrong who have already left the Hogs dead for a pig roast.
Smith has literally nothing to lose this season as he will be out of this job by February barring nothing short of a national title. If he can coach with that attitude and instill that mind-set into his players that has them playing loose and pressure-free this fall, this just might work as John L. leads Arkansas to a BCS bowl.
I can already picture Smith in the locker room before the team's first game against Jacksonville State on Sept. 1 and stealing a scene from the movie Major League:
"Well I guess there's only one thing left to do: Win the whole f***in' thing."
Make no mistake: There are still big concerns. History is against John L. after his MSU demise, the defense is coming off a mediocre season and adjusting to a new defensive coordinator and no one will confuse the genius of offensive coordinator Paul Petrino with his more famous brother.
I'm not saying the John L. Smith experiment will work. I'm saying it could if he approaches it correctly.
As for John L. Smith actually (gulp) winning a national title?
Well, this is the point where I'm supposed to say crazier things have happened. But I'd be lying.
Jim Weber is the found of LostLettermen.com. His column appears each Monday and Wednesday.