The national championship game is just hours away and one of the many subplots is whether UConn coach Jim Calhoun will retire if the Huskies win tonight. If he does call it quits, it would be very un-Calhoun like. – Jim Weber
There's a laundry list of reasons for Calhoun to retire if the Huskies cut down the nets tonight in Houston.
First and foremost, he turns 69 next month, so he's only got a couple years left of coaching. Columnists like The New York Daily News' Dick Weiss are saying that Calhoun should "go out on top" like the late Al McGuire, who walked away after winning it all in 1977 with Marquette, and NFL great John Elway, who retired after winning back-to-back Super Bowls in the 1990s.
This would certainly be a storybook ending: Coming off an NIT season in which critics claimed he had lost it, the Huskies have gone on one of the greatest runs in American sports history, winning five games in five days to win the Big East Tournament and now going all the way to the the NCAA title game despite going .500 in conference regular season play.
Having said in the past he would have retired after the 2009 season if the Huskies had won it all instead of bowing out in the Final Four, logic says that winning a national title two years later would be even more reason to leave. And with Kemba Walker almost certainly headed to the NBA, the star point guard and his coach could ride off into the sunset together.
There's certainly nothing left for Calhoun to prove. He took over Connecticut in 1986 when the program was coming off four straight losing seasons and had been to the Big Dance twice since 1967. Since then, Calhoun has become a regular at the NCAA tournament and has won two national titles. A third one would only reaffirm his place as one of the greatest college basketball coaches ever.
And retiring would certainly make life a whole lot easier for Calhoun. He's already suspended for the first three Big East games of next year because of NCAA violations and with former recruit Nate Miles recently telling The New York Times that Calhoun knew of the misdeeds his program was taking part in, you can bet controversial Times reporter Pete Thamel will spend the entire summer hunting for ways to blow open an investigative story that directly implicates Calhoun and brings him down.
But the biggest reason that retiring would be the smart thing to do is Calhoun's health. He missed games in 2008, '09 and '10 due to stress – including the 2009 NCAA tournament opener – fell off a bike and cracked five ribs in June of 2009 and is a three-time cancer survivor. You can bet his wife, Pat, will be begging him to retire after initially telling her he'd walk away from the game at age 50 (oops) and she'll also likely remind him that his father died of a heart attack when Calhoun was just 15-years old.
But I've got to say, I just don't see Calhoun retiring after tonight, win or lose.
Because as Pitt coach Jamie Dixon best put it: "Logic says he would step down. Except you aren't talking logic; you're talking Jim Calhoun."
Retiring because it's the easy thing to do? This is the blue-collar guy from south Boston that lugged around headstones, pumped gas and made ribbon candy to help provide for his father-less family as a kid and used to supplement his income while coaching high school basketball by working as the town constable. And this is the same guy that got back on that bike a couple years after breaking his ribs to finish the final 16 miles of his own Cancer Challenge – after which he fainted from dehydration.
Leaving because of his health? Calhoun must scoff at the notion. Although he's had a laundry list of health problem, he was relatively healthy this season and if he didn't walk away before, why would he do it now?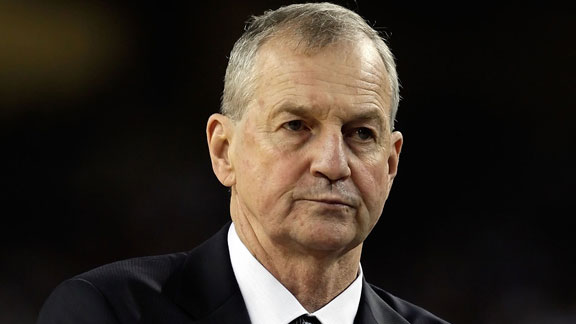 Leaving because he's scared his reputation will be tarnished next season? That's the most laughable of all. If there's one thing Calhoun doesn't do, it's back down from enemies. Calhoun is infamous for the way he berates officials, open about his coaching feuds with guys like John Calipari, Gary Williams and even UConn women's coach Geno Auriemma, and legendary for telling reporters that while he was a constable, he hid the bullets to his own gun in his house because even he was afraid of his temper.
And as for being led out by the hand of the media? You can bet Calhoun sneers at all the articles coming out today – and the many more than will follow if he wins tonight – offering their advice that this is the best time to leave. You can get a pretty good idea of Calhoun's stance on the media from two clips – this doozy from 2004 after a question about not recruiting Providence's Ryan Gomes (Warning: Language NSFW) and an instant-classic from 2009 after being questioned about his high salary:
On top of all that, Calhoun should have another top 10 team next year even if Walker leaves for the NBA and longtime assistant George Blaney says he's never seen Calhoun happier after nearly a decade by Calhoun's side.
For all those reasons, I would be much less surprised if Calhoun came back next year, coached a couple games and then called it quits in the middle of the season after realizing his heart wasn't in it anymore.
So for all those columnists out there that are lending their wisedom by advising him to make tonight's game against Butler his last as a head coach?
In the words of Calhoun himself, his words to them would probably be: "My best advice to you? Shut up."

Jim Weber is the founder and president of LostLettermen.com. His column runs each Monday.