The same uniform craze that was unavoidable during the 2012 college football season has made its way over to the hardwood as well. The majority of the ones we've seen thus far have us nodding our heads in agreement. Others have us shielding our eyes.
Going from worst to first, we assign letter grades to all of the notable new uniforms we've seen in college basketball this season.
.
F: Texas Tech Postseason Uniforms
It's appropriate that the Red Raiders capped off an ugly regular seaason (10-19) with some similarly unsightly uniforms.
The red and black shoulders set against black and white torso portion of the jersey make the threads resemble a WNBA uniform – or a baby bib. As if that isn't bad enough, Under Armour has taken a page out of Nike's book and gone with a logo uniform look, only the logo is about three sizes too small.
Here's hoping the Red Raiders' fortunes improve in 2013-14, along with their uniform choices.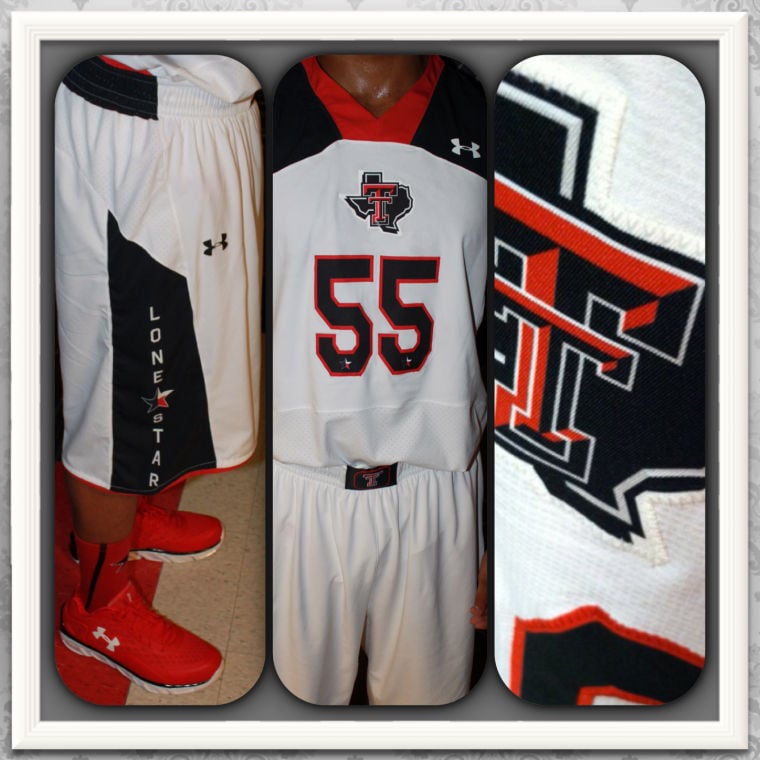 .
D-: Adidas Postseason Uniforms
After a season full of bad college basketball uniforms by Adidas, the Three Stripes took things to a another level with postseason uniforms for six teams: Cincinnati, Kansas, Notre Dame, Baylor, UCLA and Louisville.
Similar to what Adidas rolled out before last year's NCAA tournament, the shorts for each school feature "Zubaz" stripes from the early 1990s that look like they belong on Zebras. The Bears, Bruins and Cardinals also feature controversial short sleeves like the Golden State Warriors recently donned in the NBA.
The "best" of this bunch is actually Notre Dame. We actually like the lime green uniforms that harken back to the Digger Phelps experiment from 1991. The worst uniforms? That would have to be UCLA, which looks like it is wearing a football jersey and has ditched one of the best college basketball threads in the process. As a group, these uniforms are epic failures.

.
D: Nike "Logo Uniforms"
Remember those regrettable jerseys that North Carolina wore during the 1999-2000 season? The ones that were so bad that they were shelved after just one season? Thirteen years later, Nike is unleashing a whole batch of similar jerseys on the college basketball landscape.
Gonzaga was the first team to wear these, with the Bulldogs suffering a heartbreaking, buzzer-beating loss to Butler when they first debuted it. Perhaps it was the style gods' way of telling them, "We don't like these jerseys at all."
That's how we feel, anyway. They have the look of practice jerseys, yet Gonzaga, UNC, Villanova, USC, Ohio State, Kentucky, Georgetown, Duke, Texas, Michigan State and Akron will all sport this look this season. How this was approved by the likes of Tinker Hatfield and other higher-ups at The Swoosh is anybody's guess.
.
D: Texas Tech Regular Season Uniforms

The uniform design brain farts that we see Under Armour typically unleash on College Park, MD, seem to have also been routed to Lubbock, TX, for hoops season.
On the front of the jersey is "Tech" spelled out in big white letters. Almost as if they wanted to salvage the mistake of "Oh wait, people won't know which Tech we're referring to," a tiny "Texas" runs across the top of the "T" in "Tech." Just bizarre.
That descriptor can definitely be used to describe the zebra-like stripes running under the arm pits, along the seams of the shorts and in the back hip area. If you buy one of these jerseys at the Texas Tech book store, do you just need to scan one of those barcode-like patterns in order to check out?
.
C-: Notre Dame – Black Unis

Yup, even a school bound by heritage as much as Notre Dame can succumb to the "Black Out" fever that has swept across the college sports landscape.
We're usually big proponents of this look, but the Irish's attempt leaves us shrugging our shoulders unimpressed. It doesn't help that the fluorescent blue and green numbers and letters are almost impossible to see. (Perhaps if there was an actual blackout, they might glow in the dark?)
Of course, if Notre Dame hoops believes in the Luck of the Irish, we might see these a few times this season. The team put the clamps on then eighth-ranked Kentucky in a statement-making, 64-50 win on Nov. 29.
.
C: Adidas "Bleed Out" Uniforms

Thus far in 2012-2013, Adidas has provided no fewer than eight of its schools – Wisconsin, Nebraska, Baylor, Tennessee, Cincinnati, Kansas, Louisville and Michigan – with one-tone uniforms similar to those worn by the NBA teams who played this past Christmas Day. We expect that more schools will follow, which is unfortunate given how boring we think this look is.
The combination of "minimal accent color and shimmer finish" is described as a "bold on-court look." Maybe we missed something; what's bold about grey-on-white (Wisconsin), red-on-red (Nebraska), green-on-green (Baylor), orange-on-orange (Tennessee), black-on-black (Cincy) or the like? As with Notre Dame, these uniforms are very hard to read and were dead on arrival.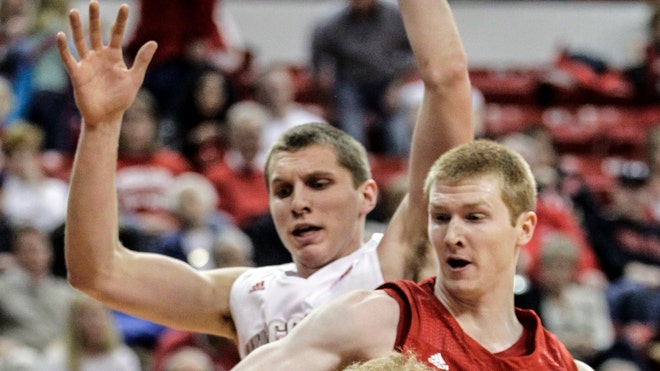 .
C: Vanderbilt
The Commodores are showing off their new Nike uniforms in three different colors: Home white, away black and alternate gold. The bordered font on the front from years past has been replaced for something much more … Microsoft Word-ish.
As for the new Aerographic on the back, the Star V logo below each player's number looks pretty sharp, but we don't quite get the rest of the design. Is it meant to resemble a basketball net? If yes, it's an odd choice. Perhaps it's meant to be an inspirational design choice and keep Vandy gunning for enough success that they can cut down nets and drape them over their necks. No matter the reason, it doesn't look good.
.
C+: Maryland
No Maryland uniforms can ever be "normal" under the reign of Under Armour. But we give the Terps credit for upgrading their home and away uniforms from last season that were truly awful. The "Maryland" font has been toned down and the jerseys are much simpler – we even kind of like the subtle state flag pattern inside the numbers. However, we could still go without the bulky collars and black-and-yellow alternate patterns on the arms.
(H/T Uni Watch)