By Chris Mahr
Per usual, this year's list of preseason Heisman Trophy candidates is replete with star quarterbacks. For the most part, all of them — Ohio State's Braxton Miller, Clemson's Tajh Boyd, Texas A&M's Johnny Manziel, Oregon's Marcus Mariota, Louisville's Teddy Bridgewater, etc. — are beloved by their respective fan bases, the paragon of the successful "Big Man on Campus" star QB.
In the latter regard, perhaps the biggest exception among the 2013 preseason Heisman candidates is Nebraska's Taylor Martinez — a multi-talented player whom Cornhuskers fans have spent three years waiting to screw up.
This despite the fact that, entering his senior season, Martinez already holds the school record for career passing yards (6,591) and TDs (46) and needs just 577 rushing yards to surpass Eric Crouch's program record for a QB (3,434). He's also produced some of the most dazzling plays in recent Cornhuskers history — most notably his 76-yard touchdown run in last December's Big Ten Championship Game.
Yet you won't hear Cornhuskers fans breathlessly comparing Martinez's career to those of Crouch, Tommie Frazier or Turner Gill. If anything, many of those fans see Martinez as the Nebraska version of Florida State's Chris Rix: A talented, dual-threat QB that produced more moments of disappointment than triumph.
Yet while the highly-touted Rix — who, like Martinez, grew up in Southern California — never progressed as a player after throwing for 24 TDs as a freshman in 2001 (which wound up as the most he'd throw for in a single season), Martinez has more than rewarded Nebraska for being the only FBS school to offer him a scholarship to play quarterback.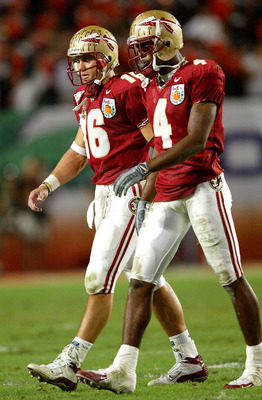 Dogged by questions concerning his passing ability entering last season, Martinez fixed his throwing motion (under the tutelage of private QB coach Steve Calhoun) and became a legitimate passing threat, completing 62% of his throws for over 2,800 yards and 23 TDs. Moreover, it made him more dangerous as a runner, as he rushed for 10 TDs while exceeding 1,000 yards for the first time in his career.
None of Martinez's Nebraska QB predecessors ever enjoyed a season as prolific as what he produced in 2012. The key difference is that Crouch, Frazier and Gill all had the Cornhuskers in contention for a national title during their tenures in Lincoln — something that Martinez has yet to do.
As a sophomore in 2011, the onus of that disappointment definitely fell on Martinez. That year, the Huskers started 7–1 and were ranked No. 9 — only to go 2–3 in their final five games, undone by a Martinez-led offense that averaged just 18.4 PPG down the stretch.
Last year, it wasn't so easy to blame Martinez for Nebraska's four losses. Yes, his 3-to-8, TD-to-INT ratio in those games was far from pretty, but he still accounted for eight total touchdowns, and the offense average 32.5 PPG (not far off from its season average of 34.8 PPG). It certainly wasn't Martinez's fault that the "Black Shirts" were torched for an average of 53.5 PPG in those losses. Had they even played average defense in those games (season average: 27.6 PPG allowed), Martinez might have been praised for leading the Huskers to an undefeated campaign and BCS bowl berth.
Martinez worked with Calhoun again this past May. It's not outlandish to predict that he could be even better in 2013 than he was in 2012, to hope for 3,000 yards passing and 1,000 yards rushing and 40 total touchdowns.
More important, if the Nebraska defense does an about-face and gets back to playing "Black Shirts"-caliber defense, the Huskers will find themselves in prime position for a BCS berth and, perhaps, a place in the national title discussion. And Martinez will finally earn something that has eluded him throughout his time in Lincoln: The love and respect of Cornhuskers fans.
Chris Mahr is the managing editor of Lost Lettermen. His column appears Tuesdays and Thursdays. You can follow him on Twitter at @CMahrtian.
Bottom Photo Credit: Brian Spurlock/USA Today Sports