On Wednesday, Cal unveiled a new supplemental logo as well as new lettering and numerals for the uniforms of all 27 athletic programs.
Gone is the outline of a normal bear that, in essence, resembled what appears on the state flag of California. It has been replaced by a much more modern and fiercer looking rendering. (The athletics program will keep the script "Cal" as its primary logo.)
The new bear is most apparent (yet subtly woven in) on the new football uniforms. It appears in almost watermark-like form on the players' numbers (very cool) and can also been seen on the outside of the shoulders and on the pants. The numbers have also been made bigger and look more modern than what the Bears have sported in recent years.
The jerseys aren't the only aspect of the uniforms that are more streamlined. The helmets of recent years, which featured a stripe starting on the crest of the lid and ending all the way, have been replaced in favor of a matte blue model (sans stripe) with a bigger script "Cal" decal on the sides.
As for the basketball uniforms, the changes are much less apparent; the numbers and the "California" on the front of the jerseys certainly look better than what it used to look like.
All in all, Cal did a very subtle but nice job of upgrading its uniforms. Overall Grade: A
New: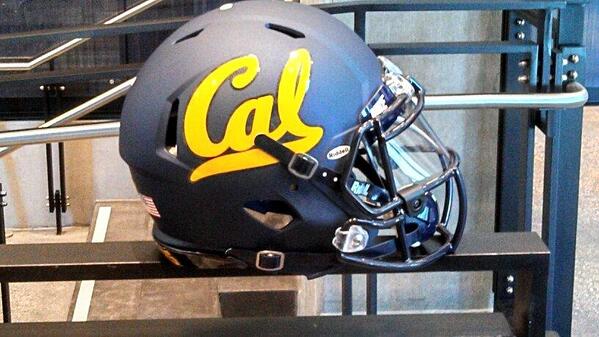 Old: