10. Colorado
Colorado's helmet is a dual threat, a good logo with a classic color scheme. The black silhouette of a buffalo is ominous and intimidating and the school's letters are placed perfectly. Yes, it's a big upgrade from the gold and baby blue helmets the team once donned. More than anything, though, it puts Colorado State's helmet to shame. The in-state rival has a poor man's version of the St. Louis Rams' lid. A really, really poor man. And as you know, sometimes you're as good as who you're standing next to.
.
9. LSU
LSU's helmet history is actually a bit comical. There have been four revisions over the years and all of them clash a stark yellow and purple. But somehow, it works. In fact, the collision of the two colors is a bit royal, like that guy who wears the odd wardrobe just because he can. But in addition to the colors, the school's abbreviation and a fierce tiger are placed prominently on the helmet, giving this lid all-around appeal. We'd wear this in Death Valley any Saturday in the fall.
.
8. Florida State
The tomahawk chop chant is annoying, but the spear's presence on Florida State's helmets is just right. The gold helmet with garnet and white spear was introduced in Bobby Bowden's first year as coach in 1976. Bowden just recently retired, but the helmet looks like it will last. And why not? Forget FSU's two national titles under the reign – both the helmet's and Bowden's – the thing has everything you want in a college football lid. It's spear is large and distinct enough to pop off the helmet, letting you know it's there. And the tomahawk stickers make it even more intimidating.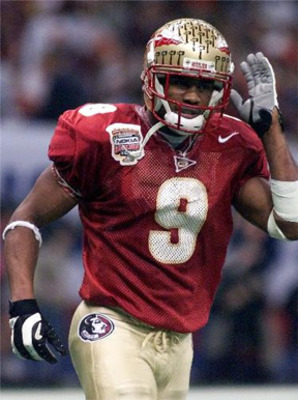 .
7. Ohio State
You're probably expecting a memorabilia joke here, but we're above that. This list is for college football purists, ones who love talking helmets, not selling them. The Buckeyes have a unique lid, one which has stickers with Buckeye tree leaves on them, given to players for big plays and consistency on the field. They've got a cool look to them, too, thanks to an infusion of glitter. Each sticker earned by a player gives him a tangible reward for his solid play. But they're only given out if the team wins the game. No word on what happens if you forfeit.
.
6. Miami (FL)
"The U" is many things – the name fans and former players refer to the school by, the title of an ESPN documentary about the Hurricanes' heyday and the logo on the side of Miami's helmets. In 1973, the school asked a local public relations firm to come up with something distinctive for Miami's logo. The school did not want to rely on its initials – UM – simply because so many institutions have similar initials. So, in an attempt to be unique, the Hurricanes were transcendent. But forget its place in pop culture, "The U" – in its orange and green – looks good, too.
.
5. Notre Dame
The school has the legendary "Golden Dome," so it's appropriate that its beloved football team runs around in exquisite gold helmets. There will always be a positive association. It's the right call to go without a logo. Anything else on the helmet would take away from the gold's quiet grace. Student-managers make sure the helmets don't look any less than perfect, putting a fresh coat of paint on them each week. And not just the cheap stuff from Home Depot. The paint consists of real gold flakes. Of course it does.
.
4. Alabama
Alabama is one of the most storied programs in college football, and its helmet is part of that lore. Yeah, we know college football is playing for the name on the front of the jersey, but in Tuscaloosa, it's also about earning the number on the side of your helmet. The Crimson Tide's helmets haven't changed over the years, and the program has been pretty successful. Even during its lean years, Alabama kept its look the same. The style is so distinctive and that dark shade of crimson is so classy.
.
3. Texas
When you think Texas football, you think Matthew McConaughey. And burnt orange horns. But mostly Matthew McConaughey. Seriously, though, we know the Longhorns have a huge fanbase, most of which never forgets to remind us, "Hook 'Em Horns." It also wears its special shade of orange prominently. The helmet, with a pure white background, encapsulates everything that is Texas football – the color, the horns and the players' numbers on the back. They weren't always there, though. The numbers used to be placed above the logo, making it look ugly and cluttered. Nice adjustment. And massive props for making a cow on a helmet look awesome.
.
2. USC
What other colors but garnet cardinal and gold could befit the Men of Troy's helmets? It's not so much young Hollywood – Lindsay Lohan wouldn't wear it – but classic Tinseltown. USC is a private university in Los Angeles, but its football team seems like public property in Southern California. And everyone wears Trojan colors. Refined and classy – it smells like old money (go ahead, insert your "University of Spoiled Children joke"). But other than being the definition of LaLa land, it's design is a great depiction of a Trojan warrior. It's a warrior that never stepped foot in SoCal in any decade but remains identifiable thanks to USC football. And the switch to a gray facemask under Pete Carroll was a great call.
.
1. Michigan
Just like the University of Michigan, you either love these helmets or hate them. And yes, Fritz Crisler just re-used the design he originally came up with at Princeton. But the winged helmet is so incredibly original and steeped into college football history that it's one of the first things that comes to mind when people think of college football like the "Four Horsemen" and the Heisman Trophy.
The mixture of maize and blue is awesome and they also have a functional purpose (supposedly): Helping quarterbacks see their receivers down field. Last year the AP also voted them the greatest helmets in college football and Bob Asmussen of the Champaign (IL) News-Gazette remarked, "I'll bet the Wolverines get 10-15 percent of their recruits based on helmets alone."
Pages: 1 2