Never-Too-Early 2014 CBB Preseason Top 25
Comments
Never mind that the 2013-2014 college basketball season isn't in the books yet; it's never too early to look forward to next season. As such, we have compiled our annual Never-Too-Early Preseason Top 25 as the road to the 2015 Final Four in Indianapolis begins as soon as Kentucky or Connecticut cuts down the nets in North Texas on Monday night.
[Editor's Note: Educated guesses used about players entering NBA draft early who have not declared their intentions based on speculation and Chad Ford's Top 100 list.]
1. Duke
Projected Starting 5: PG Tyus Jones, SG Rasheed Sulaimon, SF Jabari Parker, PF Amile Jefferson, C Jahlil Okafor
The "Evil Empire" is back! Duke's undoing this year was a painful lack of an inside presence. As it so happens, the top overall recruit in the Class of 2014 is 6-foot-10, Durham-bound Jahlil Okafor. Throw in No. 5 overall recruit Jones and No. 9 overall recruit Justise Winslow and Coach K could have an embarrassment of riches next season if Parker stays in college as expected.
2. Wisconsin
Projected Starting 5: PG Traevon Jackson, SG Josh Gasser, SG Bronson Koenig, SF Sam Dekker, PF Frank Kaminsky
With Dekker and Kaminsky already declaring their intentions to return to Madison, the Badgers could enter the 2014-15 season ranked No. 1 if Jabari Parker goes pro. Sharpshooting Ben Brust is the only significant player the Badgers lose off a team that was seconds away from playing for a national title.
3. Arizona
Projected Starting 5: PG TJ McConnell, SG Gabe York, SF Rondae Hollis-Jefferson, PF Brandon Ashley, C Kaleb Tarczewski
Even if Nick Johnson and Aaron Gordon head to the NBA draft as expected, the Wildcats should be loaded with the return of an injured Brandon Ashley and adding the No. 3 recruit in the nation into the fold, small forward Stanley Johnson (plus two other Top 60 recruits in Craig Victor and Parker Jackson-Cartwright). The question, "Is this the year Sean Miller finally reaches the Final 4?" will be looming over Tucson all season. Again.
4. Connecticut
Projected Starting 5: PG Ryan Boatright, SG Daniel Hamilton, SF DeAndre Daniels, PF Phillip Nolan, C Amida Brimah
The loss of Shabazz Napier is big but as long as Daniels stays in school after his monster NCAA tournament, the Huskies should be a preseason Top 5 team. With Boatright taking over the sole point guard duties and stud recruit Daniel Hamilton filling it up, the Huskies shouldn't miss a beat.
5. North Carolina
Projected Starting 5: PG Joel Berry, PG/SG Marcus Paige, SF J.P. Tokoto, PF Brice Johnson, C Kennedy Meeks
North Carolina found its groove midway through the 2013-2014 season after a rocky start. Roy Williams returns considerable talent in both the backcourt (Marcus Paige) and frontcourt (J.P. Tokoto and Kennedy Meeks) while also adding Top 25 recruits Justin Jackson, Theo Pinson and Berry.
6. Kansas
Projected Starting 5: PG Naadir Tharpe, SG Wayne Selden, SG Kelly Oubre, PF Perry Ellis, PF Cliff Alexander
Not many programs could enter a season in the Top 10 after losing the potential top two picks in the NBA draft. But even if Joel Embiid joins Andrew Wiggins in bolting for the NBA, the Jayhawks bring back a ton of talent and add two Top 10 recruits in Kelly Oubre (and his hair) and Cliff Alexander.
7. Virginia
Projected Starting 5: PG London Perrantes, SG Malcolm Brogdon, SG Justin Anderson, PF Anthony Gill, PF/C Mike Tobey
It's a guarantee that Tony Bennett's Cavaliers are going to play lock-down defense. What makes them an ACC contender for the foreseeable future is that they're young and only going to get better, particularly on offense.
8. Texas
Projected Starting 5: PG Isiah Taylor, SG Demarcus Holland, SG Javan Felix, PF Jonathan Holmes, C Cameron Ridley
Yes, the Longhorns faded down the stretch, but their performance this season was more than enough to save Rick Barnes' job. And all five starters from last year's team are back. It's a golden opportunity for Barnes to get UT back to the Final Four for the first time since 2003.
9. Kentucky
Projected Starting 5: PG Tyler Ulis, SG Devin Booker, PF Trey Lyles, PF/C Dakari Johnson, C Karl Towns
You have to think every major contributor off of Kentucky's team except possibly Johnson will head to the NBA after UK's run to the title game. No matter; John Calipari has four more Top 35 recruits, including Towns (left), and will be ready to make a run at the Wildcats' fourth Final Four in five years.
10. Stanford
Projected Starting 5: PG Robert Cartwright, SG Chasson Randle, SG/SF Anthony Brown, PF Reid Travis, C Stefan Nastic
The Cardinal had a coming-out party in the NCAA tournament by making the Sweet Sixteen and should be even better with Randle, Brown and Nastic back, plus the addition of Top 100 recruits Cartwright and Travis.
11. Michigan State
Projected Starting 5: PG Travis Trice, SG Denzel Valentine, SF Branden Dawson, PF Kenny Kaminski, PF Matt Costello
Two starters from this year's Elite Eight team, Gary Harris and Adreian Payne, are likely Top 20 NBA picks. But Tom Izzo is never one to miss a beat and let the Spartans slide into mediocrity. Expect Dawson and Valentine to carry more of the load on offense next year and succeed while doing so.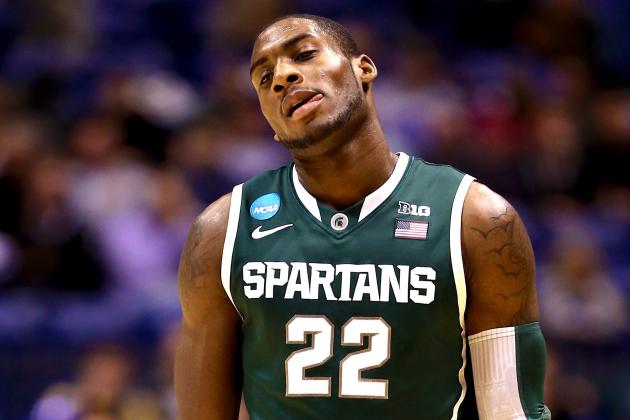 12. Oklahoma
Projected Starting 5: PG Jordan Woodard, SG Buddy Hield, SG Isaiah Cousins, PF D.J. Bennett, PF Ryan Spangler
Lon Kruger returns four of five starters from a rather surprising Big 12 runner-up squad, including his leading scorer (Hield) and rebounder (Spangler). Hield will also have some help in the backcourt from Cousins and Woodard, who are only entering their junior and sophomore seasons, respectively.
13. SMU
Projected Starting 5: PG Emmanuel Mudiay, PG Nic Moore, SF Ben Moore, PF Markus Kennedy, C Yanick Moreira
You can be sure that Larry Brown's Mustangs are going to be very motivated in preparation for 2014-2015 after getting snubbed by the NCAA selection committee. In returning its two leading scorers in Moore and Kennedy as well as adding the No. 2 recruit in the nation (Mudiay), SMU should definitely be dancing next March. If the Mustangs also land No. 6 overall recruit Myles Turner, they could be scary good.
14. Iowa State
Projected Starting 5: PG Monte Morris, SG Naz Long, SF Abdel Nader, SF/PF Georges Niang, PF Dustin Hogue
The loss of Big 12 Player of the Year Melvin Ejim and star point guard DeAndre Kane to graduation hurts. But Georges Niang, who was hurt in the NCAA tournament, could be next season's conference player of the year. And Fred Hoiberg's army of transfers continues with the addition of Nader and Jameel McKay. Now ISU fans just need to keep their fingers crossed Hoiberg doesn't head to the NBA.
15. Villanova
Projected Starting 5: PG Ryan Arcidiacono, SG Darrun Hilliard II, SG Josh Hart, SF JayVaughn Pinkston, PF Daniel Ochefu
Villanova ended the season in disastrous fashion but the Wildcats are nothing to scoff at. 'Nova brings back all of its main pieces except guard James Bell and adds Top 100 recruits Mikal Bridges and Phil Booth.
16. Michigan
Projected Starting 5: PG Derrick Walton Jr., SG Zak Irvin, SF Caris LeVert, PF Mark Donnal, PF Jon Horford
Should forwards Nik Stauskas, Glenn Robinson III and Mitch McGary all return for their junior seasons, the Wolverines will be a title threat for the third straight season. Those title hopes would go by the wayside if they all leave (as many expect), but John Beilein will nonetheless have a lot of young talent in the cupboard in the likes of LeVert, Irvin and Walton.
17. Baylor
Projected Starting 5: PG Kenny Cherry, SG Ish Wainwright, SF Royce O'Neale, PF Rico Gathers, C Isaiah Austin
Talent is never lacking in Waco but you just never know which Baylor Bears team is going to show up. Expect huge seasons from Cherry and Austin as Baylor plugs the holes in its starting lineup with more former blue-chip recruits in Wainwright and Gathers.
18. UNLV
Projected Starting 5: PG Cody Doolin, PG/SG Deville Smith, SG Rashad Vaughn, SF Dwayne Morgan, PF Khem Birch
Surprised? Don't be. Even with the unexpected departure of Roscoe Jones to the NBA and loss of Bryce Dejean-Jones, the Rebels bring back plenty of talent on the roster and three Top 35 recruits in Vaughn (No. 7), Morgan (No. 15) and center Goodluck Okonoboh (No. 32).
19. Florida
Projected Starting 5: PG Kasey Hill, SG Michael Frazier II, SF Dorian Finney-Smith, SF Devin Robinson, PF Chris Walker

The Gators lose four of their five starters, but there certainly won't be a lack of talent in Gainesville. A roster full of former blue-chip high school recruits will be asked to grow up in a hurry.

20. Wichita State
Projected Starting 5: PG Fred VanVleet, SG Ron Baker, SG Tekele Cotton, SF Darius Carter, PF Derail Green
Can you say "Gonzaga Midwest"? Head coach Gregg Marshall has guided the Shockers to 25 or more wins each of the last five seasons. The return of a starting backcourt that consists of a heady point guard (VanVleet), a capable scorer (Baker) and a defensive stopper (Cotton) will keep things humming along in Wichita despite the loss of leading scorer Cleanthony Early to graduation.
21. Nebraska
Projected Starting 5: PG Taj Webster, SG Shavon Shields, SF Terran Petteway, PF David Rivers, PF Walter Pitchford

All hail Nebrasketball! With their entire starting five back, including stars Petteway and Shields, the Cornhuskers aren't just thinking about an NCAA tournament invite next year. They could actually make a deep March Madness run.

22. Harvard
Projected Starting 5: PG Siyani Chambers, SG/SF Wesley Saunders, SF Jonah Travis, PF Steve Moundou-Missi, PF Zena Edosomwan
That's right, an Ivy League team in the preseason Top 25. Harvard took Michigan State to the brink in the NCAA tournament and brings back its three best players in Chambers, Saunders and Moundou-Missi. After winning games in the last two Big Dances, Harvard isn't going to sneak up on anyone next season.
23. Minnesota
Projected Starting 5: PG Deandre Mathieu, SG Andre Hollins, SF Joey King, PF Maurice Walker, C Elliot Eliason

Step aside old man, it's Little Ricky's turn to shine. After winning the NIT title, the Gophers will have much higher goals with the return of four of five starters and a great backcourt in Mathieu and Hollins.

24. Kansas State
Projected Starting 5: PG Nigel Johnson, SG Marcus Foster, SF Wesley Iwundu, SF Nino Williams, PF Thomas Gipson

Bruce Weber has won plenty of games in his first two years at Kansas State and should win plenty more with the return of stud players Marcus Foster and Thomas Gipson. Now if he could just win an NCAA tournament game…
25. San Diego State
Projected Starting 5: PG Aqeel Quinn, SF Dwayne Polee II, SF Winston Shepard, SF J.J. O'Brien, PF Malik Pope
Even with the loss of star guard Xavier Thames, San Diego State isn't going anywhere. Expect rising junior Winston Shepard to take on the scoring load for an Aztecs team that is always lights out on defense and brings in a stud in No. 18 overall recruit Malik Pope.
&nbsp