Top 25 CFB Fails: #23 - Sooners Get Screwed
Comments
This is the third installment of a summer series; every weekday until the opening week of the 2013 college football season, we will be counting down the Top 25 College Football Fails Ever – including but not limited to players, coaches, fans, officials, mascots and uniforms. (Note: FBS programs only.)
It doesn't feel sufficient enough to say that the referees screwed over Oklahoma in the Sooners' 34–33 loss at Oregon in 2006. "Monumentally screwed over" comes closer.
The Ducks trailed the Sooners, 33–27, with 1:12 remaining and needed to recover an onside kick to keep hope of a win alive. It appeared clear as day that a) An Oregon player touched the ball well before it had traveled the necessary 10 yards, which should have resulted in a 5-yard Ducks penalty and possession of the ball for Oklahoma; and b) The Sooners recovered the ball anyway.
However, the referees blew both of those calls — and this was after they went to instant replay. The faux pas was so bad that the Pac-10 suspended the game's entire officiating crew for one game.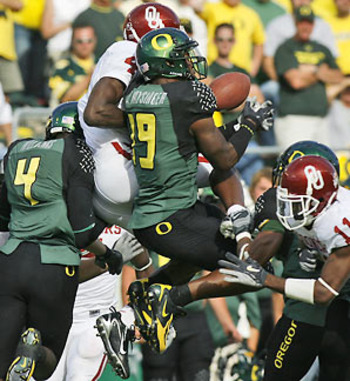 Top 25 College Football Fails Ever
#25: "F" for "FSU" Face Painting

#24: Duke Lays a Dookie

&nbsp