X's & No-No's: Top 10 Worst FBS College Football Uniforms
Comments
Uniform makeovers are all the rage in college football this offseason with Arizona State and Washington State already getting new threads. Who are college football's worst dressed teams in need of their own new unis?
.
10. Wyoming
With a nickname like Cowboys, you'd expect something more manly and bold. Would John Wayne stroll around with Wyoming's putrid yellow and brown combination? I think not. It looks mismatched and, frankly, ugly. It's no surprise that the Cowboys can't get it right. They've had many different uniforms over the years, and the newest version isn't even the worst ones we've seen. Oh, and the new stripes on the football helmet should have stayed in the barn.
.
9. Wake Forest
The Demon Deacons' black and gold helmet with a giant "WF" might as well be on a polo shirt and jeans out there. Very plane Jane, very boring. So boring, in fact, there's really nothing to say about them. Wake Forest is the anti-UTEP when it comes to uniforms since there is nothing going on. Uniforms are supposed inspire some spirit, reflect your mascot and have a little spunk. They've gone 0-for-3 in Winston-Salem.
.
8. Iowa State
Change for the sake of change isn't always a good thing. The Cyclones' old uniforms were crazy but kind of cool, but now they seem as if they've ripped off USC. Note to Iowa State: Just because you look like the Trojans doesn't mean you'll play like them. Also, with a nickname like Cyclones, the best option was a capital "I" with "STATE" over the top? A little originality, please.
.
7. Rutgers
As the state university of New Jersey, Rutgers would be better off going helmet-less and blowing its collective hair out like Pauly D. The red helmets are so bland, featuring a block R, that one has to wonder why there wasn't a better option. As the oldest college football program, they've had 142 years to come up with better unis. Also, we get it, you are the SCARLET Knights, but the color does nothing for us. Go back to the drawing board with these.
.
6. UTEP
It's not often that a team gets absolutely nothing right on a uniform. The helmet features a pick axe in place of a "T," and the pants are a color of orange that could glow in the dark. OK, the home white jersey is fine, but it's complemented with a gigantic navy blue stripe. Are these your painting clothes or uniforms, UTEP? And don't even get us started on the all-orange look.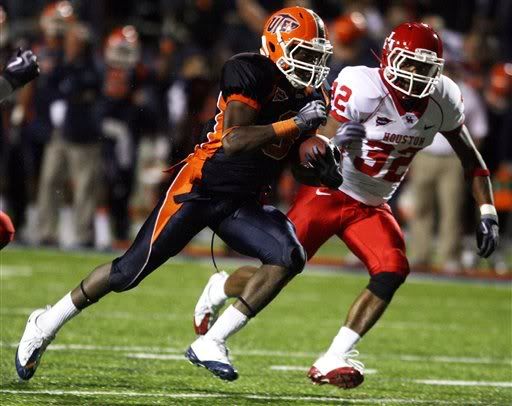 .
5. Arizona State
Now, we're not huge mascot guys. But Sparky the Sun Devil seemed to have special place in Arizona State athletics, especially with his prominent spot on the football team's helmets. Instead, the school's new Nike-designed uniforms feature just a pitchfork on the players' lids with the new "Fear the Fork" campaign. The rest of the uniforms are infused with more Swoosh, but aren't much different otherwise. So, why go out of your way to bury Sparky? We're sure recruits will love them like they do Oregon's, but they get a big thumbs down from us.
.
4. Kent State
It all comes down to the logo for the Golden Flashes. Granted, it's hard to have a good looking logo when your nickname is the Golden Flashes. But the giant K in the middle with a giant bird's head that turns into a lightning bolt is a disaster of epic proportions. The random stripes that go across the chest area don't help any either. If the Kent State athletic department is smart, they'll take a peak into the throwback closet of the San Diego Chargers and try to emulate these.
.
3. Louisiana-Lafayette
Where do we start with these? The helmet looks like the sign for Chili's restaurant, chili pepper and all, and the red helmet and black face mask is a no-no. The striping on the shoulders fails miserably of trying to emulate USC's look and the stripe on the pants just doesn't make sense. Meanwhile, the school has a pretty cool logo it doesn't use on the helmet. No wonder this team went 3-9 last season.
.
2. Western Kentucky
Yes, we realize it was Western Kentucky that started towel waiving at sporting events and not the Pittsburgh Steelers. That doesn't give them an excuse for their unis. Granted, they just recently jumped from the FCS level, but they could at least look like an FBS team until they play like one. Right now they'd be better off with their lovable mascot on the helmet instead. The rest of the uniforms are equally as amateur.
.
1. Bowling Green
The lesson from the worst uniforms in college football: Be careful with orange. Tennessee and Texas pull off the orange look with flying colors while the Falcons' unis should be grounded immediately. The key with the Vols and Longhorns is that they combine the orange with white while Bowling Green mixes in brown. Woof.
The interlocking BG on their helmets looks like a doodle from an elementary school kid  and their orange tops make them look like inmates or home depot employees. We're not sure what's worse when you are supposed to look like student-athletes. Like Arizona State, Bowling Green's old uniforms were actually better than the new ones - and that's not saying much in Bowling Green's case.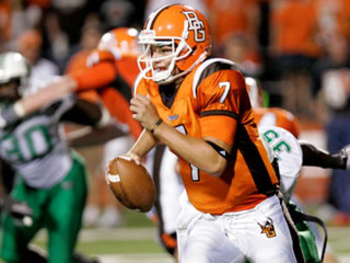 .
&nbsp