Top 10 Worst Dressed NFL Draft Picks Ever
Comments
NFL draft day is supposed to symbolize (among other things) when former college stars become men. Yet far too often, players' fashion choices are proof that they still have some serious growing up to do — especially for those present at Radio City Music Hall (but also for those watching from home). In advance of this year's draft, we rank the Top 10 Worst Dressed NFL Draft Picks Ever.
.
10. Reggie Bush (2006)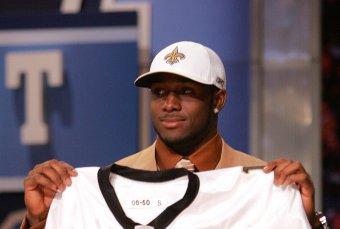 Bush is normally a spectacular dresser and his pinstriped suit from the 2005 Heisman Trophy ceremony five months before was very well put together. Yet this NFL draft day ensemble fell flat.
The khaki-colored suit was just an odd choice, as was pairing it with a brown shirt and a metallic, off-gold tie. Maybe this was supposed to be an homage to the New Orleans Saints, who selected Bush No. 2 overall that year. But there's never an excuse for someone with so much fashion sense to dress this poorly.
.
9. Trent Richardson (2012)
Seriously kids, stop with the brown suits.
Richardson's tope suit was lined with brown and paired with a subtle checkerboard shirt of almost the exact same color. And the brown tie is something that wouldn't look out of place in Wake Forest basketball coach Jeff Bzdelik's wardrobe (and that's not a compliment).
Anything that looks too similar to something that the character Andre Nowzik would wear on "The League" — on which Richardson guest-starred last fall — should only be worn in jest.
..
7. Peyton Manning (1998)
For all his skills as a quarterback and a pitchman, Peyton Manning is one of the goofiest NFL superstars in recent memory. And while his choice of a simple gray suit and white buttoned-down shirt didn't accentuate that goofiness at the '98 draft — where he went first overall — his neckwear certainly did.
Was that tie meant to resemble a quilt that a) Your grandmother would knit b) You slept under as a toddler or c) Both? Combined with the teeny, tiny knot at the top of the tie, this look was a disaster. On the plus side, Manning looked relatively sharp standing next to Colts owner Jim Irsay.
.
7. Daunte Culpepper (1999)
Whereas Peyton Manning's tie the year before had too much color, Culpepper's ensemble the following year didn't have enough.
The former Central Florida QB's all-white get-up is something you might see on someone leading a Las Vegas wedding or a televangelist. Perhaps he was trying to signify to the Vikings' brass and fans — or whichever team ended up drafting him, for that matter — that he was heaven-sent.
.
6. Akili Smith (1999)
Cincinnati Bengal fans should have known Akili Smith's NFL career would be full of bad decisions after he showed up to the 1999 NFL Draft looking like MC Hammer. Nothing worked in Smith's outfit between the oversized suit, silver buttons and vest that went almost all the way up to his neck.
Smith would end up throwing more interceptions (13) than touchdowns (5) during his time in the NFL. We can only hope he threw this suit away too.
.
5. LaDainian Tomlinson (2001)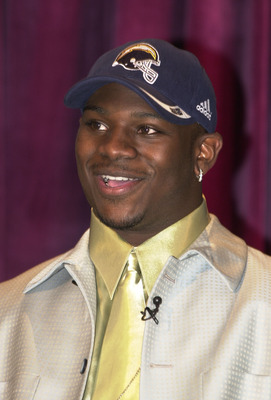 Didn't Rufus (George Carlin) from Bill and Ted's Excellent Adventure wear something similar to what Tomlinson had on when the Chargers selected him fifth overall in 2001?
If Nike's Tinker Hatfield expanded his palette to include NFL draft picks' suits — as much as we respect his work, we hope he never decides to do so — one of his designs might look similar to this: A futuristic chrome finish on everything, from the suit to the shirt and tie as well.
Maybe this would look good in the 3001 NFL Draft. However, in the 2001 draft, Tomlinson looked completely out of place and style.
.
4. Drew Bledsoe (1993)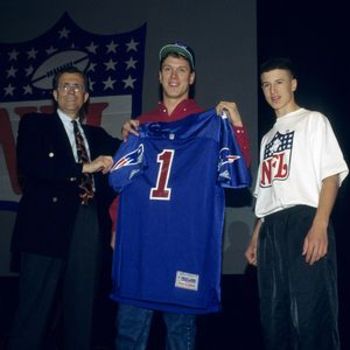 Twenty years ago this month, the moribund Patriots staked their hopes at a renaissance on a gunslinger from Washington State who wore jeans to the draft in New York.
There was something very no-frills about Bledsoe, both as a collegian and as a pro. While his stats were flashy, his style never was. The kid from Walla Walla, Washington, had never ever traveled on a plane with his family before the 1993 draft.
It might explain his choice of style when he was picked by the Pats. That being said, you'd think that someone who was about make No. 1 overall pick money could afford a suit.
.
3. Lynn Swann (1974)
Even people not familiar with who Lynn Swann is could tell you what decade this photo was taken in.
Of course, the USC product's afro is a giveaway. But even if the future Steelers star was bald, you could tell this photo was snapped in the 1970s based on Swann's clashing color choices: Light colored pants, dark colored suit and a dress shirt patterned with ... butterflies? Flowers? Something?
If you asked Lynn today what was on that shirt, we bet you even he couldn't tell you.
.
2. Deion Sanders (1989)
"Neon Deion" was one of the more unique sports personalities in recent memory, an all-flash superstar who was always going to do things his way. So should we have really been that surprised that when the Falcons took him fifth overall in '89 that he'd be sitting in his living room rocking a jump suit; gold galore on his neck, wrists and fingers; and ostentatious sunglasses?
If only he had the foresight to wear what Leon Sandcastle wore when the Kansas City Chiefs selected him in the 2013 NFL Draft. That afro'd guy can dress!
.
1. Brett Favre (1991)
 

We now know that Brett Favre is comfortable in jeans. But who knew that the Southern Miss grad was once comfortable in cuffed jean shorts as well?

Granted, Favre was at home in Kiln, MS, when he found out that the Atlanta Falcons had used their second round pick on him. So to expect him to be wearing a suit on draft day would have been unreasonable.

Then again, we expected something a little better than jorts and a white t-shirt. While we respect Favre for all that he did during his pro career, he can add "Worst NFL Draft Day Outfit Ever" to his list of accolades.

&nbsp