Top 10 College Football Throwback Helmets
Comments
Sometimes, a blast from the past is necessary. After looking at the 20 best college football helmets, we are now counting down the top 10 retro college football helmets that should make a comeback based on their looks, history and tradition.
.
10. Duke (1966-1969)
Just like the stereotype of Duke itself, the Blue Devils' current helmets are a bit boring and upper crust. The block 'D' does nothing for us. Now, if Duke wants to spice things up, it should bring back its lids from the late 1960s.
The helmets had an intimidating blue-faced devil who popped off the white background. Sure, it was a little sadistic looking, but they are the Blue Devils after all. Duke's nickname, though, was a nod to a French army battalion during World War I and has nothing to do with Lucifer. But if Duke ever wants to makeover their program and actually - you know - win games, they can start by using this menacing logo on their helmets.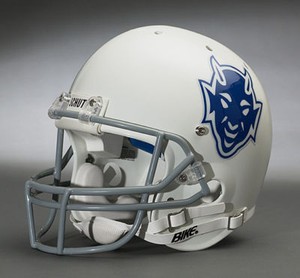 .
9. Marshall (1971)
Most of the time, Hollywood ruins things, but "We Are Marshall" did a good job of striking a nostalgic chord in more ways than one. For uniform lovers, it was the sight of Marshall's old helmets, which sported a prominent "UM" and a fierce, galloping buffalo on the helmet.
It was a tragic time in Marshall history after the 1970 plane crash, but it turned out to be an era that defined the program. The classic helmets represented the school's fighting spirit on and off the field in 1971 but were inexcusably worn for just one season. Anything is better than Marshall's current cookie-cutter block-letter helmet.
.
.
8. West Virginia (1970-1979)
When Bobby Bowden swooped into town in 1980, he added some spice to West Virginia's bland look. He got rid of the Mountaineers' blank white helmets in favor of ones that featured a giant blue state of West Virginia behind a football with the initials "WVU" inside of it. We know what happened to Bowden, but why did his helmets last only to a decade?
In January 1980, Don Nehlen, two coaches removed from Bowden, said he couldn't tell WVU apart from its opponents on game tapes, so he overhauled the team's look. The "flying WV" replaced it and remains an awesome and iconic look, but Bowden knew what he was doing as well. The old helmets showed how the Mountaineers carried a piece of the state out with them on the field. They should definitely be brought back on occasion - minus the stars on the front, of course.
.
7. Oregon (1977-1998)
Oregon's helmet with an "O" made of Autzen Stadium and Hayward Field silhouettes is clever but nothing spectacular. And the Ducks change their lids all the time; it just doesn't scream tradition, which is a huge part of college football. They used to wear classic mustard yellow pants and a helmet that went with their emerald green jerseys. In most contexts green and yellow don't really go well together, but it's one of those uniforms where absence has truly made the heart grow fonder.
That old look is Oregon football and was worn by the beloved "Gang Green" squad that went to the 1995 Rose Bowl. While the Ducks do bring back the old look from time to time, it deserves to be a permanent fixture for Oregon football, which bowed to the Swoosh and the aforementioned Knight.
.
6. Arizona State (1980-2010)
The removal of Sparky the Sun Devil from Arizona State football helmets for this is probably the most egregious mistake in recent helmet history. Yes, that's a big statement and a bit of hyperbole to get your attention. But seriously, Sparky has gathered a cult following of adoring fans. People associated Arizona State football with Sparky, and the team's helmets just don't look the same without him. In fact, there are dozens of Facebook groups in support of Sparky.
So, why did Arizona State get rid of such a popular figure? Well, it's Nike's fault. Nike chairman and Oregon donor Phil Knight continues to plow his way through college football, modernizing the uniforms and taking a bit of the teams' histories with him.
.
5. Syracuse (1977-2004)
In more ways than one, Syracuse football has been trying to pick itself off the mat since Donovan McNabb left for the NFL. The school went away from those classic orange lids and briefly put numbers on the helmets for a retro look gone wrong, then a block letter "S" that stands there today and makes the 'Cuse lids look like Skittles.
In a nod toward the McNabb era, the school should bring back the solid orange hats. It fits well with the 'Cuse's nickname - the Orange - and, maybe, it would bring some good will from a time in Syracuse football when it was actually relevant.
.
4. California (1982-1986)
Cal's bear claw helmets have two things going for them: there's a really awesome claw - just like Clemson's cool paw print - and the helmets were introduced in 1982, when Cal played its famous "Band Is On The Field" game against Stanford. It's not that we don't like the current scripted and underlined "Cal," but it doesn't fit with the team's Golden Bears nickname and the script helmet is seen everywhere.
The claw is unique and it brings back so much nostalgia. If we can't see another classic like that day in 1982, let's at least bring back those sweet helmets that have been paw-less since 1986.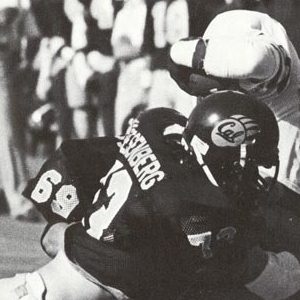 .
3. Hawaii (1982-1998)
As the symbol of the rainbow became more synonymous with the gay community, there became more of a push by the athletic department to change the uniform and nickname from "Rainbows." Said then-athletic director Hugh Yoshida said, "That logo really put a stigma on our program at times in regards to its part of the gay community, their flags and so forth." Obviously that comment didn't go over well.
We love the current Hawaii uniforms but c'mon, it's 2011 and time to show the athletic department isn't still homophobic by breaking the old unis out from time to time. There is nothing as stark as the multi-colored rainbow on that white helmet. And to be frank, if the school thinks the old lid hurts recruiting, well, Hawaii recruits itself.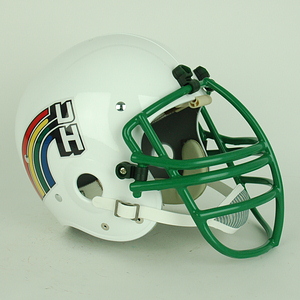 .
2. Michigan State (1965-1972)
The current Spartan silhouette logo is fine but when people think of Michigan State, they think of strong finishes and choking down the stretch of the season. Plus that giant white stripe down the middle that Nike added before last season is redonkulous.
And their current helmets have nothing on the old look from four decades ago when the Spartans were a college football powerhouse featuring the great Bubba Smith and going undefeated in 1966 for a co-national title. The old Spartan helmet was rugged, gritty and old school - just like a Spartan should be.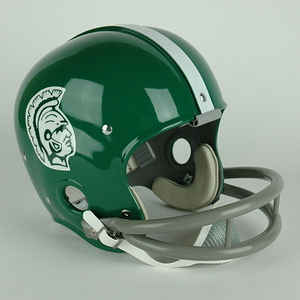 .
1. Pitt (1973-1996)
For a school steeped in so much tradition, it's a travesty the Panthers no longer wear the mustard helmets with the script "Pitt" on them donned by the likes of Tony Dorsett and Dan Marino. Ditched in 1997 by AD Steve Pederson, who changed the colors to navy blue and vegas gold (yes, vegas gold) and rebranded the school "Pittsburgh," and redesigned helmet to look like the ugliest dog in the world.
The school has since gone back to the word "Pitt" on the helmet but it's still not the same with block lettering and those foreign colors. Like Bucco Bruce and Pat Patriot of the NFL, the script "Pitt" helmets were incorrectly deemed not cool enough for the 21st century and have fans hoping for their return. Pederson needs to finally admit his mistake and bring the mustard back to the table.
&nbsp