Duke Duds: Blue Devils' Top 10 NBA Draft Busts
Comments
In the past 30 years, no program has been more successful than Duke's. And with that success has come a lot of first round NBA Draft picks. While Duke has had its shares of NBA stars, it's surprising just how many have fizzled at the next level. We look at the program's biggest NBA Draft busts ever.
***Note: Rankings are based on their production compared to where they were selected and are limited to first round NBA Draft picks only. Bobby Hurley and Jason Williams are not included on this list because of off-the-court injuries that cut their careers short***
.
10. Roshown McLeod (20th overall, 1998)

Blowing up during his senior year at Duke, McLeod only had a three-year career in the league and it's hard to say if he would've become anything since he only averaged 7.2 PPG and 2.7 RPG there. There was something always plaguing his game, whether it was nagging injuries, the flu or a dispute with the mother of his children. The Hawks finally had enough of McLeod and shipped him to the 76ers in 2001, where he played one career game before undergoing surgery for a nerve injury in his leg. McLeod never played in the NBA again.
Today he's the coach for St. Benedict's High School in New Jersey.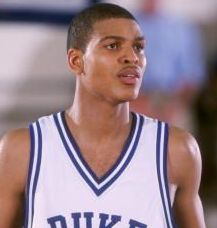 .
9. Jim Spanarkel (16th overall, 1979)

While at Duke, Spanarkel was a dynamic scorer. The first 2,000-point scorer in Duke history and the 1978 East Region's MVP, it made sense when the Philadelphia 76ers made the 6'5" guard the 16th overall pick in the 1979 draft. However, his career lasted only five years. After averaging a solid 14.4 PPG in his sophomore campaign, Spanarkel's play quickly went downhill and he was out of the league completely by 1984.
We don't feel too bad for Spanarkel, as he's both a certified financial planner for Merrill Lynch and and has also had a long career as an NBA and NCAA basketball analyst.
.
8. Mark Alarie (18th overall, 1986)

Alarie was a key member on Duke's 1986 storied team that lost in the championship to Louisville. Drafted by the Denver Nuggets with the 18th pick in that year's draft, the 6'8" forward seemed like a safe bet to have a stellar tenure in the NBA. Alas, Alarie battled chronic knee injuries and had to retire at the age of 27, just five years into his NBA career. He started just 41 career games.
He went into investment banking and today he owns iCertainty in Bethesda, MD.
.
7. Alaa Abdelnaby (25th overall, 1990)

Like Alarie, Abdelnaby was a key member of a Duke team that fell just short of a national title (the 1990 squad). He's still best remembered for this quote about Duke's academics: "The only way I can make five A's is when I sign my name." Taken with the 25th pick in the 1990 draft by Portland, Abdelnaby never developed into anything more than a rarely used role player. What else did you expect from a Blazers big man? At 6'10, 240, he was a first round pick because of his size and potential. It just never happened for him.
He currently provides analysis for CBS, living in New Jersey.
.
6. Cherokee Parks (12th overall, 1995)

Cherokee Parks played 11 more years in the NBA than we did, so it's hard to be too harsh. Still, he played for six teams over that span and never developed into anything more than a tall body that could finish an open slam and use up six fouls. The Mavs' 12th overall draft pick in 1995 as the poor man's Christian Laettner, Parks did even less in the pros than his predecessor. He had a career scoring average of 4.4 points and is remembered more for sticking out like a sore thumb with those crazy tattoes.
He now resides in Huntington Beach, CA.
.

&nbsp