2011 NFL Draft's Top 10 Non-FBS Pro Prospects
Comments
What do Walter Payton, Steve McNair and Jerry Rice all have in common? They all played for non-FBS programs in college and went on to NFL greatness. Here's the Top 10 non-FBS players to watch for in the upcoming NFL Draft.
.
10. Brandon Fusco, C (Slippery Rock)
You couldn't find a better center in Division II last season. Fusco is considered a great run blocker who can seal off plays at the second level and move well across the line. He can also pass block well, using his long arms to keep defenders off of him. He's susceptible to stronger bull rushers and it will be a rude awakening when Fusco has to square off with guys like Haloti Ngata but his durability (he started all 44 games of his career) could make him very attractive in a league that values depth and health. He's projected to go between the fourth and sixth rounds.
>>
9. Buster Skrine, CB (UT-Chattanooga)
He's no Patrick Peterson but Skrine turned heads with his two 40 times at the combine. The NFL Network clocked him at 4.29 and 4.36 (his official time was posted at 4.48). Skrine said teams assured him they had times between 4.29 and 4.33. His size (5-10, 186 pounds) might be his biggest negative but he could add some weight to his frame. He should go in the late rounds of the draft and would make a good nickel corner to start his corner.
..
8. Stephen Burton, WR (West Texas A&M)
At 6-4, 215 pounds Burton is the right size to be an NFL prospect and he ran 40s of 4.38 and 4.44, not too bad for a player his size. His 35-inch vertical also impressed and may come in handy on those end zone fades on Sunday. Burton was also a return threat in college and few teams would turn down a shot at a two-way threat. Think the jump from West Texas A&M is too much? Don't tell that to the Washington Redskins' Anthony Armstrong, who also went there. Burton is also worthy of a late pick.
..
7. Julius Thomas, TE (Portland State)
There's very little tape on Thomas because he played just one season of college football (his senior season). No, he didn't have a late growth spurt. He's another in a long line of basketball-star-to-tight-end prospects we've seen since Antonio Gates became a Pro Bowler. At 6-4, 246 pounds he's also the perfect size for a tight end and will get selected by someone.
..
6. Taiwan Jones, RB (Eastern Washington)
Jones is either crazy or a genius after leaving early from an FCS school for the NFL. He has the potential of taking a long run to the house any time he touches the ball. Even though he played at Eastern Washington, his combination of speed and elusiveness is usually seen at BCS schools. That rare combination should've made him a devastating weapon at the FCS level but Jones has had injury problems his entire college career. His durability is the biggest concern and it didn't help that he couldn't get healthy in time for the draft. He has a pro day on April 14 he needs to cash in on.
....
5. Martin Parker, DT (Richmond)
Parker grew from an overlooked high school recruit out of Connecticut into a beast during his five years at Richmond. He made 96 tackles, 13.5 for loss and 5.5 sacks during his All-America season in 2010. He played well enough to be invited to the East-West Shrine Game and then earned MVP honors in the game for his two sacks. Parker has great control of his body and could do a god job moving the line to force a quarterback or running back to cut back into the defense, but he's not going to be a sack machine without elite speed and is probably a third or fourth round pick.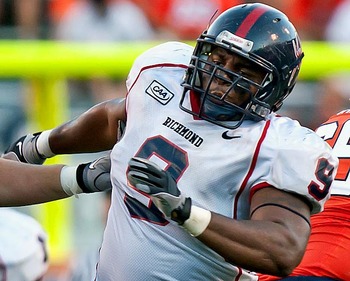 ..
4. Will Rackley, G (Leigh)
Rackley finished his career as one of the most dominant tackles in Patriot League history. His biggest strength might be his pass blocking, which is great since the passing game is becoming more important in the NFL. But he's been criticized for not finishing run blocks and he's also undersized as a tackle and will have to play guard in the NFL. But even though a team must deal with that transition, he could still go as high as third or fourth round.
..
3. Edmund Gates, WR (Abilene Christian)
The bad news? Gates is already 25-years old. The good news? Gates wowed scouts at the combine and many are willing to overlook his age, smaller size (6-0) and poor route running just to get their hands on that raw athletic talent that blazed to a 4.37 40 at the combine and has a 40-inch vertical despite a groin injury. He could go as high as the second round. Many think he could replicate the production of Chicago Bears WR Johnny Knox, also an Abilene alum.
..
2. Kenrick Ellis, NT (Hampton)
Ellis is the only man on this list who had actually been on the roster of an FBS team. He was originally signed by South Carolina but then dismissed by the team in 2008 (reportedly because of multiple failed drug tests). Not surprisingly the SEC-quality recruit dominated at the FCS level with scouts wowed by how nimble he is for a big fella. Even at Hampton he was suspended for a game in 2010, so scouts will be wary of his character issues. But we'd be shocked if he fell further than the third round barring a major legal issue between now and the draft.
..
1. Benjamin Ijalana, OG/OT (Villanova)
Ijalana might have played for an FCS school but he sure isn't a sleeper. Some projections have him going as high as the late first round pick. A rock of stability, Ijalana started every single game of his career for the Wildcats and was the only non-FBS player selected to the Outland Trophy watch list last season.
He should definitely go higher than UMass' Vlad Ducasse, who was selected by the Jets last year at 61st overall. Ijalana is a monster (6-4, 317) and has long arms that make him a great fit for offensive tackle, but he's also versatile enough to play guard.
Many in Philly are hoping Eagles keep Ijalana in Philly with the 23rd overall pick to protect Michael Vick.
..

..


&nbsp