The Story Behind Georgetown's Kente Cloth
Comments
In the two seasons that Allen Iverson spent at Georgetown dominating the competition, he did so with style. And not just because his brand of offense and defense was unlike anything that college hoops fan had ever seen.
Supplementing AI's transcendent abilities on the court was a Hoyas uniform with a kente cloth design running down the sides of both the shorts and jersey. Perhaps only North Carolina could boast a similarly-placed design that was more well-known.
And just as argyle has served as a fitting analogy for the Tar Heel State's renowned program, the kente cloth was a perfect choice for Georgetown.
"In the basketball swag world, we felt as though we had the best jerseys in the NCAA," said former Hoyas forward Jerome Williams over the phone from Las Vegas, where he runs the JYD Project and works as the Director of Player Development for Findlay Prep's basketball team. "It meant something to wear that Georgetown jersey."
Williams and his teammates - among them Iverson, Othella Harrington and Jahidi White - came to Georgetown to carry on the legacy laid out before them by the likes of Patrick Ewing, Alonzo Mourning and Dikemo Mutombo. Maintaining a winning tradition was one aspect of that. But they also put a twist on that with their on-court style.
"We were the first team to rock the Jordan patent leathers and we had these new uniforms," Williams said. "It was our own identity. It was about the Georgetown brand and what it represented ... We definitely had a serious swag about us."
The patterned fabric made of interwoven cloth strips was originally worn by West African royalty as a sign of wealth and authority, kente cloth came to represent West African strip cloth in general.
When Thompson had Nike add a kente cloth-like pattern to the Hoyas' uniforms prior to the 1994-1995 season (Williams' first at Georgetown), it was an overt acknowledgement of who they were: black America's favorite college basketball team.
"We tried to treat it [the pattern] to be fashionable as well as derivative and be careful of the idea of meanings behind it," then-Nike designer Ken Black told The Washington Times in 1994. The Hoyas also donned warm-ups with a black-and-white kente pattern all over it.
Upon his arrival in 1972, John Thompson transformed Georgetown from an Eastern College Athletic Conference afterthought into a Big East and national powerhouse by fielding teams made up almost exclusively of black players. Those players soon became the most visible symbol of one of the nation's leading academic institutions.
As Mike DeBonis wrote for Slate in March 2007, "the team's image was especially resonant in black America. Not only was this an all-black team with a black coach, the Hoyas also played in a majority-black city run by a black mayor." The kente cloth trim was another manifestation from that identity.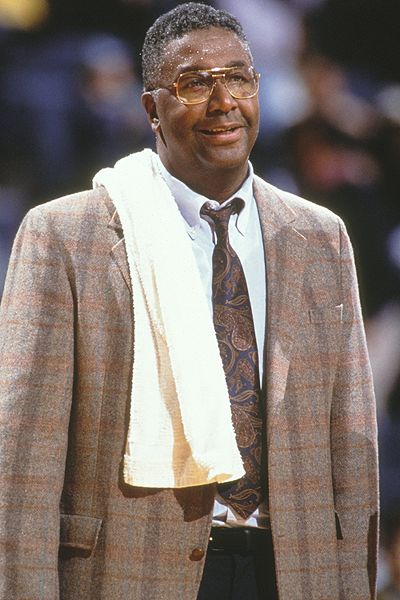 "We understood it was from Africa but didn't understand the history of it," Williams said. "We just thought it was cool, and it was different. Identity is everything, and maybe that was [Coach Thompson's] way of setting us apart."
And people embraced that style. It was full of swagger, and the Georgetown teams of the mid-1990s won big when they wore them - reaching the Sweet Sixteen in 1995 and Elite Eight in 1996. It's little wonder that Complex Magazine ranked the look No. 1 in its rankings of "The 25 Greatest College Basketball Uniforms of All Time" last March.
But almost as quickly as the kente-cloth-trimmed uniforms appeared, they were gone. The season after Iverson left for the NBA in 1996, the kente cloth design's presence was reduced to being trim surrounding the neck and armpits on the jersey. While coincidental, the fortunes of the program declined soon after.
Thompson resigned midway through the 1998–1999 season, handing the Hoyas' reigns to Craig Esherick. The best that Georgetown managed over the next five-and-a-half seasons was a fluke 2001 Sweet Sixteen berth. That "Hoya Paranoia" swagger that had carried the team deep into March so many times before was gone.
Fittingly, it was with the arrival of John Thompson III prior to the 2004–2005 season that spurred the program's renaissance. Also fitting is that when Nike's Jordan Brand redesigned the Hoyas uniforms prior to this season, a hallmark of the team's glory days was finally back.
The whole entire uniform is a tribute to the greatness of Georgetown hoops. A watermark-like aerographic containing a visage of John Thompson and the year "1984" — when the Hoyas won their lone NCAA title — defines the back of the jersey. And running along the sides of the jerseys and shorts, in all its glory, is the kente cloth design.
It brings back memories of AI nearly 20 years ago. (Has it really been that long?) And just as it was back then, No. 11 Georgetown is firmly in the national conversation at 19–4 after winning seven straight and tied atop the Big East standings at 9–3 heading into Wednesday's game with DePaul.
"Things are getting back to where they used to be," Williams said. "When you get away from your brand and then bring it back, you also bring back that mystique."
Whether or not Georgetown's success this season has anything to do with bringing back the kente cloth, one thing's for certain: The Hoyas are getting their swagger back.
Photo Credit: Evan Habeeb/USA Today Sports

&nbsp