Photo: Billboard Campaigns Texans to Draft Manziel
Comments
For all the needs that the Houston Texans have, many fans of the team already have their minds made up who they should take with the top overall pick in May's NFL draft: Texas A&M QB Johnny Manziel.
Tony Buzbee, an attorney and Texas A&M regent, commissioned a billboard in the Houston area that's taking that support to a new level, reading, "Keep Johnny football in Texas!" (apparently, capitalization isn't one of his specialties) and listing the website, DraftJohnnyManziel.com.
"To win in the NFL a team must have a quarterback with strong leadership skills, a winning attitude, and lots of talent," reads the site. "Johnny Manziel has proven time and again that he has those skills needed to get the Texans back on track."
Visitors to the site also have the option of signing an iPetition for Manziel's drafting, one that has 528 signatures (with a goal of 1,000) as of 10:30 AM ET Monday.
We shall see if public pressure persuades the Texans to select the home-state hero.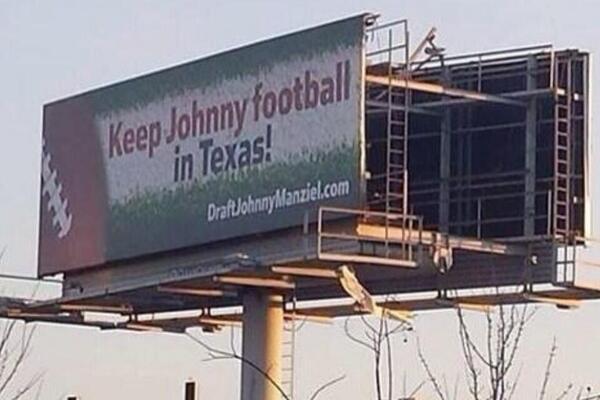 &nbsp