College Football's Most Lavish & Infamous Tattoos
Comments
In the wake of the tattoo parlor scandal at Ohio State, there are plenty of eyes on the ink that college football players are sporting these days. As with many decisions that college kids make, the results of adding body art are usually questionable at best. Let's examine some of the nation's most jaw-dropping tattoos.
.
Tyler Bray (QB, Tennessee)
The Vols quarterback took the nameplate tattoo to a whole new level by getting "Bray" tattooed across the top of his back with each letter featuring a star behind it like a 1970s bowling alley. When you have a tattoo arguably crazier than DeShawn Stevenson, you know you've got a winner.
.
Landry Jones (QB, Oklahoma)
If you haven't learned by now, Landry Jones isn't your average college football player. He marches to his own drum and is best known for his porno mustache. Jones has a large circle tattoo on the inside of his left bicep that's normally covered up by sleeves and hard to decipher. There's even been internet speculation that Jones has a tattoo above the small of his back – a.k.a. a "tramp stamp." We cringe at the thought.
.
A.J. McCarron (QB, Alabama)
McCarron is probably the last guy you'd picture with a tattoo but his ink has the holy trinity of Jesus, his parents and the words "Bama Boy" on it. Yes, it's one of the wildest tattoos we've seen around. It will look even better to 'Bama fans - who are known for Tide-centric body art of their own - if McCarron can take over for Greg McElroy and lead Alabama to another national title.
.
Taylor Martinez (QB, Nebraska)
Martinez, who leads the Huskers into the Big Ten, is one of the most-dynamic QBs in the nation. But that's not the most-interesting thing about him. Take a look at the tattoo that wraps around his left arm. According to FOXSports.com, it's a Samoan tattoo to honor his step-mother. The website reports that he has not spoken with his biological mother in approximately eight years. Whatever the reason, Martinez's body art certainly is eye-catching.
.
Taylor Lewan (OT, Michigan)
Lewan told Detroit's CBS TV affiliate that he's been into tattoos since he was 17. His most noticeable ink is on his massive left arm, which nearly is covered in tattoos and appears to feature a knight in armor. But that's not nearly his most impressive work. Lewan also has a small mustache tattooed on his right pointer finger, which he places over his top lip when he wants to go incognito. The inspiration? Lewan said his third grade classmates told him it looked cool when he drew the mustache on his finger. So why not put it there permanently? No one said offensive linemen were smart.
.
Bret Bielema (Head Coach, Wisconsin)
As most people know, Bielema was a senior captain at Big Ten-rival Iowa in 1992. When he was a player, Bielema decided to make his allegiance to the Hawkeyes known after the walk-on received a scholarship from Hayden Fry by getting an Iowa logo tattooed onto his calf with the words "believe" and "achieve." Unfortunately for Bielema, he now covers it up as the head coach at Wisconsin. Considering the rabid nature of Badgers fans, Bielema should keep his ink covered at all times.
.
Josh Haden (RB, Toledo)
Haden, the brother of former Florida All-American Joe Haden, apparently didn't learn everything from his brother; at least we hope not. Josh Haden fell in love with Boston College so much that he got BC's logo tatted on his chest. So what, you say? Haden then transferred Toledo. Good luck to the tattoo artist put in charge of morphing that into this.
.
Jerel Worthy (DT, Michigan State)
Worthy hasn't been shy voicing his disdain for arch-rival Michigan, but the tattoo he showed up at fall practice with takes things to a new level. That's because Worthy now has a massive tattoo on his bicep of a Spartan warrior stepping on a Wolverine. Granted, Worthy has a right to be cocky. Counting a redshirt season, he's 3-0 vs. Michigan and is a projected top 10 pick in the 2012 NFL draft (click to enlarge).
.
Stephen Garcia (QB, South Carolina)
Everyone has seen Garcia's tattoo on his left bicep, but no one was sure exactly what it meant. But according to Lindy's Sports, the troubled Gamecocks quarterback has the Greek word for "excellence" inked on him. It shouldn't come as that big a surprise since Garcia loves the movie "Troy," which was the inspiration for him growing his hair out. Considering Garcia has been suspended five times in Columbia, we wonder what the Greek word for "headache" is…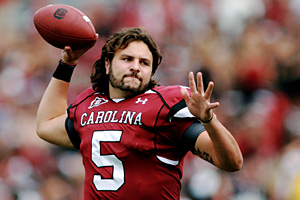 Jesse Williams (DL, Alabama)
Williams is an American football player from Brisbane, Australia, so he's not exactly the norm. He transferred to Alabama from junior college and expects to be a big factor on the Crimson Tide's defense this season. He has more than one tattoo, including a large one that takes up most of his right arm. But the most interesting tat? An ink job on his right hand, which reads: "I stopped checking for the monster under the bed when I realized the monster is me." What's there to say about that? Williams is an intimidating player, to say the least. But why didn't he tattoo that reminder in a more prominent place? We won't be the ones to ask him.
USER SUBMISSIONS
.
Casey Pachall (QB, TCU)
Casey Pachall will take over for Andy Dalton this season as TCU tries to follow up its Rose Bowl win with a third straight BCS bowl. We're sure Pachall will be fine; he's a highly touted player. But a series of weird photos emerged in which Pachall was wearing tin foil on his head and parading around half-naked with Superman underwear on. There was one photo where Pachall's incredible tattoo was revealed. He has giant horns from a Longhorn tattooed on his chest but instead of a head in the middle, there's a map of the Lone Star State. We guess even tattoos are even bigger in Texas. Check it out for yourselves here.

.

Did we miss one? Submit other notable college football tattoos in the comments section and we'll post the best ones!

&nbsp