Rolando McClain Goes Back to School
Comments At this same time three years ago, Alabama linebacker Rolando McClain was projected to be a future All-Pro middle linebacker.
The recipient of the 2009 Butkus, Lambert and SEC Defensive Player of the Year awards — not to mention the leader of a defense that helped carry Alabama to the '09 national title — was the No. 8 overall pick by the Oakland Raiders in the 2010 draft, a seemingly safe bet to cure anything and everything that ailed them on defense.
Yet here we are in September of 2013, and McClain's not out on the NFL football field - or any football field, for that matter. Through his own decision, the 24-year old is back in school. So what happened to the onetime Crimson Tide star that was supposed to be the defensive savior for the Silver and Black?
McClain's retirement from the NFL this past May, following a month-long tenure as a Baltimore Ravens free agent signee, caught many by surprise. Yes, he had a litany of legal problems in the NFL, having been arrested three times in an 18-month span — for illegally discharging a firearm, resulting in the infamous arrest photo below (December 2011); driving with overly tinted windows (January 2013); and disorderly conduct and resisting arrest (April 2013). And he had yet to come anywhere close to realizing the potential that pro scouts had once seen in him.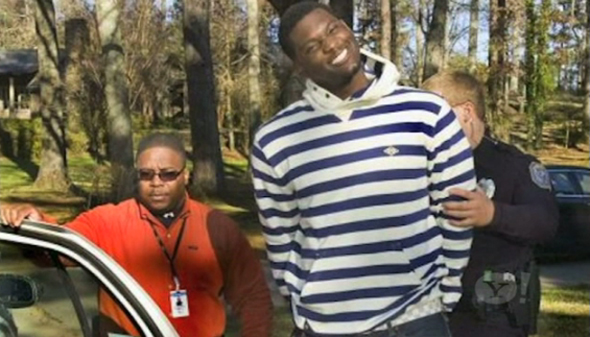 That being said, he was less than a month shy of his 24th birthday the day he announced his retirement, on May 15th. He was more than young enough to be a potentially successful, NFL reclamation project — if not in Baltimore, then somewhere else.
But to McClain, improving his prospects as a player wasn't worth sacrificing the effort needed to improve his prospects as a person.
"With any job you're doing, if you're not 100 percent focused on what you're doing, you can't do the best you can do," McClain told his hometown Decatur (AL) Daily in August. "That was the case with me and football. I felt with all the legal stuff and everything else that was going on, it was the time for me to stop and take a break and reflect on my life and get myself right, and that's what I'm doing at this time."
McClain had begun that process in January, when he and fiancée Capri Knox — a former Crimson Tide track and field athlete who's the mother of McClain's two sons — filed for a marriage license, which they received in April. But shortly after, just as he had done several times previously, McClain hit a bump in the road with his most recent arrest.
During a softball game at Pines Park in Decatur at which 700 people were gathered, police arrested McClain while they tried to clear a crowd from the street. Police said that McClain yelled, "F*ck the police!" to those gathered, after which he resisted while police tried to handcuff him.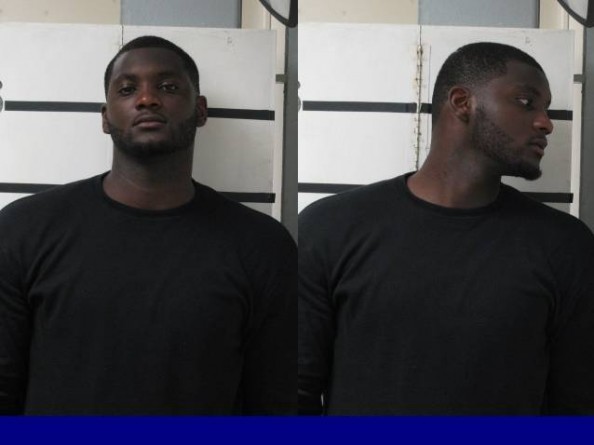 "That was just diminishing, being arrested right in front of these people," McClain recalled to the Daily (he and his agent, Pat Dye Jr., respectfully declined to be interviewed for this story) while also mentioning that many of the witnesses at Pines Park that day had been admirers of his football career.
The way McClain tells it, what happened on April 21st was the turning point, the moment that he realized he needed to make drastic changes to his life.
It started with his decision to, for the moment, walk away from football — a decision likely made easier by the $23 million guaranteed he had received from his five-year, $40-million rookie contract with the Raiders. After that, he made the even harder decision to move away from Decatur, where he had endured a rough childhood and all three of his arrests had taken place.
"I had to realize that it wasn't so much the city of Decatur that I was getting arrested in, but the people that I was around," McClain told the Decatur Daily. "I love the city of Decatur. I can't forget where I come from. But at some point, a man's got to move on and look out for his family."
McClain, Knox and their two sons now live back in Tuscaloosa. McClain is enrolled at the university again and plans to complete his undergraduate degree in family financial planning next spring. Football is still part of his life — sort of.
"My role is just an adviser," McClain told the Daily when asked about his current involvement with Alabama program. "I'm not coaching. I come around practice. I guess Coach [Saban] respects my opinion, and so do some of the players. If I know of something that can help a player, I help. But that's as far as my role goes right now."
The former Butkus Award winner is still young and still a potential NFL comeback story. Yet if he graduates next spring and a return to the gridiron isn't in the cards, he'll make peace with that.
"If I choose to do football or I choose to just sit on my porch and fish for the rest of my life, I'll have a clear head," McClain told the Daily. "I was headed down a bad road, and had I not stopped and gotten myself in order ... I don't know. I wish I had the knowledge I have now."
Just a few years removed from being a star on the Crimson Tide's 2009 national title team, McClain is just another Alabama student trying to figure out his life - and, of course, likely counting down the hours until the Tide's game at No. 6 Texas A&M on Saturday.
&nbsp