Orange Bowl Tickets are Cheaper Than…
Normally, you need to trade in the proverbial arm and a leg in order to obtain tickets to a BCS bowl game. But nothing could be further from that normalcy than this year's Orange Bowl between Florida State and Northern Illinois, where the cheapest tickets listed on StubHub were going for $10 as of Wednesday at 11 AM ET. In contrast, tickets for the BCS National Championship Game played six days later in the same stadium start at $1,500 on the site.
In an area of the country as touristy as Miami, it makes for a pretty good steal. Just how sad are these Bowl Game prices? They are cheaper than many of the items on a Miami tourist's to-do list that should be much more affordable than tickets to a BCS bowl game: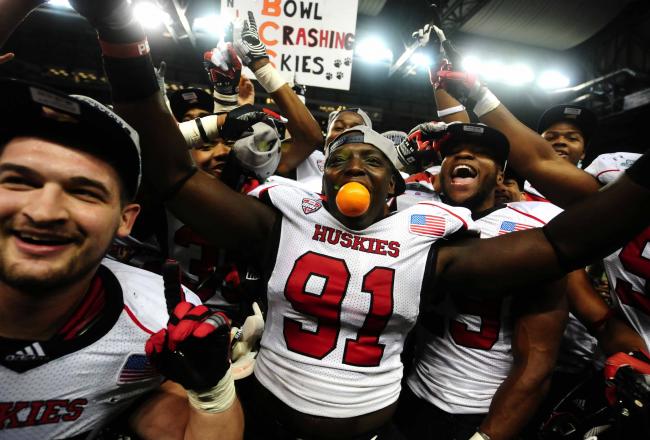 Photo: Andrew Weber/USA Today Sports Images.
Large Daiquiri at Wet Willie's ($10)
Though Wet Willie's is based in Savannah, GA, its most well-known location might be the one on Ocean Drive in South Beach. The daiquiris are excellent but no one drink should cost more than an entire football game.
.
"I'm in Miami B*tch" T-Shirt ($29.99)
T-shirts with slogans plastered on them are normally dime-a-dozen, but LMFAO turned this one into a South Beach collector's item after releasing a 2009 song of the same name and wearing them at concerts. If only "collector's item" could be used to describe tickets for the Northern Illinois-Florida State matchup.
..
General Admission to Miami Seaquarium ($39.95)
The longest operating oceanarium in the U.S. at 57 years, the Seaquarium offers eight different marine animal shows and presentations daily. Perhaps a halftime performance by longtime Seaquarium resident Lolita the orca will convince more people to purchase a ticket for the game.
.
Everglades Airboat Tour ($19.50)
Release your inner Gator McKlusky and take a 30-minute tour of the historic Everglades. That's right: The tour is twice as expensive as the Orange Bowl despite being two-and-a-half hours shorter.
.
Sunday Breakfast Buffet and Cuban Coffee at Versailles ($11.10)
The 41-year-old restaurant is famously known both as a gathering place for Cuban exiles and a place for authentic Cuban cuisine. The Sunday breakfast buffet includes pastelitos, codfish fritters, white rice and fried eggs - all of which can be washed down with a tasty Cuban coffee. Orange Bowl patrons looking for grub the morning after the game will have plenty of money left over for breakfast here.
.
Admission to Vizcaya Museum & Gardens ($15)
The former villa and estate of businessman James Deering is a Mediterranean-inspired structure and garden that has long been a popular site for weddings and other private events. Yes, staring at bushes and grass is more expensive than watching football being played on grass. That's a sad statement for the BCS.
.
Pirate Boat Tour of Biscayne Bay ($27)
The best way to take in Miami Beach, South Florida's most gorgeous mansions and the Downtown Miami skyline can be seen from the waters of Biscayne Bay. And if you time it correctly, you can do so aboard the El Loro, Miami's only pirate boat. For this price, we hope Mike Leach is the captain.
.
Cover Charge at LIV ($40+)
No hedonistic trip to South Beach is complete with a stop at LIV nightclub in the historic Fontainebleau. Just walking in the door is at least four times more expensive than attending the Orange Bowl. Start a tab here and the price exponentially increases.
.
Regular Admission to Zoo Miami ($15.95)
Zoo Miami is the continental United States' only subtropical zoo and one of the first free-range zoos in the country. Yeah, but do they have a man dressed as a Seminole throwing a flaming spear into the ground off a horse? We think not.
.
Admission to Coral Castle ($15)
You'd have to go a little out of your way to Homestead — 45 minutes south of South Beach — to witness one of the more unique structures ever created: 1,100 tons worth of coral-formed limestone constructed into various walls, carvings, furniture and even a castle tower. Yeah, but how many other stadiums do you know are covered in aqua and orange?
.
One-Hour Paddleboard Rental on Key Biscayne ($30)
A combination of surfing and traditional canoeing or kayaking, stand up paddle boarding is a great workout - but so is getting to the nosebleed seats at the stadium. Advantage: Orange Bowl.
.
Discovery Miami Beach Tour from DecoBike ($29.95)
Rather than battle the South Beach traffic, visitors can spend four hours riding around Miami while listening to self-guided, state-of-the-art audio tours that point out all the neighborhood spots worth seeing. Yeah, we're bored just thinking about this, too.
.
Admission to Jungle Island ($34.95)
If you have a young one in tow, distracting them with a park featuring orangutans, various birds and unusual flora/plants is always a popular move. But why pay for this when you can see monkeys at Ikea for free?
&nbsp