Only One Man Can Save Texas: Eric Taylor
Comments
By Jim Weber
Mack Brown's chances of keeping his job likely went up in smoke on Saturday after Texas was crushed by Oklahoma State at home, 38-13, to fall to 7-3.
Talk around the water cooler in the Lone Star State this week will be about how much money it will take to lure Nick Saban from Tuscaloosa to Austin but I've got a reality check for Texas fans: He's not leaving Alabama. Period. So don't get your hopes up and save yourself the heartbreak.
But I do have another name for you: Eric Taylor.
That's right, the same Eric Taylor who starred on the hit television show "Friday Night Lights" for five seasons – in case you didn't know, "FNL" was filmed in Austin and has a cult following of fans like myself – and won two high school state titles in the process.
If Art Briles can go from a Texas high school coaching legend to Baylor's savior, why can't Taylor do the same for UT?
Because if there's anyone who can return Texas to its past glory, it's the man who built East Dillon's high school team from scratch one year and won state the next.
So imagine a world in which Taylor takes over as Texas' head coach for the final three games of the 2013 season and behold my glorious vision of it…
.
Coach Taylor arrives at practice on Monday afternoon for Philadelphia's Pemberton High School - where we last saw him coaching in the "FNL" series finale - and sees a familiar face waiting for him on the field: Buddy Garrity's.
Garrity – who doubles as a booster for Dillon and Texas football – explains that retiring Texas athletic director DeLoss Dodds wants to go out a winner and knew he was the only one who could convince Taylor to return to Texas. Garrity lays out the deal over dinner that night at the Taylor house: The interim head coaching job at Texas and a job for Tami Taylor – a.k.a. "Mrs. Coach" – as Texas' Dean of Students (the current one be damned).
Mrs. Coach tries talking her husband out of it by reminding him of the Texas Methodist coaching debacle in Season 2. But then Buddy pulls out his trump card: A brand new McMansion in Austin courtesy of the Texas boosters - with his and her closets.
The Taylors pack their bags for Texas.
Brown announces his abrupt "retirement" on Tuesday and at Taylor's introductory press conference later that day, he is flanked by the newly named offensive and defensive coordinators, Tim and Billy Riggins. Taylor walks to the podium and says only one thing: "Clear eyes, full hearts, can't lose," then exits stage left while winking to the press.
.
Texas vs. Texas Tech
After a week of E! News comparing which coach is hotter - Tim Riggins or Kliff Kingsbury - Riggins looks across the field before kickoff to see ex-girlfriend Lyla Garrity making out with Kliff Kingsbury and Kliff staring Riggins down while making out with Lyla.
It's on like Donkey Kong.
Texas falls behind 45-0 at the half, causing fans in Austin to wonder if hiring Taylor will blow up in Dodds' face worse than a Dan Kendra science experiment. Taylor gives his epic "What makes a man" halftime locker room speech, bringing the players to tears. Then, out of nowhere, Matt Saracen comes running out of the UT locker room as a 23-year-old freshman and starts the second half at quarterback for the benched Case McCoy.
Saracen channels his inner Colt McCoy and scores touchdowns on his first six possessions to make the score 45-42 late in the fourth quarter. Texas finds itself with the ball at its own 20-yard line with one second left and apparently out of miracles.
The game seems to end when the Red Raiders secondary knocks down Saracen's Hail Mary - only for a previously unseen Texas wide receiver to pick it up off his shoelaces and run to the house, a la "The Immaculate Reception." Once he scores, the receiver is mobbed by teammates and takes off his helmet, we discover the wide receiver is Santiago Herrera - who everyone assumed was dead or back in jail following his disappearance from the show after Season 2.
Texas wins, 48-45. The play comes to be known in Austin as "The Immaculate Mexican."
Riggins punches Kingsbury in the face at midfield amid the chaos, grabs Tyra (who has reverted to Slutty Tyra after going to college at UT) and locks himself on the Texas Tech team bus with Tyra, half the Texas Tech cheerleading squad and a camcorder. When Texas Tech finally breaks into the bus a half-hour later, Kingsbury finds a VHS tape, a nine-iron, a bucket of ice cubes and a buffalo head (preferably stuffed, for safety's sake) in his seat.
.
Texas at Baylor
Each team scores a touchdown on every single possession in the highest scoring game in college football history.
Texas scores the final touchdown as time expires and, naturally, coach Taylor goes for two with the score at 140-139. Saracen drops back, runs to midfield for no apparent reason and launches the patented "FNL" Hail Mary. It bounces off the hands of several players like a Plinko disc until it finally falls into the hands of a diving ... Matt Saracen! Coach Taylor's decision to move Saracen to wide receiver in high school is vindicated!
Texas wins, 141-140.
Calling the game for FOX, Gus Johnson's head finally gives in and explodes.
Spooked by the pandemonium, Saracen's grandma runs out of the stands and onto the field, then mistakes Art Briles for her dead husband. She trips, face plants and sobs uncontrollably. Saracen picks her up, says, "It's gonna be OK, grandma," and walks off the field with her as a hero to Texas fans and grandmas everywhere.
.
Texas finishes the regular season 9-3 and in the miracle of all miracles, ends up No. 2 in the final BCS standings after a computer glitch snubs undefeated Florida State and Ohio State to set up a rematch of the 2010 BCS National Championship Game between Texas and Alabama in the Rose Bowl. Saracen becomes the first player to win the Heisman Trophy despite playing in just six total quarters.
But the program comes crashing back to earth days before the title game when Sports Illustrated's George Dohrmann and Thayer Evans publish a damning exposé detailing PED use (Smash Williams), arrests (Vince Howard), alcoholism (Tim Riggins), an abortion (Luke Cafferty and Becky) and cheating (the shady mail box) on Taylor's watch in Dillon.
Former players rush to Taylor's defense, saying that the main source of the report - ex-quarterback J.D. McCoy - has no credibility. Smash says he was misquoted and threatens legal action. Longhorn fans rail against Evans, whom they call an "Oklahoma homer" with a Jersey Shore blowout that's determined to bring down the Texas program.
.
BCS National Championship Game
Despite the cloud hanging over the program, Texas fights tooth and nail with Alabama. UT trails 14-10 with one second left and the ball at midfield. Paralyzed former Dillon quarterback Jason Street - once regarded as the greatest recruit in prep history - rolls himself onto the field in his wheelchair while wearing a Texas uniform and helmet. He lines up under center with Saracen in the backfield as 100,000 people sit in stunned silence and wonder if coach Taylor has lost his damn mind.
Street takes the snap and pitches it to Saracen, who rolls left while Street wheels right to exit the field. With the entire Alabama defense bearing down on Saracen, Street suddenly stands up from his wheelchair, starts sprinting downfield and lifts his hand calling for the ball.
It's a halfback pass! Jason Street can walk!
Saracen hits Street on a perfectly thrown bomb for the touchdown. Four years after Colt McCoy's freak injury cost Texas a chance to beat Alabama in Pasadena for a national title, Jason Street's miraculous recovery delivers them the crystal ball.
Texas wins, 16-14.
While being interviewed afterward, Taylor looks into the camera and says, "Let me tell you something: This one's for Mack Brown."
Dodds walks up to Taylor, says, "To hell with Nick Saban…" and hands Taylor a lifetime contract.
Brent Musburger spots Tami Taylor and Julie Saracen on the field hugging father and quarterback and excuses himself from the rest of the broadcast.
Matthew McConaughy and Lance Armstrong streak across the field shirtless.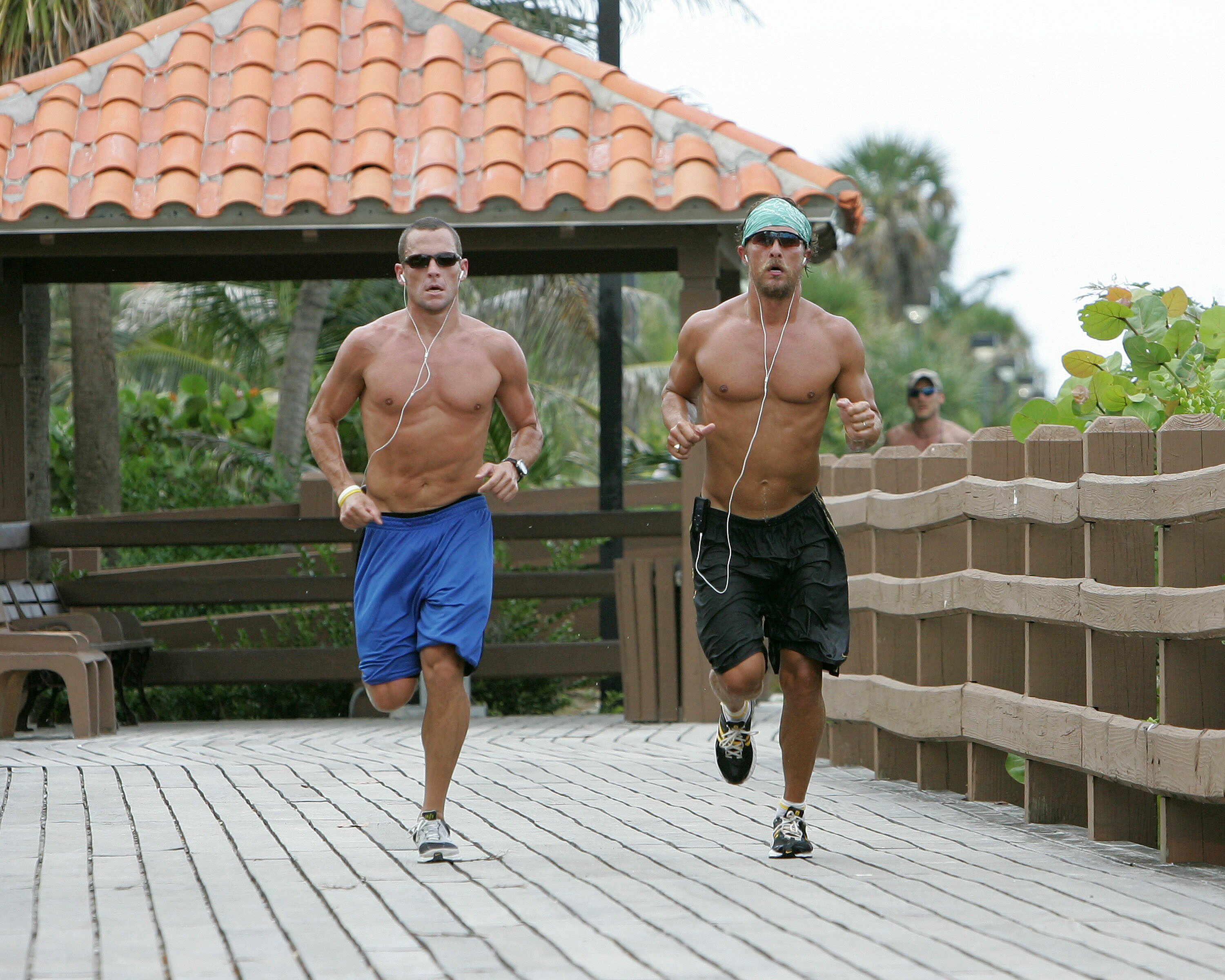 Julie Taylor pulls out a pregnancy stick with a plus sign on it and screams, "It's a boy!" She and Matt embrace. Coach Taylor puts his arm around Mrs. Coach and says with a smirk: "Looks like we've got another quarterback in the family…"
The Longhorns lift Street on their shoulders and try to carry him off the field, only to drop him on his head and paralyze him again.
As the paramedics strap him to a stretcher, Street clutches Tim Riggins' hand and whispers one last thing as he's loaded onto the ambulance:
"Texas forever."
Fade to black.
Roll credits.
Jim Weber is the founder and president of LostLettermen.com. You can follow him on Twitter at
@JimMWeber
and
@LostLettermen
.
His debut film, "Fratboy Missionaries", is still waiting to be greenlit. If anyone steals this idea for the "Fright Night Lights" movie, Weber expects to be compensated with $3 trillion.
&nbsp