ODU's Taylor Rebounds From '95 Arrest To Lead Monarchs
Comments
Old Dominion's Blaine Taylor may not look particularly intimidating when you see him on the court this afternoon vs. No. 8 seed Butler but make no mistake: The road he's traveled to get to his current success has been much tougher than anything he'll face in the tournament.
Being a former point guard who played at Montana, Taylor easily transitioned into coaching as an assistant at his alma mater in 1981. After a brief spell coaching high school, Taylor was back at Montana as an assistant under coach Stew Morrill - now the head man at Utah State. Taylor finally became a head coach for the first time when Montana hired him to lead the team in 1991.
Having lived in the same area of Montana nearly all of his life, Taylor became very popular with the locals and was a mainstay at all the local parties related to Montana basketball. That's when the affable Taylor developed his drinking problem.
Said his wife in 2001: "Everybody felt like they knew Blaine. They expected him to be at all of these functions and he tried to oblige people. He tried to please everybody."
Added a friend in the same article: "Blaine was living life at a pace you probably can't maintain forever."
Taylor hit rock bottom in August 1995. On one particular night, a drunken Taylor backed his car into a light poll and then drove his car across the street to a church parking lot where he turned it off and went to sleep. After police found him while checking on the light post, they measured his blood alcohol level. It was allegedly .247, more than twice the legal limit.
Soon after, Taylor admitted himself into a 28-day alcohol rehabilitation clinic. Taylor says he hasn't had a drop of alcohol since.
The changes in his personal life coincided with his coaching career taking off. Three years after the incident Taylor spent a brief stint as an assistant at Stanford before landing at Old Dominion in 2001. The program lacked consistency when he arrived and had back-to-back losing seasons. After three unimpressive seasons, Taylor had done well for himself.
Old Dominion has won at least 20 games in six of the last seven seasons. The Monarchs have also won two conference regular season and tournament titles during that span and today marks the team's second consecutive trip to the dance. Last year, ODU knocked off No. 6 seed Notre Dame in the first round before falling to Baylor.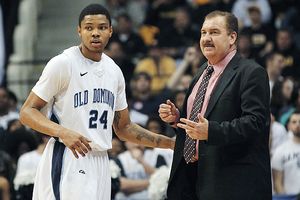 Now Taylor's Monarchs are considered one of the prime candidates to be this year's Cinderella team. And it may never have happened without the growth he experienced from his 1995 arrest.

Said Taylor in 2001:

"It changed the course of my life in a good way. I don't know if I'd be standing here before you if that hadn't happened.

"I'm a better husband, a better father, I think a better employee, a better role model, a better counselor when needed, and a better coach…

"Although it's a great personal-growth thing, I wouldn't recommend it to any of you here."

And who better to lead a storybook-tournament run than a coach with his own redemption story?

&nbsp