Ohio St. Mascot Lit Up in Spring Practice
Comments
Brutus the Buckeye is likely going to stay confined to the sidelines from now on at Ohio State practices.
During Saturday's Student Practice Day, in which OSU students got to watch the Buckeyes from field level, the school's oversized nut of a mascot took a snap from the shotgun formation. He scrambled out of the pocket, only to get completely de-cleated by LB David Perkins.
While the person inhabiting Brutus' costume managed to get up, they had to excuse themselves from the practice shortly thereafter.
Why such a big hit on a mascot, David Perkins? "See ball, hit ball," he explained to reporters afterward.
If you're a Buckeyes coach, you have to like that mindset — even if it comes at the expense of the school mascot.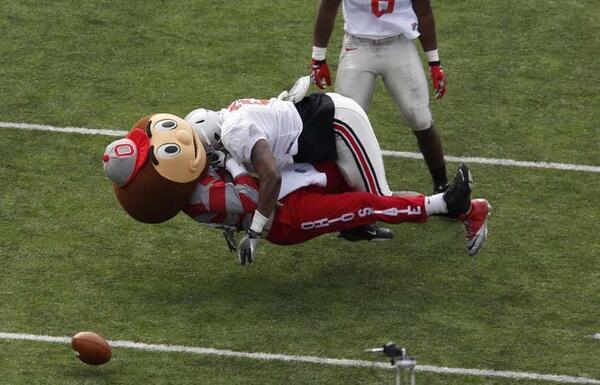 &nbsp