Time for Johnny Manziel to Embrace Villainy
Comments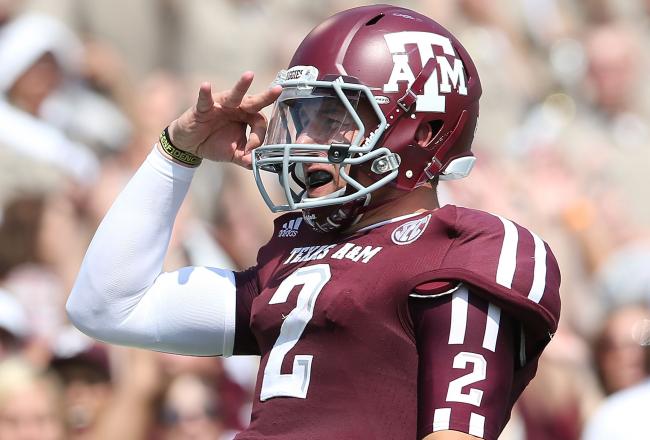 By Jim Weber
Johnny Manziel's dramatic offseason hasn't just been a nightmare for Johnny Football, but for all sports fans who have suffered through the national media turning Manziel into the latest player to receive 24-hour news coverage following in the steps of Brett Favre and Tim Tebow.
The latest controversy involving alleged autographs in exchange for cash has been beaten over our head for the last 48 hours despite no evidence so far that Manziel received any compensation. The circumstances could change but right now, if this was a court case, it would be thrown out in a heart beat.
Personally, I'm rooting for the kid now more than ever. Manziel is one of the most exciting college football players I've ever seen and I love the flair with which he plays. What bothers me a lot more than any of Manziel's mistakes this offseason is how many cynical people literally hate a 20-year-old kid they don't even know and all the sanctimonious sports writers that are waiting for him to fail just so they can write, "I told you so."
That's why I am hoping Manziel plays even better this fall (pending a possible suspension) and embraces his villainy Marshall Henderson-style (minus the drugs) with even more braggadocio to rub his success in the faces of all his critics. And what better way to do that than with touchdown celebrations that parody all the off-season activities that have been the source of endless drama? (Plus his normal celebrations of doing the "Superman," salute and pointing skyward are all very forgettable).
Without further adieu, I present these new touchdown celebrations for Johnny Football to troll his critics:
The "In Da Club"
There's no single picture that sums up Johnny Football than this photo at Dallas' Avenu Lounge after winning the Cotton Bowl last January. The sparkler in the mouth. The Dom Pérignon. The bodacious blond. The random bro in the ground. This picture has it all. It would be epic if Johnny Football recreated the photo after a score by holding the football like the bottle of Dom P. above, pulling a sparkler out of his sock, lighting it and putting it in his mouth. Is putting a lit sparkler inside your helmet a little dangerous? Yes. Do you think Johnny F*cking Football cares?
The Double Kiss Souffle
Who can forget Manziel on the receiving end of a double kiss during spring break in Cabo, Mexico, this past March? I imagine Manziel scoring a touchdown, running over to the other team's sideline (A&M only has male cheerleaders) and receiving a double kiss on both sides of his helmet from opposing cheerleaders while a teammate pretends to take pictures with an air camera. If Chad Johnson can propose to a cheerleader after a touchdown and get her to say "Yes," Manziel can easily pull this off.
Manning Sleeping Academy
The way the media portrayed Johnny Manziel sleeping through sessions at the Manning Passing Academy and getting excused early, you would have thought Johnny Football spit in Archie Manning's face and kicked his dog. To honor the infamous faux pas, Manziel should lie down on the field after scoring, curl up in the fetal position and put the pigskin under his head like a pillow. When his teammates catch up to him and pretend trying to wake him up, Manziel should wave them off and roll over. Bonus points if Manziel lays down on the field with the Heisman Trophy in his arms like in this Taiwanese animation clip or gets Alabama QB AJ McCarron - his roommate at the Manning Academy - to be the one pretending to wake Johnny Football up during the A&M-Alabama game on Sept. 14.
The Johnny Hancock Special
The "Johnny Hancock" scandal has to be rock bottom of Johnny Manziel Fatigue. It would be against the NCAA's antiquated rules, but do any college football fans actually care if Manziel got some money for signing his damn name? Terrell Owens has already paved the way for this celebration in 2002 by pulling out a Sharpie, autographing a ball and handing it to a fan in the stands. Manziel should do the same with an added twist: Having a fan hand him back 22-inch chrome rims (the alleged reason behind signing autographs for cash), which Manziel runs back to the sideline with. I'm sure Kevin Sumlin would be thrilled.

Manziel has spent the last eight months in damage control to no avail. I can only hope once he hits the football field again, he reverses course and tells all his haters what they really need to hear: "Shut. Up."

&nbsp