Guns a Blazin' on New NMSU Helmet
Comments
The sorry state of New Mexico State football might be best summed up by the helmet the Aggies wore over the past four seasons: A crimson lid with "NM State" written on the side that made you cover your eyes at how boring it was.
It remains to be seen if NMSU can turn things around in the win column. For now, they'll be satisfied with making a nice upgrade to those yawn-inducing lids.
New helmet for New Mexico State features Pistol Pete: pic.twitter.com/wxEqZ9C2i9

— Paul Lukas (@UniWatch) August 7, 2013
The helmet decals now feature the school's mascot, Pistol Pete, above "Aggies" and a de-emphasized "New Mexico State." The coolest feature is the stripe going down the lid, one featuring a pattern of crisscrossed guns.
Regardless of win total, first-year head coach Doug Martin can hold his head high about at least one thing this season. Grade: B+
New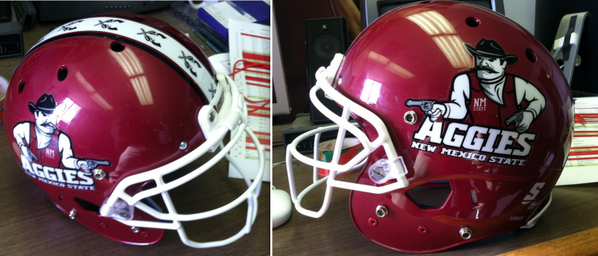 Old
&nbsp