New Oregon St. Football Helmet Online?
Comments
A couple weeks ago, we told you about the new Oregon State logo that was possibly leaked online.
Well Beaver fans that didn't like the new possible look should brace themselves because an accompanying new helmet has popped up on the internet that is, well, bold. The Corvallis Gazette-Times recently wrote about both circulating the web and interviewed head coach Mike Riley about it.
Riley didn't confirm whether the fan-designed helmet is close to the real thing but said he has worked with Nike for the last three or four years for an updated look that apparently will debut this fall.
"This new thing is exciting and I'm looking forward to it," Riley told the Gazette-Times. "Some players are involved and they are excited. We'll maintain some of tradition at Oregon State, but we'll branch out to something new and different for us."
Judging by the comments on the Times website, the possible new look isn't going over well in Corvallis:
• "Well I give Nike credit for trying, but the helmet logo looks like a parrot, not a beaver."
• "So Ugly…the fool who created this has to be a University of Oregon Graduate..only someone from UofO would create something so ugly and get the Athletic Department to drink the Kool-Aid and think this is a good look…."
• "I HATE, HATE, HATE it. It looks like the outline of a—dare I say it—duck's wing!"
• "The Oregon State Naked Mole Rats (at least that's what the logo looks like)"
It looks like Oregon State fans might have another reason to hate Nike founder and Oregon super booster Phil Knight.
Current Helmet
New Helmet?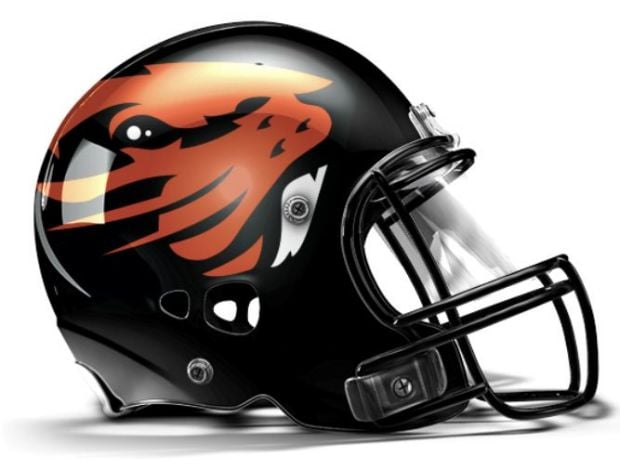 &nbsp