FSU T-Shirt: Jameis Winston as Jesus
Comments
All it took was two games for Florida State freshman QB Jameis Winston to earn deified status in Tallahassee — literally speaking, in the case of one t-shirt.
Said shirt has superimposed Winston's face onto Jesus' body (is it us or should Winston, a self-proclaim mullet enthusiast, start rocking a mullet in real life?), a radiant No. 5 shining on his chest and the caption "The Chosen One | 2013" running at the top.
If the highly-touted freshman QB of your favorite team had more TD passes (six) than incompletions (five) through his first two college games, you might be ready to deify him too.
[@3xOpod]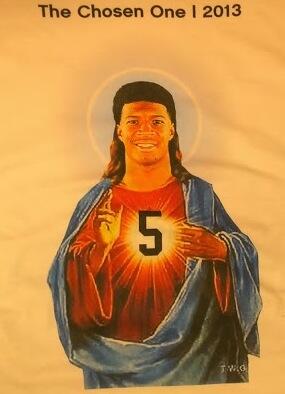 &nbsp