College Basketball's 2013 All-Undrafted Team
Comments
By Jim Weber
Having attended Thursday's night NBA draft at the Barclay's Center in Brooklyn, I was stunned not to hear some familiar college names  called while anonymous international players like Bojan Dubljevic and Janis Timma were picked at the end of the second round. Here's my starting five on the NBA's 2013 All-Undrafted College Team:
.
PG: Matthew Dellavedova (Saint Mary's)
The Aussie and his massive mouthguard averaged 15.8 PPG and 6.4 APG last season but, for now, won't have the chance to guard star NBA point guards like Chris Paul, Russell Westbrook, Tony Parker, Stephen Curry and Kyrie Irving. He was a special player for the Gaels and, worst case scenario, will have a long career overseas either in the Euroleague or back home in Australia.
.
SG: Khalif Wyatt (Temple)
Yes, the ex-Temple star is a streaky shooting guard stuck in an un-athletic point guard's body, but it's hard to believe there isn't a place on an NBA bench for an Eddie Johnson-like "microwave" like Wyatt. Anyone that saw his 33-point performance against Syracuse last December or his heroic 31 points against Indiana in the NCAA tournament knows Wyatt is someone you don't want to face. Don't be surprised if he comes out of nowhere in a couple years like Danny Green to find a role in the NBA.
.
SF: C.J. Leslie (NC State)
A freak athlete, Leslie's was the supposed savior of NC State basketball as a local uber-recruit. Unfortunately, he never developed his game in Raleigh and always relied on being a much better athlete than everyone else on the court. Going unpicked has to be an even bigger pill to swallow considering that Leslie skipped his senior year and was a consensus second round pick by pundits. Guys like Leslie are a dime a dozen in the NBA, so expect him to hone his craft in the D-League and hope he catches an NBA team's eye there.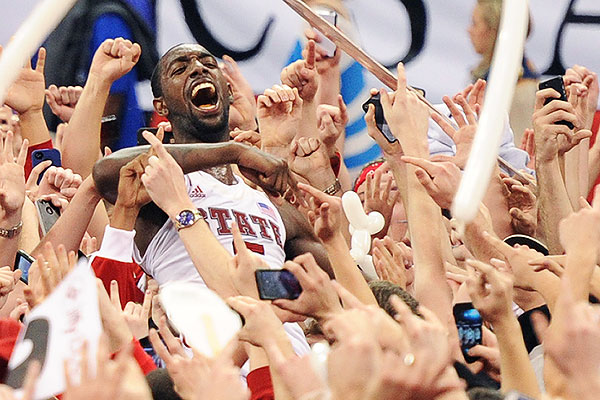 .
PF: Jackie Carmichael (Illinois State)
I know what you're thinking: "Who?" Carmichael was a beast in the Missouri Valley Conference last season, averaging 17.4 PPG and 9.3 RPG. Unfortunately, Carmichael is the equivalent of Old Man River at the age of 23 and is undersized (6-foot-9) for someone who has to play so close to the rim. Think of him as a poor man's Carlos Boozer, who was also vastly undervalued in the draft (second-round pick in 2002). Carmichael can only dream of replicating Boozer's NBA success.
.
C: Zeke Marshall (Akron)
As a top 50 recruit in the Class of 2009, Marshall could have played almost anywhere in the country. He chose Akron and few people got to see him play during his four seasons with the Zips. But those who paid attention last year during Akron's 19-game winning streak saw a player who was an absolute monster on the defensive end (13.0 PPG, 7.0 RPG, 3.7 BPG). If he can develop his offensive game and add bulk, someone in the NBA will find a spot for this 7-footer.
Jim Weber is the founder of Lost Lettermen. You can follow him on Twitter at @JimMWeber and @LostLettermen.

&nbsp