Michigan Football is 'Back' Alright…
Comments
By Jim Weber
Since Michigan's cataclysmic loss to FCS Appalachian State in 2007, one of the big questions looming over college football has been, "When will the Wolverines be back?"
Michigan was supposed to be "back" after a last-second win over Notre Dame in 2009, only for the Rich Rodriguez Era to implode. The same thing was prematurely said when Brady Hoke beat Ohio State and won the Sugar Bowl in his first year in Ann Arbor in 2011; then he lost five games in 2012.
I find it funny that no one specified what exactly Michigan being "back" meant. I presume people were referring to the 1997 co-national championship. What people failed to mention is the '97 season was an anomaly for a program that has had just four seasons with less than three losses over the last 20 years ('97, 1999, 2006 and 2011). Arch-rival Ohio State has had 12 in that time span.
The Michigan I know is a team that routinely finds ways to beat itself despite having more talent than the opposition. It does so with mistake-prone football and ultra-conservative coaching that make you want to slam your head into a wall; I truly believe the two are interconnected as conservative coaches project a mentality of being paralyzed by fear onto their players.
And in that sense, the Wolverines' quadruple-overtime loss to Penn State on Saturday was a definitive statement that Michigan football is most certainly "back" to where it was right before the Appalachian State loss.
Michigan's loss on Saturday night was like every bad Lloyd Carr defeat rolled into one. Falling behind early because of bad turnovers. Coming back just to blow a 10-point fourth quarter lead. Terrible special teams. Bad clock management. A costly bone-headed penalty at the end of regulation. Conservative calls with a "playing not to lose" mentality that almost always leads to defeat. And excruciating mistakes that ultimately cost Michigan the game.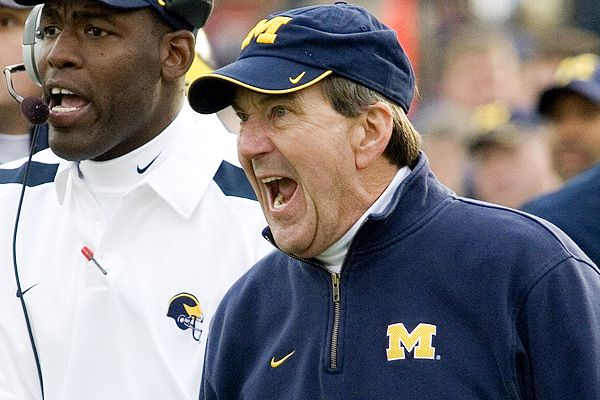 The brunt of the blame ultimately is on Hoke and offensive coordinator Al Borges for their stubbornness in still trying to install a traditional Michigan offense despite the fact it hasn't worked for three years running. The offensive line is simply incapable of creating holes for the running game. Fitzgerald Toussaint carried the ball 27 times for a total of 27 yards. You do the math on his average per carry. Meanwhile, quarterback Devin Gardner gashed the Penn State defense repeatedly with the zone read from the shotgun (24 carries, 121 yards), only for Michigan to go away from it in crunch time.
Borges kept running Toussaint up the gut in overtime as the Wolverines settled for field-goal attempts of 40 and 33 yards for the win. Neither came even close to going through the uprights. It was only fitting that Penn State won the game in the fourth overtime after going for it on 4th and 1 instead of playing it safe like its opponent. (What's even scarier for Michigan? The Wolverines could easily be 3-3 instead of 5-1 after barely escaping lowly Akron and Connecticut.)
Michigan's 2012 season featured many losses in the same fashion as Saturday night. Michigan had six turnovers and six points in five combined red zone trips at Notre Dame, horrendous second-half play calling by Borges at Ohio State when the offense again played not to lose and then gave up an inexplicable 32-yard touchdown pass with 11 seconds left in the Outback Bowl vs. South Carolina.
That sick feeling in the pit of their stomachs is certainly familiar to fans in Ann Arbor who watched the same type of losses time and time again under Carr. Being a Michigan fan when I was in school from 2000-04 became so tragic that a friend wrote a column in our student newspaper that was titled, "Michigan football: The girl you just can't kick to the curb" despite breaking your heart over and over.
I can sadly recount a laundry list of times Michigan beat itself under Carr - too many to list in this column while also respecting your time and my sanity. Among them were the 2000 Northwestern game as Anthony Thomas fumbled the ball with under a minute left when falling down would have secured victory. The 2001 Ohio State game with five Michigan turnovers. The 2005 Minnesota loss when the Gophers ripped off a 61-yard run to set up the winning field goal when head coach Glen Mason was just trying to run the clock out for overtime. And, of course, the 2007 Appalachian State game when the Wolverines didn't even get a game-winning kick attempt in the air because of a missed blocking assignment.
Michigan fans only got a "reprieve" from watching the Wolverines beat themselves during the Rich Rodriguez Era when the Wolverines were instead just regularly beaten to a pulp by opponents.
Hoke - who was a Carr assistant from 1995-2002 - has certainly done much better than his most recent predecessor and has said and done all the right things as a "Michigan Man" to restore pride in the program. He's also recruited extremely well, meaning brighter days are ahead for Michigan. But to what end? Three-loss seasons like the Wolverines routinely had under Carr instead of losing years under Rodriguez or five-loss campaigns like last fall?
The irony of all this is that Carr "retired" at the end of the '07 season so that Michigan could take the next step as a program and compete for national titles again. Instead, they took a huge step back with Rodriguez and now appear to be in the same rut of mediocrity they were when Carr exited six years ago.
Yes, Michigan is "back" - back to Square One.
Jim Weber is the founder and president of LostLettermen.com. You can follow him on Twitter at @JimMWeber and @LostLettermen. He is holding out hope that Tom Brady will retire in the offseason and be Michigan's 2014 offensive coordinator.
Photo: Matthew O'Hagan/USA Today Sports

&nbsp