Michigan OT Lewan on Strange Diet
Comments
Michigan offensive lineman Taylor Lewan is taking his decision to return to Ann Arbor for his senior season very seriously.
At Big Ten Media Days on Wednesday, Lewan told reporters that he has lost five percent body fat since January. In the past 30 days, he said he's gained six pounds of muscle and lost one pound of fat.
Lewan's secret: A strict diet in which he eats 12 hard-boiled eggs and six cans of tuna fish, with 12 table spoons of olive oil mixed in — every day, almost entirely without fail. If you're keeping track at home, that diet alone is approximately 5,034 calories, 336 grams of fat and 456 grams of protein per day; the The United States Department of Agriculture (USDA) recommended daily intake of each is 2,000 calories, 67 grams of fat and 75 grams of protein (he also only eats carbohydrates - whole wheat pasta specifically - after workouts).
Lewan has also marched to the beat of his own drum - as evidenced by his finger mustache tattoo and pet pig Dr. Hamlet III - but that diet is almost as unbelievable as Michael Phelps 12,000-calorie-a-day plan.
This isn't to say that Lewan isn't immune to the occasional slip-up. Wolverines head coach Brady Hoke expressed skepticism that Lewan made good on his promise to only get a salad when he joined his friends for a pizza outing in Chicago on Tuesday night.
Not that Hoke is in any position to scrutinize his star tackle's diet. "I can't," Hoke joked with reporters. "Because obviously I'm not dieting."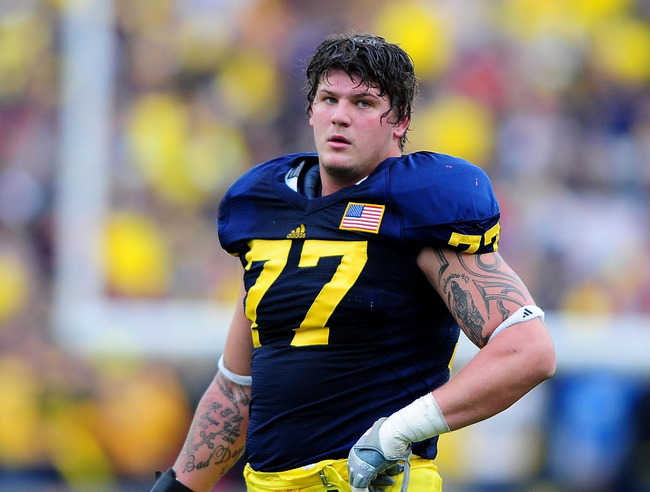 &nbsp