Manuel Gets 'Wrong Number' Draft Call
Comments
Florida State QB E.J. Manuel was very happy on Thursday night to be selected by the Buffalo Bills with the 16th overall pick of the NFL draft. Earlier in the night, courtesy of a misdirected call to his hotline phone in the blue room, he thought he went even earlier.
"When [Oregon DE] Dion Jordan got selected [No. 3 by the Dolphins], someone called my hotline phone," Manuel explained to Dan Patrick on Friday. "Obviously I got excited because I heard it ring. ... Someone was like, 'Congratulations buddy' and I'm like, 'Thanks, I appreciate it. Who is this?' And he was like, 'Uh, is this Dion?' and I said, 'No sir.' ... And he hung up."
It turns out that the voice on the other end of the line was a former coach of Jordan's at Oregon who had mistakenly dialed Manuel's hotline number. Hilariously enough, the same coach called again two choices later, when the Browns were on the clock.
Thankfully for Manuel, the one non-wrong number call he got was from Bills general manager Buddy Nix, who told him, "Congratulations. See you tomorrow."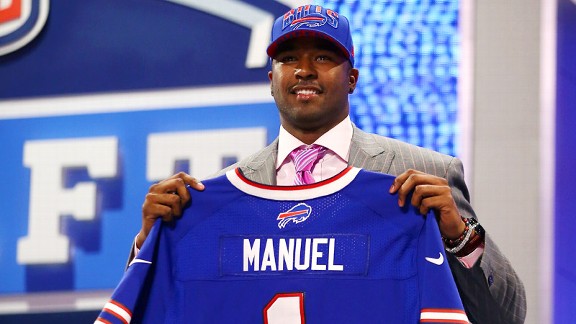 &nbsp