Hogs Fan Gets Crazy, Anti-LSU Tattoo
It wasn't enough for Arkansas superfan Curtis Pinkerton to get a tattoo that just paid homage to his beloved Razorbacks. Said ink job also had to express his hate for the Hogs' SEC West and "Battle for the Golden Boot" rival, LSU.
The end result was this gem of a tattoo.
@jefflongUA @PGA_JohnDaly @Budda03 @Ryan_mallett_15 thought yall might like my new tattoo I got a tiger by the tail! pic.twitter.com/7iUwJVZ1Vi

— Curtis Pinkerton (@curt5878) July 19, 2013
Yup, that is a demonic-looking Razorback — all-white eyeballs are always a tell-tale sign of evil — dangling a cartoonish and helpless-looking Mike the Tiger by his tail.
Welcome to the burgeoning lexicon of crazy fan tattoos, Mr. Pinkerton.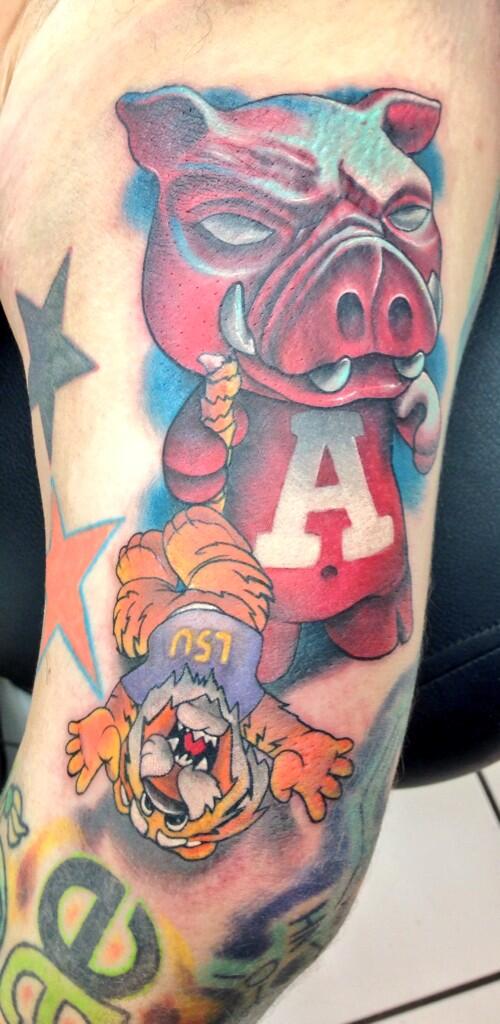 &nbsp