Hawaii Football Needs a Rainbow Field
By Jim Weber
No one was happier than me to recently hear that Hawaii football will once again be known as the "Rainbow Warriors." Now I recommend UH takes thing one step further and finds a pot of gold at the end of the rainbow in the form of a rainbow-stripped football field (click here for full-sized image).
I know what you're thinking: I've lost my damn mind. Well, just hear me out for a second.
After June Jones took over the moribund program in 1999, the Hawaii football team adopted an identity: The Run N' Shoot offense, perfected by the likes of quarterbacks Timmy Chang and Colt Brennan. A school that's 2,000 miles away from the mainland United States became a brand name because of an exciting football team that peaked with a 12-0 regular season in 2007 that resulted in a trip to the Sugar Bowl.
But since Jones left the ensuing offseason for big money at SMU, the Hawaii football program has fallen back off the map again. In the past five seasons, Hawaii has gone a combined 32-34 - including a dreadful 3-9 campaign last fall that signaled rock bottom.
One needs to look no further than Boise State to see the power of marketing and a brand identity in creating a successful college sports program. The Broncos installed a one-of-its-kind blue field in 1986, giving fans something to remember the program by as it climbed from tiny mid-major to national power.
College football and basketball programs everywhere have copied the format, whether it's football programs such as Central Arkansas (alternating purple and gray stripes), Lindenwood (alternating red and gray stripes), Eastern Washington (red field) and New Haven (blue field) or basketball teams like Cal-State Bakersfield (blue court), Towson (tiger stripes), Long Beach State (palm trees), Colorado State (giant ram horns), Drexel (giant dragon) and Oregon (forest).
Myriad college football and basketball programs have jumped on the bandwagon this offseason (i.e. Wyoming in football, George Washington, Cal and Buffalo in basketball) for the marketing and recruiting advantages that unique fields and courts provide, a la new uniforms.
Enter Hawaii. The Rainbow Warriors look headed for another terrible season with a woefully-over-the-hill head football coach in Norm Chow and a fan base that has tuned the team out; last year's average attendance was a paltry 30,031 in a 50,000-seat stadium.
It's time for something - anything - to put the program back on the map. That's why I recommend the university implements a rainbow-striped football field that would not only honor the program's nickname and past, but also blow every other unique college football field out of the water - including Central Arkansas' (top) and Lindenwood's (bottom) striped fields.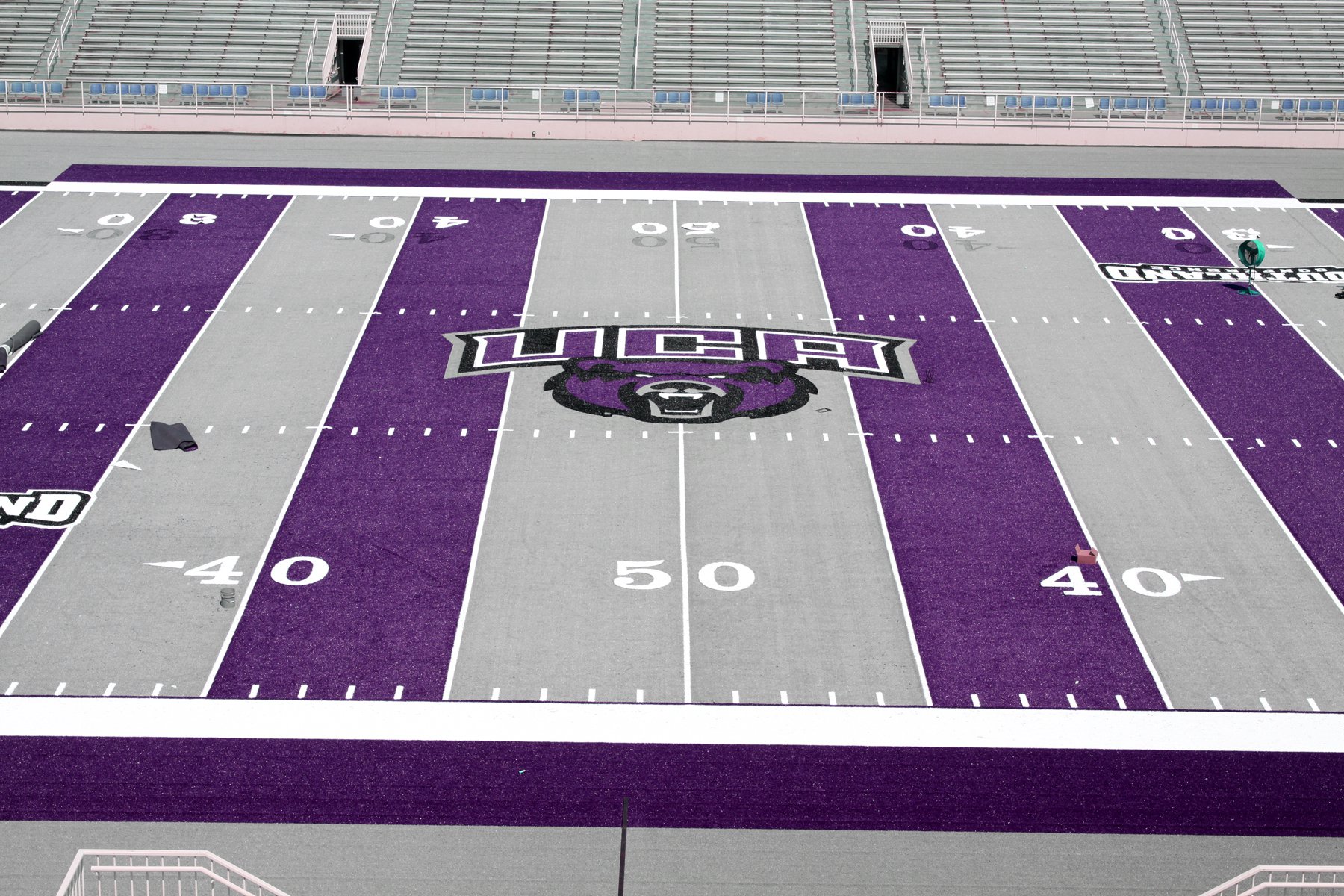 Check out the rendering at the top created by me and Photoshop extraordinaire Charles Sollars (as pointed out by @patlynchsports, it'd only be right to call the end product Roy G. Biv Field). Whether you love it or hate it, that field is the kind of thing that would get national media coverage, have Hawaii's players and opponents actually excited to play at Aloha Stadium and be an incredible recruiting tool for the program. (Plus, how cool would it be to not only have a red zone but orange, yellow, blue, indigo and violet zones as well?).
If you think this is all gibberish, keep in mind how much we still talk about Boise's Smurf Turf almost 30 years after it was installed and listen to all the football recruits who openly talk about committing to Oregon because of their awesome uniforms.
Oh, and I don't want to stop at a rainbow field for the program. Hawaii needs to bring back the Rainbow Warrior throwback uniforms with the rainbow stripes on the side and the "UH" logo at the end of a rainbow. We once listed them as the third best throwback football helmet ever. I'm not suggesting that Hawaii ditch its current uniforms completely. We once ranked UH's lids among the 20 best in college football. But between the throwbacks above and alternates like a chrome rainbow helmet similar to what Indiana just unveiled (I'm not nearly savvy enough at Photoshop to create a chrome rainbow helmet, but just picture it in your mind), Hawaii could be the new Boise State of fields and Oregon of uniforms by embracing its new throwback nickname.
Of course, all of these gimmicks aren't a substitute for a good coaching staff, nice facilities, a big budget and stellar recruiting. But it's certainly a step in the right direction for a program that has sadly been fading into obscurity over the past five seasons and once again become irrelevant.

So go ahead, Hawaii: Taste the rainbow.

Jim Weber is the founder of Lost Lettermen. You can follow him on Twitter at @JimMWeber and @LostLettermen.

&nbsp