Grading Last Decade's No. 1 CBB Recruits
Comments
By Jim Weber
Andrew Wiggins, the No. 1 recruit in Class of 2013, declared on Tuesday that he will be attending Kansas next season. From the hysteria on Twitter that followed, you would think LeBron James himself was lacing up in Lawrence this fall instead of the Canadian phenom compared to King James. But is Wiggins really a slam dunk recruit? I take a look back and grade each of the consensus No. 1 overall basketball recruits from the last decade based on their collegiate careers compared to expectations.
2003: LeBron James - N/A
Obviously, LeBron doesn't get a grade since he graduated high school in the pre-age limit NBA. Judging by the fact he averaged 20.9 PPG, 5.9 APG and 5.5 as an 18-year-old NBA rookie, the King would have absolutely demolished the Big Ten while playing for Ohio State (the place James said he would have attended college) and earned an A+.
2004: Dwight Howard - N/A
Howard was choosing between Georgia Tech and North Carolina before he decided to skip college altogether and enter the NBA draft like James. Wherever he would have landed, Howard would have been a man among boys, as evidenced by his 12.0 PPG, 10.0 RPG and 1.7 BPG as a NBA rookie. But the real entertainment from Howard's college experience would have been him throwing his teammates under the bus, trying to get his head coach fired and quitting the team midway through the season to declare early for the NBA draft. Ah, what could have been…
2005: Josh McRoberts - C
No player exemplifies the overhyped Duke player more than McRoberts. Ranked ahead of the likes of Monta Ellis, Andrew Bynum and Tyler Hansbrough - to name a few - McRoberts averaged all of 10.8 PPG and 6.5 RPG during his two seasons in Durham. Leaving early after his sophomore year, McRoberts was somehow selected in the second round of the 2007 draft, spend his first five NBA seasons as a bench warmer before becoming a starter this season for the woeful Charlotte Bobcats.
2006: Greg Oden - A
It's sad how easily people forget Oden's dominance at Ohio State. Looking twice his age, Oden averaged a ridiculous 15.7 PPG, 9.6 RPG and 3.3 BPG - while playing with a broken hand - and was named a First Team All-American while carrying the Buckeyes to the national championship game. He saved his best for last by dominating Joakim Noah and Al Horford in Atlanta with 25 points, 12 rebounds and four blocks in a losing effort. It's hard to look at those highlights and not wonder "What if?" about his injury-riddled NBA career.
2007: O.J. Mayo - B+
Mayo was insanely cocky for a high school kid, saying he picked USC because it was "great marketing" for him to be on the West Coast and chucking the ball into the stands after his last high school dunk at Huntington (WV) High School. Mayo put up great numbers in SoCal - 20.7 PPG, 4.5 RPG, 3.3 APG - but didn't quite live up to the hype as the "next LeBron James," as USC went just 21-12 and Mayo put up a lot of big numbers against weak competition.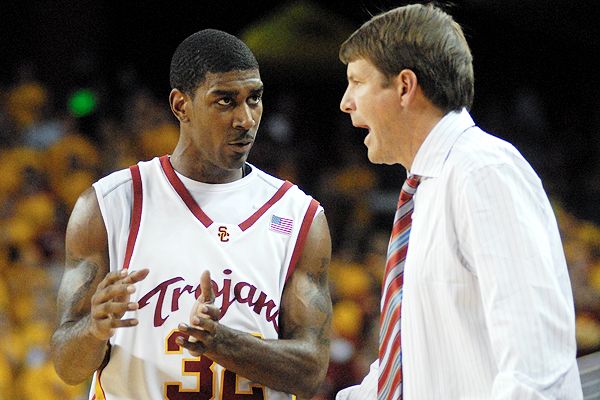 .
2008: B.J. Mullens - D+
Anyone who expected the second coming of Greg Oden in Columbus was sorely disappointed by Mullens' time with the Buckeyes. Barely even logging minutes to start the season, Mullens finished his college career as a bench player who showed some flashes of greatness during Big Ten play but was very inconsistent. Despite averaging just 8.8 PPG and 4.7 RPG off the bench, Mullens - who now goes by Byron - went pro and has bounced around the NBA for the last four years.
2009: John Wall - A-
Wall was treated like a rock star upon arriving at Kentucky as John Calipari's first No. 1 overall recruit to come to UK. Who can forget the "John Wall dance" craze that started at Midnight Madness? With lightning quickness, Wall blew by SEC defenders to average 16.6 PPG, 6.5 APG and 4.3 RPG while teaming with DeMarcus Cousins and Eric Bledsoe to form an imposing freshman class. For all Wall accomplished in the Bluegrass State - including SEC Player of the Year honors - he was never a lethal scorer, something he is still working on in the NBA.
2010: Harrison Barnes - B+
After a slow start to his freshman year led Roy Williams to blast those critical of him, Barnes finished the season averaging a solid 15.7 PPG and 5.8 RPG. With even bigger expectations as a sophomore, Barnes increased his scoring to 17.1 PPG but came up tiny in the 2012 NCAA tournament (combined 20-61 shooting). While it's impossible to call the ACC Freshman of the Year and a 2012 First Team All-ACC selection a bust, something always felt missing from Barnes' time in Chapel Hill.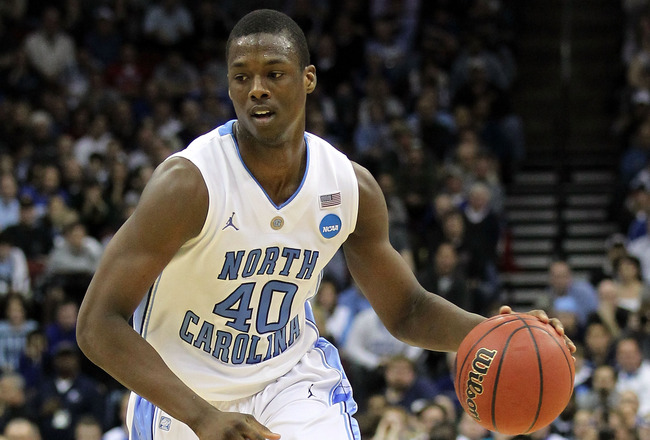 2011: Anthony Davis - A+
Remember him? Davis set the bar by which all No. 1 overall basketball recruits will be judged. Naismith Player of the Year, First Team All-American, Defensive Player of the Year, NCAA Final Four MOP, national championship and one wicked unibrow. Davis' stat line (14.0 PPG, 10.4 RPG, 4.7 BPG) wasn't staggering because he was on a team with so many great players. But he was an absolute monster on the defensive end who, despite being unrefined as an offensive player, shot a ridiculous 62.3% from the field.
2012: Nerlens Noel - Inc.
It's unfair to give Noel a grade since he only played 24 games in his college career. He was averaging 10.5 PPG, 9.5 RPG and 4.4 BPG before tearing his ACL on Feb. 12 vs. Florida. Noel was never going to live up to the bar set by Davis a year earlier, but the projected No. 1 overall pick in the 2013 NBA Draft was on to something special before his college career was cut prematurely short. Needless to say, Kansas fans are holding their breath Wiggins doesn't suffer a similar fate next season.
Jim Weber is the founder of Lost Lettermen. You can follow him on Twitter at @JimMWeber and @LostLettermen.

&nbsp