UW's Todd MacCulloch: From NBA Center To Pinball Pro
Comments
If you grew up with a 7-Eleven in your hometown, at one point or another you undoubtedly dreamed about the day you could play arcade games and drink Slurpees for the rest of your life.
Welcome to Todd MacCulloch's world.
That's right, you can now find the former Washington Husky and NBA center - who a decade ago was going toe-to-toe with Shaquille O'Neal in the NBA Finals - now retired and living outside of Seattle, where he spends a large chunk of his time playing pinball and drinking from his own Slurpee machine in the game room of his 6,000-square-foot home.
[Related: Top 10 Unlikeliest Professions For Ex-College Hoops Stars]
MacCulloch freely admits he's living in a "child's happy place," but don't be confused: He takes this pinball stuff pretty seriously. That's why you'll find him often traveling around the country to attend pinball tournaments and currently ranked the 145th player in the world (yes, there are actually world rankings for pinball).
So when his nephew recently got to pick where to hold his eighth birthday party, you can guess his choice: Uncle Todd's.
MacCulloch explains that while growing up in Winnipeg, he was involved in every activity from basketball and hockey to video games and horseshoes. But there was always something special about pinball.
"Pinball was something that really captivated my imagination," MacCulloch said. "You're at one with the machine at times and at times it feels like the machine is against you. But the tactile feel of a pinball machine is not something you can replicate in a video game."
But pinball had to take a back seat when his basketball career took off after being discovered by then-Washington Huskies head coach Bob Bender while playing with a Canadian traveling team.
MacCulloch landed in Seattle and blew up during his junior year, averaging 18.6 PPG and 9.7 RPG while leading the Huskies to the 1998 Sweet Sixteen as a No. 11 seed. Unfortunately, that's where Washington ran into Rip Hamilton and No. 2 seed Connecticut, who broke Washington's heart with a last-second shot after the basketball did a pinball act of its own:
After a stellar senior season that ended in the first round of the '99 tournament, MacCulloch was taken in the second round of the NBA Draft by the Philadelphia 76ers. He reached the 2001 NBA Finals against the Lakers in his sophomore season but was rarely used. Still, his size and soft touch enticed New Jersey Nets GM Rod Thorn so much that the Nets offered him a staggering six-year, $34 million contract.
[See Also: Traffic Jams, Alpha Dogs & Arizona Star Derrick Williams]
What did MacCulloch do with some of that money? Collect pinball machines, of course.
During the 2001-02 campaign, MacCulloch averaged nearly double digits and returned to the NBA Finals – again against the Lakers – with point guard Jason Kidd calling him "by far the best center I've ever played with."
Now envious, the 76ers traded to get him back the following offseason. It would prove to be a disastrous decision.
MacCulloch played in just 42 more NBA games, having his 2002-03 campaign cut short and missing the entire next season because of severe nerve damage in his feet that caused extreme pain. Feet are the Achilles' heel of NBA big men and MacCulloch found that out the hard way as his career was ripped away from him right when it appeared to be taking off.
Said the seven-footer: "I had a podiatrist tell me I had a Hummer body on Toyota feet."
[Related: Kentucky's Sam Bowie Now In Lexington, Racing Horses]
MacCulloch officially retired in September of 2004 at the age of just 28. He got a job working as the 76ers' radio color analyst but after being told they would no longer use a color guy prior to the 2008-09 season, MacCulloch packed up and moved back to Washington state to live in his offseason home on Bainbridge Island just west of Seattle.
His first year back he worked for Fox Sports Northwest but now with a three-year-old-daughter and a one-year-old son, MacCulloch spends his time raising a family with his wife – and playing pinball.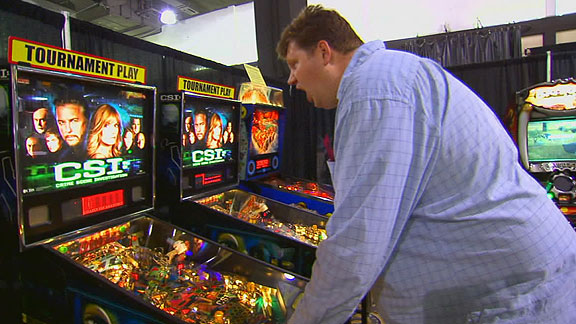 He now has dozens of pinball machines in his home that total hundreds of thousands of dollars. He had already started playing in tournaments while in Philadelphia, but has become much more active since returning to the Pacific Northwest. In 2009, he even headed to England to play in the World Pinball Championship held outside London.
Fittingly, it was a 64-person event. But MacCulloch was knocked out in the round-robin phase before the 32-person bracket-style play. He has yet to win a tournament (he has finished second once) and says his nerves still get the best of him in tense moments.
"I thought my professional athletics background might put me in a better position to perform in a situation when I had to," MacCulloch said. "There have been a number of times that I needed a good ball or needed a good game and I haven't been able to respond."
MacCulloch says he hasn't seen a sports psychologist about his nerves because he wants to keep the game fun and not turn it into a profession like basketball.
"I felt like I've done enough three-man weave drills and enough shooting drills," MacCulloch said. "I don't want to turn a hobby and something I've always enjoyed into something where I have to go practice."
He's definitely doing it for the love of the game and not the money. MacCulloch estimates his career earnings over the last seven years combined are around $1,500.
And the seven-footer certainly stands out at tournaments that are usually full of computer coders and mathematicians. Even though it might seem like an odd fit, the personable MacCulloch always enjoys meeting new people at the events and the camaraderie amongst the players.
And MacCulloch's enjoying the tournaments even more these days now that the pain in his feet has been partially alleviated by a combination of alternative treatments, swimming to lose weight he put on in retirement and wearing comfortable sandals that don't cram his feet like running shoes. Forced to sit while he plays because of the ongoing pain, he's now able to play part of tournaments standing up.
Yes, life is good if you're Todd MacCulloch. In fact, his biggest concern these days might be keeping his daughter away from the Slurpee machine until she gets a little older. She's certainly curious after watching her father – a self-confessed "Slurpee addict" – and cousins devour them.
Said MacCulloch: "It's getting a little harder to tell her it's an adult drink."
&nbsp