Dick Vitale Q&A: On Basketball, Boundless Energy
Comments
The 2013-2014 college basketball season marks 35 years since Dick Vitale joined the Worldwide Leader. And despite turning 75 years old on June 9, "Dickie V" has no plans to call it quits anytime soon. He will cover the Final Four for ESPN International and sign autographs at "Bracket Town" on Sunday, April 6, from 2:00-3:00 PM.
Lost Lettermen's Jim Weber recently spoke at length with Vitale over the phone. Not just about basketball and this year's Final Four but about his love of baseball, the source of his boundless energy, losing sight in his left eye at a young age due to a pencil and how he handles his critics.
Lost Lettermen: You are competing in the Allstate's March Mayhem Challenge to help raise money for the V Foundation with a bracket against Joel the Longhorn. Are you going to win or will you have to work a day as a farmhand?
Dick Vitale: He had Manhattan and VCU (in the finals). Well, there's no shot. They didn't accomplish enough points so I don't have to be a farmhand, I don't have to pick up his crap, I don't have to wash him, I don't have to take care of him. So I'm going to win the challenge, my friend.
LL: With the four remaining teams left, do you see anybody that can beat Florida? If so, how?
DV: Florida is obviously beatable. Napier and his kids have already beaten them, Wisconsin's beaten them and Kentucky stayed with them to one point. So all those teams have a shot. But I pick Florida, Jim, I really do. I like that the seniors play with a chip on their shoulder, they went to three Elite Eights, and now they get a chance to do what their goal has been all year, [which] is to cut the nets down.
It's not gonna be easy. Shabazz Napier and his kids at Connecticut, they just don't know the word "lose." They refuse to lose, and they showed that at the Garden … where 80% of the crowd was Connecticut, the place was unbelievable, the support, and they responded, against a terrific Michigan State team. So Napier's been Mr. Clutch, he's so special.
LL: The biggest storyline coming into the Final Four has been the 180 that Kentucky's done. Have you seen a big difference between now and a month ago that you can put your finger on as to, other than just gelling as a group, what has propelled them to the Final Four?
DV: I think early in the year, they were really playing as individuals. Really playing to, you know, live up to the billing they had coming out of high school, trying to do too much by themselves. All of a sudden, the light went on. The light went on about playing as a unit, about being cohesive, about really doing the things that it takes as a team to win. It started with the guard play of the twins, Aaron and Andrew. They really elevated their game, and you saw this happening in the SEC tournament.
Even in a loss to Florida, where they got beat in the last possession after being 15 down, they showed guts and heart. And what I loved about it is even though they lost, they didn't pout and sulk. They knew they turned the corner, and they could use the Florida game as a barometer to say, "You know what, we just took the No. 1 team in the country right to the last possession."
And I think they built off that, and it's really shown. The three games they've won - against Wichita State, Louisville and Michigan - in all three games it's come down to the last minute. You would expect on a big stage that the young kids would feel that pressure.
My wife was saying yesterday, "Isn't it amazing that all those young kids ended up making the big plays and win?" And that's what's really been great, to see the fact that they've responded in pressure time. And every one of those games could've gone the other way.
LL: I wanted to ask you about your coaching career. A lot of people that watch college basketball now, kids that are in college, don't realize that you were a fast-rising star, an ace recruiter who led Detroit to the Sweet Sixteen and got the Detroit Pistons job. And once you got the job at ESPN, you never went back. I know that you obviously love your work at ESPN but is there a reason why you never decided to go back into coaching? Was it health concerns or just because you loved your job at ESPN so much or something else?
DV: I've been in great shape physically. I've had a few problems here and there, but we all do. Really, what happened was I got the job at ESPN, I was hired by a guy named Scotty Connal. Terrific guy, gave me my first opportunity. After I did a few games, and I went about a year or so I wanted to get back into college coaching, that's what I wanted to do.
I made a mistake going to the pros. I was on a fast track in college. At Rutgers, we recruited some great kids who went to the Final Four, and that opened up doors for me to get the Detroit job, we had success there. I remember Jimmy V telling me, "Don't go to the pros, man. You're a college coach, your spirit and your passion." I'm in my early 30s, and I was on a fast track. And then all of a sudden, I took the Pistons job and it was a bad, bad decision. I wasn't cut out for it, I didn't belong in the NBA, and got fired.
Here comes Scotty Connal, says that he had heard me speak and wanted to give me an opportunity. He said he wrote my name down, he was the head of NBC and they did our last game I ever coached in college. Curt Gowdy and John Wooden were there calling the game and I was in awe that they were even there. I spoke to my team, and he heard me speak to my team, and he wrote my name down.
He said coach Wooden and Curt Gowdy said, "I think that guy would eventually be good on TV, man. He's got personality." I didn't even know until Scotty told me this. So Scotty asked me to do a game. When he called me, I said, "You kidding me? ESPN? Sounds like a disease man, never heard of it."
So I go there and do a game. After a year, I decide that I want to coach in college, that I want to get back. He tells me, "Dick, you're making a mistake if you go to college. You have a career here that is unbelievable what you can do financially and every other way."
He used the word "connect." He says, "You connect. Whether the people agree with you or disagree, an announcer's dream is to be able to connect when he gets done. People go to the water cooler and say, 'Did you hear what he said?' They'll do that with you."
I didn't know what he meant until 1983. I went to my first Final Four for ESPN, and people were coming up for autographs and pictures. Scotty said, "Didn't I tell you? You connect." And all of a sudden I fell in love with it and one thing led to another. Books and commercials and bits in movies. I just decided, you know, I had something I loved.
And I'll be honest with you, I really believe that if I had stayed in coaching, I would have been dead by 50. I could not handle losing; losing tore me to shreds. This has given me a life that's exceeded any dream. Thirty-five years, I'm in 12 Hall of Fames; I can't run, jump or shoot; I've been there because of passion and excitement for what I do. I feel like a kid right now.
I told my bosses, "I want to be the first 50-year guy at ESPN." I have 35 in the bank, I want 15 more. That means I want to be the first guy to walk courtside at 89 years of age.
LL: Where does all that boundless energy come from? Is this a Vitale family thing or something that you just have on your own?
DV: I get that so often. I had a guy today tell me in an interview, "Man, you've been shining, doing a great job this whole tournament. I'm watching you, where do you get your energy?" I don't know. I really can't give you an answer. A lot of people tell me that when I lost [vision in] my eye as a youngster, as a kid, to make up for it, I was more energetic and enthusiastic than the next guy.
I really can't put a finger on it. Usually I'm not speechless about anything. Really, it's just been a way of life for me. I feel that everyone should be that way. I just enjoy every moment I have.
I have a great family, I've been married 42 years to a beautiful woman, two daughters who went to Notre Dame and got their masters, married two Notre Dame guys who are athletes. One is a surgeon, the other is the youngest judge in the state of Florida. I've got five beautiful grandkids. I've been so blessed.
I was at Opening Day for the Rays. People come up to me, they're coming up for pictures and autographs, which is normal. A guy comes up to me and says, "Hey, don't you get tired of this? All game long, taking pictures and signing autographs?" I said, "Are you serious? If they don't recognize me I'll put a sign on my back that says, 'Hey, I'm Dickie V! Ask me for an autograph!' "
I love people, I love being with people, I try to look at the glass as half-filled rather than half-empty. I don't try to be Mr. Negativity and rip everybody or bury anybody. I try to look for the good in people, and I've been that way all my life. The fans have been good to me.
LL: I wanted to ask you about the Rays. I know you're a season ticket-holder, love baseball. I get a lot of people who say, "How can Dickie V love baseball? He's got so much energy and the game is so boring." What is it about baseball that draws you in?
DV: I remember as a kid growing up in the New Jersey/New York area, going to Yankee Stadium. I remember going, oh, I don't remember how many times, sitting way out in general admission seats, trying to hustle my way into sitting in a box seat. I loved the sound of contact with the bat, I loved seeing the uniforms. I get excited about it.
I have great box seats now, first row by the dugout, get to know all the players. I'm getting players coming up, shaking hands and wanting autographs for some pictures. They don't realize that I want their autograph and I want their picture! I go to spring training and all the guys want to talk basketball, but I want to talk baseball.
I've been a baseball fanatic since I was a kid. It's a calming effect to sit there and watch the game materialize and the strategic end of it. I'm just a baseball fanatic.
LL: Do you get people giving you a hard time back home in New Jersey for being a Rays fan? I know that in Florida, there are probably more Yankees fans than Rays fans.
DV: I get that all the time. I used to love the Pinstripes. I dreamt as a kid, as we all do playing Little League … my mom gave me a Yankee uniform once for Christmas. It was the greatest gift in the world, you go to bed with your uniform and your glove, dreaming that.
I moved here, became loyal to where I lived. And to be honest with you, I became fed up with the Yankees buying this player or that player, and I just fell in love with the Rays. I love Joe Maddon, I love what he does. I'm a Rays diehard now.
LL: I wanted to ask you about the NBA. This season everyone's talking about Fred Hoiberg and Tom Izzo going to the NBA. What advice would you give them as someone who went to the NBA where it didn't work out for you?
DV: People are going to make their decision, obviously. Freddy has an association to the NBA, so one can understand that. Tom Izzo, to me, is a lifetime college coach. I don't see any scenario where he leaves Michigan State. He identifies with the school, he's Mr. Spartan, and I just can't see it. There was an incredible offer from the Cavaliers, there's rumors now about the Pistons, but I think he stays.
I would tell him, "Tom, your passion, your pride, your love for the green and white, that's what's you're about." And I think he finishes his career there.
LL: With the V Foundation, I know this has been something you've been so passionate about for the last 20 years. Have you always been this involved in philanthropy or is it something with your relationship with Jimmy V that has sparked you to get involved not only in Jimmy V's foundation but so many other causes?
DV: I'm involved in other areas that people don't realize. The Boys & Girls Club has been big to me. We give five scholarships every year, my wife and I we find kids here in the Sarasota area. In fact, we helped raise a million dollars for them to build a gym there, it's now called the Dick Vitale Phys-Ed Building. They got a big statue of me out front.
My wife and I give scholarships every year. We have scholarships at Notre Dame, where my daughters went, for kids that participate in activities that don't get scholarships. Cheerleaders, the band, the mascot, they can all apply and be involved there.
I've been involved in a lot of things. But the V Foundation, obviously, my friendship with Jimmy V when he was at ESPN, watching the battle he went through so courageously, I got really involved.
The last nine years, we've had the Dick Vitale Gala. My gala has raised a minimum each year of a million-three. My goal this year, if we get lucky, I know last year we did a million-seven. We always bring in 800 people, we always sell out, $1,000 per person, Ritz Carlton resort. We're going to sell out again this year.
One year we honored Tony Dungy and Tom Izzo. Another year we honored Rick Pitino and Billy Donovan as a combo. Another year we honored Mike Krzyzewski. Another year we honored Bob Knight and Pat Summitt. This year we're honoring Nick Saban of Alabama and Tom Crean of Indiana, Mike Brey of Notre Dame. Both are members of the V Foundation's presidents club. They help us big time in many ways.
We got the Four Tops coming in, Motown south. We'll bring in a bunch of youngsters battling cancer, and it's dear to my heart. No child should be doing chemotherapy and radiation. I've been to three funerals of three neighbors in my area. I was asked to speak at one of them, and I speak all over. Corporate events, black tie events, I speak for Allstate, I'll be speaking at the Final Four for them. I do loads of speeches. But it was the toughest speech I ever gave in my life, Jim, watching a mother and father put their child to rest.
I'm obsessed, beyond belief, to raise as many dollars until my last breath, to raise dollars for cancer research.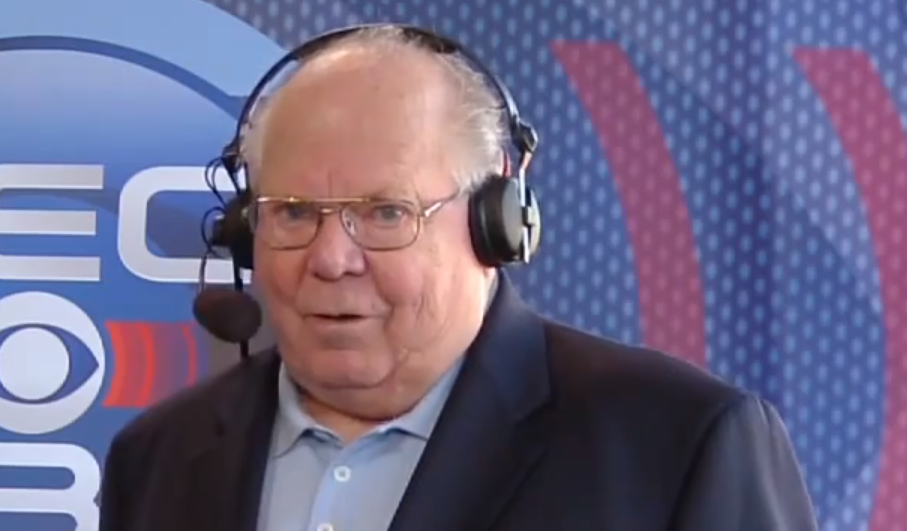 LL: You were so gracious in how you handled Verne Lundquist's criticism. I know that criticism from people, whether it's people saying that you're over-the-top or people saying that you're a Duke homer, is something you've dealt with your whole career. You're an optimistic guy, but how is it something you continually brush off and never lash back and say, "You know, I wish these people would just shut up." How is that never in your nature?


DV: My mom and dad taught me two things my life. They always used to say to me, "Richie, don't ever believe in 'can't.' " My buddies had been telling me I could never be a college coach, I had been a sixth-grade teacher and a high school coach, and I loved it. But I wanted the challenge of the college level, and I was getting rejections like crazy. My mother told me, "Never believe in 'can't,' Richie."

The second thing she told me: "Richie, be good to people and people will be good to you." People have been so good to me. You know, Verne is entitled to his opinion, we live in America. Let's face reality; that's why we have Buicks and Cadillacs and blondes and brunettes. People have choices.

I have people that love what I do. Come up to me every day and love my enthusiasm, love my energy. And then there are people who don't. They obviously like the low key guy, the shy guy. Well that's not me. I'm gonna be what I'm gonna be.

And I respect what Verne does, I respect any announcer. I'm in the business and I know how tough it is. I'm not gonna sit here and analyze another announcer and tell them, "This guy doesn't do this, this guy I don't like, I don't like his smile." Hey, it's a tough, tough business, especially today with the social media and the evaluations. Let other people judge us.

He's had a brilliant career, Verne Lundquist. I was kind of obviously hurt a little bit. You don't like to see your peers do that. But my peers voted me into the Sportscasters Hall of Fame last year. Mitch Albom was inducted as a journalist, I was inducted as a broadcaster. That doesn't make nearly the headline as one guy says something negative. And that amazes me. That's the world we live in.

I have to look in the mirror and know one thing: Everything I've ever done and everything I ever do, I do it from my heart, I do it with passion, and most of all I do it in a positive way. That will never, ever change until my last breath.

Top Photo Credit: Robert Mayer/USA Today Sports

&nbsp