Filling The Vacancies At Miami, UNLV, Fresno & Princeton
Comments
After watching Missouri and NC State both botch the hirings of their head basketball coach, we lend a helping hand to four athletic directors still looking to fill their vacancies.There are still plenty of openings for head coaching positions in Division I basketball but there are only four positions that are actually coveted: Those at Miami, UNLV, Fresno State and Princeton.
Here's our picks for these four openings.
.
Miami (FL)
Candidates: Donnie Jones (UCF head coach), Frank Martin (Kansas State head coach), Mike Jarvis (FAU head coach)
Skinny: Jones looked like a hot coaching names when the Golden Knights jumped out to a 14-0 start but after finishing 6-10 in Conference USA, there's no way he's qualified for this gig. Frank Martin is a Miami native and you can bet the Cuban-American will be tempted to leave Manhattan, KS, for his hometown. But Martin is beloved at K-State and it will take a lot of money to lure him back to south Florida. In his third season at FAU up the road in Boca Raton, Mike Jarvis led the Owls to an NIT berth. He's won everywhere he's gone but got caught with his hand in the cookie jar with NCAA infractions while at St. John's.
Choice: Jarvis. Martin is a ticking time bomb and will cost too much. Jarvis led George Washington to the Sweet Sixteen and St. John's to the Elite Eight. Not only is it a good hire, many will say he's a big upgrade over Frank Haith.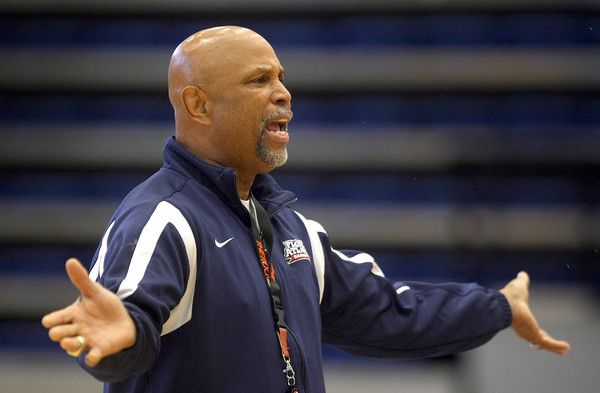 .
UNLV
Candidates: Reggie Theus (Minnesota Timberwolves assistant), Dave Rice (BYU associate head coach), Ernie Kent (former Oregon head coach), Mike Dunlap (St. John's assistant)
Skinny: Despite what you hear about Bob Knight headed to Sin City, UNLV athletic director Jim Livengood has named his four finalists already. Theus and Rice are both UNLV alums while Kent had enormous success in Eugene for a time and Dunlap is one of those long-time great assistants no one can believe isn't a DI head coach right now. If Livengood hires Kent, Vegas will riot considering the way he floundered during his last couple years at Oregon. Of the other three, Theus is the only one with DI head coach experience and did a fabulous job at New Mexico State by leading the Aggies to the 2007 NCAA tournament in just his second year before bolting to coach the Sacramento Kings.
Choice: Theus. This is a complete no-brainer. He's a legendary player at UNLV, will embrace the great history the program has and has already proved he can be an excellent college coach. He's also a media darling that will keep the program in the news for the right reasons. Go ahead, insert your "Hang Time" joke here:
.
Fresno State
Candidates: Jeff Boals (Ohio State assistant coach), Rodney Terry (Texas assistant)

Skinny: Terry is an ace recruiter for Rick Barnes that helped land Kevin Durant and D.J. Augustin. His latest big haul was getting Tristan Thompson and Cory Joseph to head all the way to Texas from Toronto. Boals is a very hot coaching name who played at Ohio University, where current Fresno athletic director Thomas Boeh and associate AD Paul Ladwig both worked. Boals is already touring the campus in Fresno and is clearly the favorite right now.

Choice: Terry. It sounds like Fresno has all but hired Boals but we like Terry. Recruiting is the name of the game in college hoops - especially at a smaller program like Fresno - and Terry will go to the ends of the earth to find players.
.
Princeton
Candidates: Brian Earl (Princeton assistant), Tony Newsom (Princeton assistant), Martin Bahar (Princeton assistant), Mike Brennan (Georgetown assistant), Mike Maker (Williams head coach)

Skinny: It looked like Sidney Johnson was going to be the next rising star at Princeton until he abruptly bolted for Fairfield of all places. Northwestern's Bill Carmody and Georgetown's John Thompson III can tell you where this job leads and the Tigers can definitely land a capable replacement. Princeton has a history of hiring within so all three assistants are viable candidates, as well as Mike Brennan - who was an assistant for JTIII at Princeton - and Maker, a John Beilein disciple that has done very well at Williams running the Princeton O.
Choice: Earl. It has to be. The guy is a legend at the university and was on the '96 team that knocked off UCLA. And he was just named the Ivy League's top assistant coach. If AD Gary Walters doesn't hire Earl, he needs his head examined.
&nbsp