Can Northern Illinois Make It Cinderella 2.0?
Comments
By Chris Mahr
After Northern Illinois' loss to Florida State in January's Orange Bowl, common wisdom dictated that they'd go back to being "just" the best team in the MAC, satisfied with another conference championship and a berth in some forgettable bowl game.
But perhaps last year's BCS Cinderella will get to dance a lot longer.
Following Saturday's 38-24 victory over Kent State, the Huskies are 5-0 and ranked No. 23 in both the AP and Coaches' Polls - one of two teams from non-AQ conferences (along with No. 21 Fresno State) in the Top 25. Two of NIU's five wins have come on the road against Big Ten opponents (30-27 over Iowa on August 31st and 55-24 over Purdue on September 28th).
One year after we thought the Huskies would be licking their post-Orange Bowl wounds, its deja vu all over again in DeKalb, IL. If the right dominoes fall among the teams ahead of them in the Top 25, Northern Illinois will officially become the Butler of college football with a second consecutive BCS berth.
How did this happen?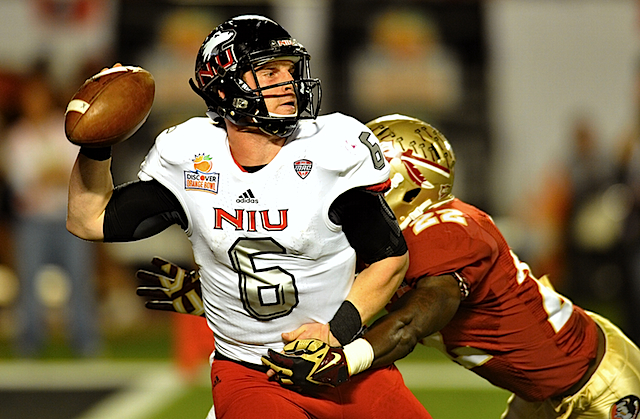 "You know, we have a bad day sometimes," star QB Jordan Lynch told Grantland's Holly Anderson in July when recalling the Orange Bowl. "I know I do. I just try to take the positives from that game now. We were in that game. We stuck with 'em."
Indeed, despite a miserable showing by Lynch both passing (15-of-41 for 176 yards) and rushing (23 attempts for 44 yards) against the Seminoles, NIU was hardly blown out (31-10) and only trailed 17-10 at the end of three quarters.
"All I said to him afterward was, 'Hey, I think you and I both know you probably didn't have your best game," Rod Carey - who made his NIU head coaching debut in the Orange Bowl - told Anderson. "But that wasn't for lack of trying. So let's get back at it and see what we can do about it.' "
Helping Carey and Lynch in that regard was that the Huskies returned 16 starters from a year ago, including four of their five starting offensive lineman. It's a big reason why the NIU attack has picked up where it left off during the 2012 regular season, scoring 42.2 PPG (17th in the FBS) and rushing for 303.4 YPG (5th in FBS).
Lynch, of course, has a lot to do with that. Through five games he's on pace for 2,671 yards and 31 TDs through the air and another 1,279 yards and seven TDs on the ground. It's not quite the nearly 5,000 total yards and 45 TDs he accounted for last year, but it's still prolific.
If anything, it's indicative of how he doesn't half to shoulder NIU's offensive load on his own. RB Cameron Stingily has 576 yards and five rushing TDs thus far, including 266 yards and two TDs against Kent State last Saturday. Another junior, WR Da'Ron Brown, has emerged as Lynch's go-to pass-catcher, with 25 receptions for 373 yards and five TDs on the season.
It's far from a guarantee that the Huskies will crash the BCS ball again. One never knows what can happen on a week-to-week basis in the unpredictable MAC. Northern Illinois will face a stern home test against Ball State on November 13th and will have a target on its back in each of its other six conference games. Additionally, significant improvements will have to be made to a defense (29.8 PPG allowed) that was an underrated yet key part of its Cinderella run last year.
And of course, just like last year, the right BCS dominoes have to fall; NIU has to finish the year in the Top 16 of the BCS standings and hope that it's ranked ahead of at least one AQ conference champion. If the season ended today, the Huskies would be ranked well behind the champions of the SEC (No. 1 Alabama), Pac-12 (No. 2 Oregon), ACC (No. 3 Clemson), Big Ten (No. 4 Ohio State), AAC (No. 8 Louisville) and Big 12 (No. 12 Oklahoma). A weak strength of schedule is only an added hindrance to climbing to the No. 16 spot or higher. (NIU could still qualify for a BCS bowl by finishing in the Top 12 of the BCS irregardless of where the AQ conference champions end up ranked.)
It would be unwise, however, to count the Huskies out. This is a veteran team led by a game-breaking quarterback, and they have previously dealt with the pressure of trying to land a BCS bowl berth. And we have an inkling that the final year of the BCS Era wouldn't be complete without some chaos in the rankings.
That's exactly the kind of music that last year's Cinderella wants to keep dancing to. As far as Northern Illinois is concerned, there's still plenty of time before midnight.
Chris Mahr is the managing editor of Lost Lettermen. His column appears Tuesdays and Thursdays. You can follow him on Twitter at @CMahrtian.

Bottom Photo Credit: Pat Lovell/USA Today Sports

&nbsp