Bielema: Focus on Winning, Not Whining
Comments
By Jim Weber
If nothing else, Arkansas first-year head coach Bret Bielema has proven himself to be one thing to SEC fans: a world-class complainer.
This will come as no surprise to Big Ten fans who watched him with disdain during his run as Wisconsin's head coach. His reputation for whining and complaining was notorious.
It started in his 10th game as a head coach, in 2006 against Penn State. After whining about a new speed-up-the-game rule that made the clock start after a ball is kicked off instead of received, he had his team intentionally jump offsides twice to run down the clock down. After the game, Bielema smugly stated, "My guess is, with the attention we've received, there may be an (amendment)."
It was the equivalent of stomping his feet and screaming until he got his way - which he did when the rule was nixed.
There was his constant badgering of officials, highlighted by the 2008 Outback Bowl loss to Tennessee when Bielema chirped, "I'm never going to schedule a game called by WAC officials again" after a missed personal foul call. (Oh, by the way, Mountain West Conference refs called the game). For the 2012 Rose Bowl, Bielema got in his complaining before the game by crying about how Oregon's fast-paced offense led to officials missing calls because the Ducks kept them from being in the right position.
Last year, he tattled on Ohio State head coach Urban Meyer to the media for continuing to recruit players that had already verbally committed to other schools, then took a shot at the Southeastern Conference in the process by saying, "We at the Big Ten don't want to be like the SEC — in any way, shape or form." (Bielema naturally backtracked on this statement after becoming Arkansas' head coach last December).
Since arriving in Fayetteville, Bielema has taken his complain game to a whole new level.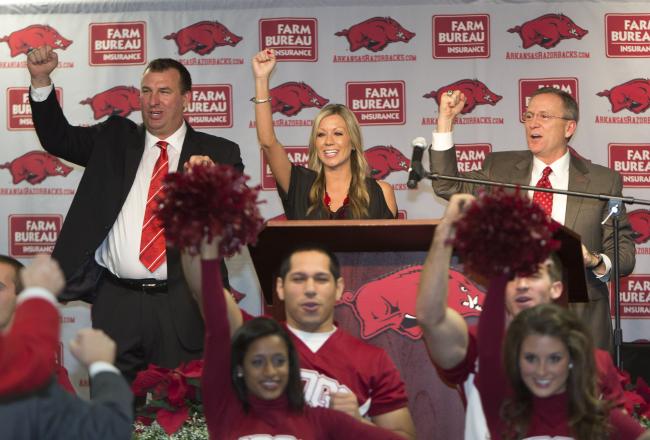 First, there was the ridiculous spat at SEC Media Days when he claimed no-huddle offenses were dangerous for defensive players, as if he was against them for the safety of student athletes instead of is own self interest.
After getting his butt whupped by Florida on Oct. 5, Bielema whined that the Florida players were "handsy" and sent plays he didn't approve of to the SEC offices.
Then came Monday, when the Arkansas head coach pulled the ultimate Bielema move by publicly complaining that Auburn did not supply full game footage from last Saturday's Florida Atlantic game; apparently the tape was missing a "Swinging Gate" play the Tigers used. Then Bielema two-stepped by saying it was no big deal because they were able to get the play on their own and that he was sure it was just a mistake by Auburn and head coach Gus Malzahn.
If it wasn't a big deal then why mention it to the press? It's clear that Bielema wanted to float the story to the media passively aggressively to raise the possibility that Auburn was being shady. It backfired, as criticism instead rained down on Bielema for tattling on another opposing coach and finding something new to whine about.
If there was a Mount Rushmore of whiners in sports, Bielema's face would be etched in stone alongside John McEnroe, Jim Harbaugh, Dwight Howard and Jay Cutler.
All this raises the question: Is this is what Bielema is getting paid almost $3 million a year for? Or does his contract's job description also include Twitter spats with fans and Florida State assistant Tim Brewster?
It certainly isn't his coaching so far, as the Razorbacks have lost five straight and the last two by a combined score of 104-7. Sure, no one expected the Razorbacks to win the SEC West this season as Bielema rebuilds the program. But they have more talent than to get embarrassed on a weekly basis in the SEC and coming from behind in the fourth quarter to beat FCS Samford.
So my advice to Bielema is to focus on coaching instead of complaining. And if you have a serious problem with another team or coach that needs to be addressed, do it man-to-man in private instead of having it play out in the media. Because all you've ended up doing in the past is make yourself look bad.
As of right now, Bielema definitely should have stayed in the Big Ten. Because at least in Wisconsin he was actually winning games and there was plenty of cheese to go with all that whine.
Jim Weber is the founder and president of LostLettermen.com. You can follow him on Twitter at @JimMWeber and @LostLettermen.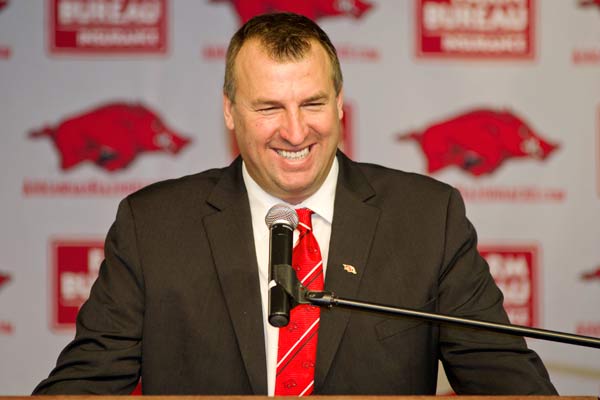 &nbsp