Big Games Won't Be Same Without Musburger
Comments
By Jim Weber
It appears that Brent Musburger's days as the lead voice of ESPN and ABC's college football coverage are numbered, to which I say, "Big games won't be the same."
Yes, there are plenty of people that will celebrate when Musburger is replaced, likely by Chris Fowler. Musburger is one of the most polarizing figures not just in sports broadcasting, but in sports as a whole. Musburger's been called a "shill," a "self-promoter" and a "wrecker of telecasts" - and that's just by one guy. Haters also call him hyperbolic, contrived and creepy. Musburger's also been labeled a jerk after his ugly divorce from CBS in 1990, after which he spouted off conspiracy theories about his exit. And there are some still furious over the fact Musburger never apologized for comparing Tommie Smith and Juan Carlos' black power salute at the 1968 Summer Olympics - an iconic moment in the Civil Rights Movement - to "black stormtroopers."
I'll admit, I once found Musburger obnoxious as well for his rampant hyperbole and hokey sayings. But like George Costanza and the "By Mennen" jingle, Musburger grew on me with time.
I'll never consider Musburger a great journalist. He tends to miss things during his broadcasts, doesn't appear overly knowledgeable about college football as a whole and seems unfamiliar with the players on the field at times. But as an entertainer, Brent Musburger is top notch. Even if you hate him, you have to admit you're always at the water cooler discussing something Musburger did during a telecast.
That's true for his corny sayings (i.e. "You are looking LIVE!") that are so legendary they spawned a Brent Musburger drinking game, his constant references to Las Vegas lines that must drive producers and suits at the NCAA crazy, proclaiming "This is for all the Tostitos, folks," awkwardly interviewing Eminem and "discovering" Jenn Sterger and Katherine Webb. I cracked up the whole week after last year's BCS title game when people debated whether Musburger was out of line for commenting on Webb's good looks. Musburger had taken an otherwise forgettable game and turned it into a week of news and created a famous - or infamous, depending on how you see it - moment in sports television.
Classic Musburger.
And just think of how many historic college football plays you can replay in your mind with Musburger's voice providing a sublime call. There's Grbac-to-Howard, Dreisbach-to-Hayes, "Holy Buckeye," Harrell-to-Crabtree, Smoker-to-Duckett and, of course, "Hail Flutie." Long before Gus Johnson came along, it felt like you were about to witness an epic game before it even started because Brent Musburger was calling it.
Musburger is one of the few big-time announcers I remember from my youth that's still active, as the likes of Pat Summerall, John Madden and Keith Jackson are long gone. (By the way, Musburger isn't senile; the teleprompter clearly had a bad script when Musburger "forgot his name" for this year's BCS title game.) I still remember him being the face of CBS and The NFL Today before many people reading this were even born. There's something about announcers you grew up with, a certain comfort, that makes you want them to call the big games the rest of your life. I won't start comparing him to radio broadcasters like Ernie Harwell, Jack Buck and Vin Scully, but how the generation before me fells about those broadcasters as how I view Musburger: Like a loveable grandpa.
And now it appears ESPN is putting him out to pasture by relegating him to the SEC Network. I don't have any inside information but my guess is he will be replaced by Fowler as ABC and ESPN's lead voice. Fowler's contract is up with Disney and he has tremendous leverage to leave for another network unless ESPN gives him more of the play-by-play duties that he cherishes. I'm a huge Fowler fan, as he's been a master at hosting "College GameDay" since 1990 and a fine play-by-play man. So while I'm fine with Fowler taking over, big games just won't be the same without Musburger. They won't start with the immediate sensationalism of "You are looking LIVE!", won't include a preview that makes every contest sound like "The Game of the Century," won't have that perfect call for the game's key play and won't fill a broadcast with plenty of moments that fill your timeline on Twitter.
In fact, this reminds me a lot of when CBS showed Musburger the door in 1990 to make way for a 30-year-old phenom by the name of Jim Nantz, even though Fowler is much older at the age of 51.
Yes, Musburger will still be visible at the SEC Network because it's "the NFL's third conference." But he won't be on Saturday night primetime anymore and he'll be taking the conference's second-tier games due to the SEC's contract with CBS.
And so it's with a heavy heart I bid adieu to Brent Musburger calling college football's biggest games; may the SEC Network be full of endless hot quarterback girlfriends.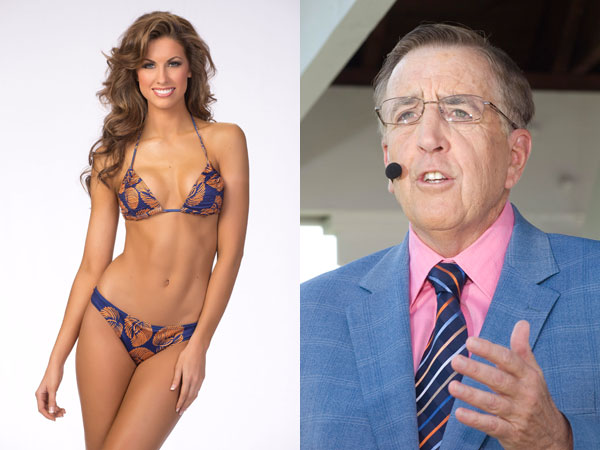 &nbsp