Ball State Fan Sign: 'We Want Bama'
Comments
Oregon fans aren't the only ones who are putting their desire to see their team play Alabama out in the open for all to see.
During Ball State's 44-24 victory over Central Michigan on Wednesday night, ESPN cameras caught a Cardinals fan holding up a sign that read"We Want Bama" (just like the t-shirts that the aforementioned Oregon fans recently made).
While Ball State's 9-1 record is impressive, their BCS aspirations ended the moment they lost to North Texas back in September. If anything, MAC West rival and 18th-ranked Northern Illinois - who hosts the Cardinals next Wednesday - has much more of a case to make this its rallying cry.
Still, we love the unbridled enthusiasm.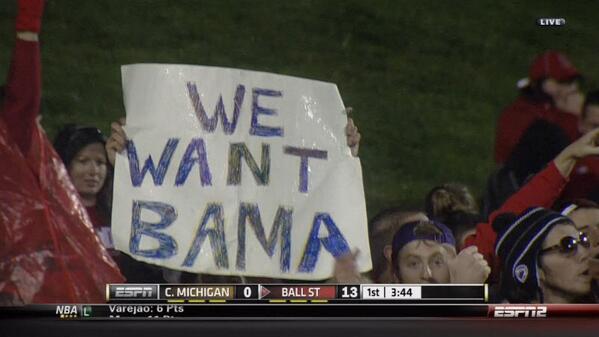 &nbsp