Auburn Signee Wears Custom Tigers Shirt
Comments
Upon announcing on Wednesday that he would be attending Auburn, DT Montravius Adams — the nation's No. 3 prospect at his position according to Rivals — demonstrated that he's ready to bring the Tigers back to the top of the college football world and, apparently, the 1980s.
Adams briefly doffed an Auburn cap before removing his sweater to reveal a custom-made shirt — clearly from one of those stands you see at a mall — that had "Auburn" and "Tigers" painted in flowing, blue-and-orange letters and flanking a picture of himself smiling and wearing an Auburn jersey.
Fast-forward to the 1-minute, 10-second mark of the video below to watch a "shirt revelation" that ESPN was wise to cut back to.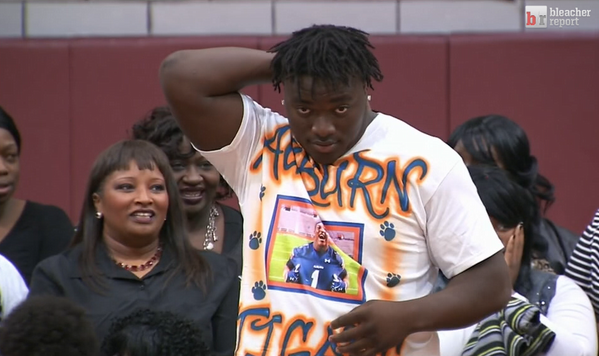 &nbsp