Arizona State Football: Team Puts Pac-12 Championship Trophy Sticker on Helmet (PHOTO)
Comments
Helmet-centric motivational tactics are all the rage as the summer of 2014 winds down. Arizona State head coach Todd Graham continued the trend by having the Pac-12 championship trophy slapped on the back of each of his player's helmets.
The Pac-12 Championship Trophy is on each ASU helmet. @CoacGrahamASU's idea, of course. http://t.co/BVgEo5mRtC pic.twitter.com/dvlppCiduh

— Pac-12 Networks (@Pac12Networks) August 5, 2014
Pac-12 championship trophy sticker is still on the back of the practice helmets for those interested pic.twitter.com/jk9ccPVfKr

— House of Sparky (@HouseOfSparky) August 1, 2014
The Sun Devils are using the emblem presumably as a reminder of the glory they kind-of-but-not-so-narrowly missed out on last season and aspire to achieve in 2014.
ASU shocked everyone with an 8-1 Pac-12 campaign and a berth in the conference title game. But they were shellacked by Stanford, 38-14, and figure to be in a tier below the Cardinal, Oregon and UCLA this season.
But hey, whatever works.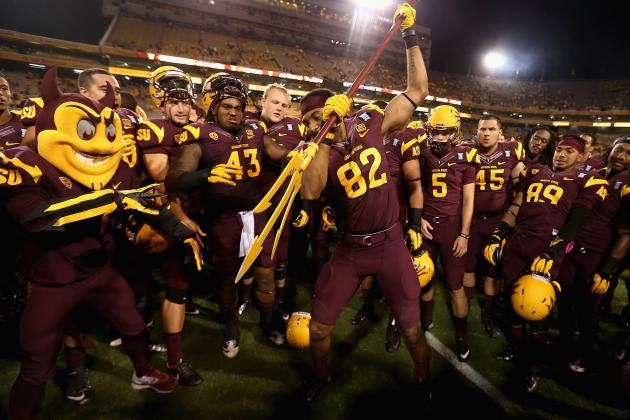 &nbsp