Double Trouble: Top 10 Running Back Duos
Comments
A pro-style rushing attack has featured one running back and his lead blocker in their defined roles. However, NFL teams - and we know it's a copy-cat league - now have been splitting the carries between the featured backs for a number of reasons.
In college football? It's been happening for years. There have been a number of high-powered offenses that, instead of spreading it out and using a fast-break attack with the passing game, chose to run the ball down opponents' throats - times two.
Who are college football's best running back tandems? We compiled a list based on raw numbers, their roles on winning teams, how well the two complemented each other and collective production.
Will Wisconsin's Montee Ball and James White be on this list one day?
.
10. Thurman Thomas & Barry Sanders, Oklahoma State (1986-87)
This duo is about name recognition. Sure, they were on the roster together, but they didn't perform in tandem or as equals. Thomas was the starter and Sanders the backup. In 1987, Sanders rushed for 603 yards, compared to 1,613 from the All-American Thomas. What did Sanders do when handed the keys? He won the 1988 Heisman Trophy by rushing for an NCAA single-season record 2,628 yards with 39 touchdowns. Maybe, these two future NFL Hall of Famers were better off on their own.
.
9. Floyd Little & Larry Csonka, Syracuse (1965-66)
Little and Csonka both went on to become Pro Football Hall of Famers, just as Thomas and Sanders did. But it's about what they did in college that gives them a prominent spot on this list. Little rushed for 1,065 yards in 1965 and 811 in 1966, while Csonka added 795 and 1,012. There was symmetry to the careers of these two, with each taking turns being the team's leading rusher in the aforementioned seasons. They also had company in the backfield in current Giants head coach Tom Coughlin, who was more of a receiving back. Heck, Little and Csonka could more than handle the running.
.
8. Mark Ingram & Trent Richardson, Alabama (2009-10)
You knew this tandem was formidable right off the bat in 2009, when Richardson was a freshman but provided 751 yards and eight touchdowns toward the Crimson Tide's 2009 national championship season. What did Ingram do? He had 1,658 yards, 17 touchdowns and one Heisman Trophy as the clear-cut starter. In 2010, both played 11 games and split the carries - 158 for Ingram and 112 for Richardson - but neither went over the 1,000-yard mark. But hey, they both averaged over five yards per rush.
.
7. Roger Craig & Mike Rozier, Nebraska (1981-82)
Craig and Rozier were a true rushing team. The pair combined for 4,278 total yards and 31 TDs in their two seasons together in the backfield. However, not all of that time was a share of the lead back's duties. Rozier showed outstanding promise as a sophomore in 1981 - his first year with the Huskers - and eventually unseated the elder Craig, who moved to fullback in 1982. Rozier went on to win the Heisman in 1983 - after Craig had departed. Both men were Pro Bowl players in the NFL and Craig finished his time with the 49ers with four Pro Bowls and three Super Bowls. Not bad for a second option in college.
6. Ronnie Brown & Cadillac Williams, Auburn (2004)
In 2003, Auburn's backfield was a three-headed monster that included current New York Giants back Brandon Jacobs, who was clearly No. 3. He took the hint and transferred to FCS school Southern Illinois, leaving Brown and Williams to pair up for the Tigers' undefeated season in 2004. That season, Williams rushed for 1,236 and Brown added 928, and the two combined for 20 TDs - with Williams in the role as the workhouse back and Brown the more versatile runner. Sure, there were more prolific duos, but Williams and Brown were one of the most effective.
5. Laurence Maroney & Marion Barber III, Minnesota (2004-05)
Here's a bruising combination fit for the Big Ten. Still, Barber III and Maroney were an oddity in modern-day backfields. Usually, running backs that share carries have contrasting style - as in, thunder and lightning. But these two Gophers both love to run between the tackles and prefer to finish runs by inflicting punishment instead of absorbing it. Each ran for over 1,000 yards in consecutive seasons - the first-ever pair to do so. In fact, they gained 4,934 yards between them in those two seasons. But somehow, the Gophers only had a 2004 Music City Bowl victory to show for it. Gopher football, everyone!
.
4. Eric Dickerson & Craig James, SMU (1979-82)
"The Pony Express" is perhaps one of the most-famous running back duos of all-time. They represented the last great era of SMU football, a program that has been stunted by the NCAA's "death penalty." But in their hey-day, Dickerson and James led the pack for the powerful Mustangs, rushing for a combined 8,193 yards in their four years together. That's an astounding number. But the contributions from James are even more shocking considering his teammate, Dickerson, proved to be one of the greatest NFL running backs of all-time. Put it this way: You know you have a great pair of backs when Dickerson hasn't earned all the carries.
3. Darren McFadden & Felix Jones, Arkansas (2005-07)
The Razorbacks' lighting and more lightning backfield from 2005-07 is nearly unfathomable. McFadden and Jones were so prolific that they forced Peyton Hillis, the current starting running back for the Cleveland Browns, to play fullback, tight end and, sometimes, wide receiver. Both currently start in the NFL - Jones with the Cowboys and McFadden with the Raiders - and have become dynamic talents. But their time in college will serve as the ultimate boost to their resumes. They finished with over 7,500 yards and notched 61 TDs during their tenure together. As seniors In their final season, they nearly combined for 3,000 yards rushing (McFadden 1,830, Jones 1,162). No, that's not a misprint.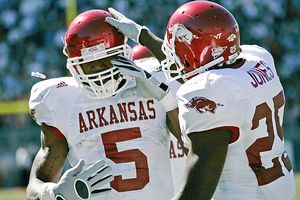 .
2. LenDale White & Reggie Bush, USC (2003-05)
These two are the best by the numbers. They combined for 3,042 yards in 2005, an NCAA record, and compiled 99 career touchdowns - also an all-time mark. Bush won the Heisman in 2005, and the Trojans won the national championship in 2004 and lost in the title game a year later. In '05, they combined for a ridiculous 40 rushing touchdowns. What else can be forced onto the collective resume of this pair? Well, they were the perfect complements for each other, with Bush being a human highlight reel in the open field, while White was the short-yardage sledgehammer. Even so, they couldn't top ...
.
1. Doc Blanchard & Glenn Davis, Army (1944-46)
How could it be any duo other than "Mr. Inside" (Blanchard) and "Mr. Outside" (Davis)? With Army in its glory years, Blanchard and Davis formed a two-headed monster that helped the Black Knights go 27-0-1 in three seasons and win two national titles. Their rushing stats aren't mind-boggling (Blanchard won the Heisman in '45 with 718 rushing yards and Davis won it a year later with 714 rushing yards), but they did combine for 37 touchdowns in 1945. And keep in mind this was a different era, they barely played in second halves and Army only played nine games in 1945. As their coach Red Blaik once put it, "There is no comparing them with anyone else. They were the best."
&nbsp