Say What? College Football's 2011 FBS All-Name Team
Comments
With college football season quickly approaching, we skimmed through FBS football rosters to find some of the sport's best names. No, we didn't make these up. We swear. So, here's college football's 2011 FBS All-Name Team.
.
OFFENSE
.
QB: Benton "Munchie" Legaux (Cincinnati)
We're not sure how he got the nickname "Munchie," but we imagine he has a big appetite. Throw in a Cajun last name, and you have a brilliant recipe of a name.
.
RB: Isi Sofele (Cal)

For those scoring at home, it's pronounced "EE-see so-fell-AY." We'll see how easy the Pac-12 is for Isi this year as the starting running back for a woeful Cal offense. Bay area headline writers will certainly be rooting for him and the endless headlines he can provide such as, "Isi Does It."
.
FB: Joel Ossom (Oklahoma)
Imagine every time he makes a reservation at a restaurant and asks for a table of two for "Ossom." Let's hope Mr. Ossom goes all out and changes the spelling to "awesome" just to make sure people realize how "ossom" he is.
.
WR: Uzoma Nwachukwu (Texas A&M)
We love any name that gives broadcasters a hard time. And this is one certainly qualifies. This guy has a first and last name with a combined three appearances of the letter 'u.' Oh, and his nicknames "EZ" and "NWA" are pretty awesome too.
.

WR: Curtric "Spiffy" Evans (Boston College)
Why name your child Curtis? That's so lame. So Curtic's mom did him a favor and altered one letter that changed everything, kind of like legendary former college basketball player Fennis Dembo. Oh and check out his photo. Is there any wonder why his nickname is "Spiffy"?
.
TE: Jake Stoneburner (Ohio State)
We can't help but think of Stoneburner's ancient ancestors. We like to imagine his forefather cavemen rubbing rocks together to make fire. Even if they didn't, we're sticking to that story.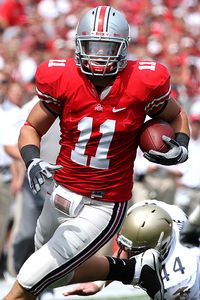 .
OL: Dallas Butts (Navy)
Oh, come on. This isn't a real name, is it? Apparently it is. Call us adolescent, but Mr. Butts gets an automatic spot on this list. Doesn't really seem like a fit for the straight-laced Naval academy, though.
.

OL: Spencer Drango (Baylor)
This sounds like a villain from "24." Can you see Jack Bauer trying to thwart an evil plot masterminded by Mr. Drango? We can. OK, Spencer's a bit docile, but we like the name nonetheless.  
.
OL: T-Bob Hebert (LSU)
Related to T-Pain? Nope. Actually, T-Bob's real name is Bobby Joseph Hebert III, and he's the son of former New Orleans Saints and Atlanta Falcons quarterback Bobby Hebert.
.
OL: Thor Jozwiak (South Florida)
Yes, as in the god of destruction. We don't know about you but if you don't have someone named Thor on your list of top names, you just aren't doing your job. And we're glad Thor is an offensive lineman; a pesky return specialist just wouldn't have seemed right.
.

OL: Joe Looney (Wake Forest)
Most football coaches would love to have an offensive lineman with a bit of a mean streak. The Demon Deacons have one that's literally looney. Now, if only Thor and Looney were teammates ...
.
OL: Manase Foketi (Kansas State)
This is just a beautiful name. No jokes, no poking fun. If we were in the broadcast booth, saying this guy's full name at all times is a must. His parents, Salesi and Lina, round out a well-named clan.
.
.
.
DEFENSE
.
DL: Stephen Ruempolhamer (Iowa State)
We're sure the Rumpelstiltskin jokes are endless. Oh, that's not the type of thing that football players would joke about? Well, c'mon men of the gridiron, starting including ancient fairy tales into your locker room ribbing.
.
DL: Jose Jose (UCF)
He lost his scholarship last year after being charged with - but not convicted of - aggravated assault with a firearm and carrying a concealed weapon. Now, he's back with the Knights after a stint in junior college. We don't want to pile on but, dude, your first and last names are the same. The only thing that could make this better is if his first name was "Noway."
.
DL: Gods-Power Offor (Wake Forest)
He goes by G.P. but Gods-Power was given his name because his parents felt the birth was through Gods-Power. We wonder if opposing quarterbacks will feel the same when he is driving them into the ground.

.

DL: Silverberry Mouhon (Cincinnati)
His first name sounds like a new flavor of Vodka. Can't you see Diddy coming out with Ciroc: Silverberry? In fact, if we see him marketing it on a commercial, we're suing.
.

LB: Yourhighness Morgan (FAU)
This is just too easy: Move over LeBron, Morgan is the real king of South Florida. We demand the cover of next year's FAU media guide to be Morgan in a throne with a crown on his head.

.
LB: Vontaze Burfict (Arizona State)
One of the best defensive players in the nation, Burfict also has one of the finest names. Vontaze is a name that just jumps out at you. It's no wonder the linebacker is known for nuclear temper. We've heard rumors of "Don't Taze Me, Bro" t-shirts and want one immediately. Tank Carder sadly has to settle for second team since "Tank" is a nickname.
.
LB: Boyblue Aoelua (New Mexico State)

Really? We'd be feeling blue too if we had to play for woeful New Mexico State.
.
DB: Wave Ryder (Navy)

Doesn't this sound like a sequel to the Hollywood movie "Soul Surfer"? We guess when you have a last name Ryder and you are from Honululu, your parents are just obligated to name you "Wave." We love it.
.
DB: Happiness Osunde (Texas Tech)
He was formerly known as Junior Osunde, but we like the new moniker. How can we make a joke about a guy who wants to make it known that he's so happy? We won't, even if he doesn't look very happy. Now it's only fair to name his first born, "Hakuna Matata."
.
DB: Bacarri Rambo (Georgia)
This is shaping up to be a great college football season for already; there are guys named Thor and Rambo who will be suiting up this fall. Let's hope there's a Judge Dredd playing high school football somewhere.
.

DB: Konockus Sashington (North Texas)
The last name is so regal; it really doesn't seem to go with Konockus - but what does? Somehow, we love the combination.
.
SPECIAL TEAMS
.


K: Bobby Stonebraker (Oklahoma State)

His full name sounds like a nickname a bunch of guys would give their buddy. For the confrontational friend, it's "Tommy Tough Guy." For the guy that likes to crack jokes about others? That'd be Bobby Stonebraker.

.

P: Kirby Van Der Kamp (Iowa State)

The good thing for Kirby? His status as an FBS football player helps him with the ladies. His name certainly won't. I can hear it now: "I'm dreaming of one day being Mrs. Van Der Kamp."


&nbsp