LB Manti Te'o a Fish Out of Water in South Bend
Comments
Rising junior linebacker Manti Te'o is a Mormon from Hawaii; Notre Dame is a Catholic school in Indiana. The two worlds noticeably clash, but Te'o has found a way to make South Bend like home.
Te'o went to Kahuku High School on the north shore of Hawaii in 2005 before transferring to Punahou School, a private high school in Honolulu best known as President Barack Obama's alma mater.
The 6-foot-2, 255-pounder put himself on the map with an astonishing junior season at Punahou in 2007, during which he played on both sides of the ball. He recorded 90 tackles and five sacks, while also adding 400 rushing yards and 10 TDs  as a running back.
Needless to say, schools all over the country were interested in Te'o as he entered his senior year, a year in which he amassed 129 tackles and 11 sacks.
The list of big-time schools grew for Te'o, who was considered one of the most sought-after recruits in any sport in Hawaii history. He led Punahou to its first-ever state title and was named the state's Gatorade Player of the Year two years in a row.
Te'o narrowed his college choices to Notre Dame and USC - a Catholic school and a glamorous private college in Los Angeles. Neither seemed like a perfect fit for a reserved follower of the Church of Latter Day Saints.
The Trojans have a history of welcoming Polynesian players into their program, but are not usually a destination for LDS members. After all, USC is a NFL factory that churns out top talent ever year.
That's not always a great fit for Mormon players because when an LDS member turns 19, they are expected to go on a two-year mission to parts of the world that haven't been exposed to the 189-year-old faith.
Despite that, Te'o decided that he was going to go to USC after making a visit to its scenic campus.
"I knew it was going to take an act of God to change his mind," Brian Te'o, Manti's father, told the Chicago Tribune. "And lo and behold ..."
Te'o said that it was God who told him that he should go to Notre Dame instead.
According to the Chicago Tribune, Te'o prayed on the decision and, immediately after the prayer, was alerted to an e-mail from an Irish assistant coach.
Then, on the same day, one of his high school administrators suggested he attend Notre Dame. He took those as a signs from above and never looked back.
However, he said that if it wasn't for former Irish coach Charlie Weis, he never would have come to South Bend.
"Charlie Weis is a great man," Te'o told Sports Illustrated in 2009. "On my official visit, he took me to the LDS church over there. They're very welcoming of athletes from different faiths."
He decided to stay when Weis was fired, but that doesn't mean he doesn't get a bit homesick.
"Actually now, I really have to think: 'Oh, I'm not in Hawaii,' " Te'o told the Tribune. "Of course, when I go down the street, I know I'm not in Hawaii when I don't see mountains or the ocean.
"Slowly but surely, I had to literally tell myself: This is my reality. This is my life. This is how it's going to be. So I best just accept it instead of fighting it. Instead of fighting it and saying, 'No, this is never going to be home' - just make it home."
Of course, Teo's decision has also come with plenty of drama.
While BYU is used to losing out on top recruits to Southern California schools like USC and UCLA, many Cougar fans had a hard time swallowing the fact a Mormon player would not only go to a bitter BYU rival, but also to the best-known Catholic school in America. BYU fans don't appreciate when they feel a player "sells out" like former basketball star Chris Burgess, who picked Duke over BYU over a decade ago.
The reaction from then-basketball coach Roger Reid at the time? Allegedly telling Burgess he had let down 9 million people - the number of members in the LDS Church.
And Te'o also received some backlash from Mormons who thought that it was wrong of the linebacker not to go on a Mormon mission because he was involved in work in South Bend instead. As for those in the Midwest, some don't appreciate the fact that Te'o invites Irish players to join him at the LDS Church and acts the part of a missionary while in school at a Catholic institution.
Said Tom O'Toole of RenewAmerica.com about the Chicago Tribute story on Te'o: "... the truth hits you harder than a Te'o tackle. Manti is not going on a "traditional Mormon mission" to the uneducated in Africa or South America because the LDS reps figure the charismatic Polynesian has a better chance of converting the uncatechized Catholics in South Bend."
Fortunately, none of the drama appears to have affected Teo on the field. He is the leader of the Irish defense who finished with 129 tackles last season and is projected as a first round selection in next April's NFL draft. And knowing how Teo views things, he probably perceives the criticism he's faced as a test from God that will only make him stronger.
But if there's one thing the case of Manti Te'o has proven, it's that college football is a religion of its own that doesn't mix well with others.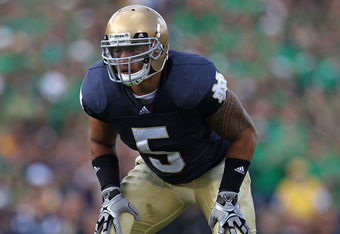 &nbsp