5 Quarterbacks Miami (FL) Has Let Escape South Florida
Comments
It might be hard to remember now, but Miami (FL) was once "Quarterback U." Names like Jim Kelly, Bernie Kosar, Vinny Testaverde and Steve Walsh took snaps in Coral Gables, where business certainly boomed.
But ever since the Ken Dorsey-led 'Canes fell to Ohio State in the 2003 National Championship game, "The U" has struggled to put a star under center - and subsequently fallen from a college football powerhouse to mediocrity. The once-fruitful quarterback farm has been barren for over a decade, and it's worth revisiting the eventual QB stars Miami let slip through its cracks in South Florida.
Thad Lewis (Class of 2006)
He wasn't the shiniest recruit coming out of Hialeah-Miami Lakes High School, but Lewis was looked at by places like Texas A&M, West Virginia and Clemson. Miami took a pass and two Second Team All-ACC honors later, would come to regret it.
Lewis shined for Duke, setting school records for career touchdowns and passing yards. While he piloted some lousy teams, there's no doubt he was an individual talent, as he's currently a back-up for the Buffalo Bills.
Geno Smith (Class of 2009)
Smith was one of the Top 150 recruits in the country while playing at nearby Miramar High School just north of Miami, but committed to West Virginia thanks in large part to the fact his high school coach Damon Cogdell is a Mountaineers alum.
While Miami endured the rollercoaster Jacory Harris years, Smith put up monster numbers in WVU's attack, combining for over 8,500 passing yards and 73 touchdowns in his last two years in Morgantown.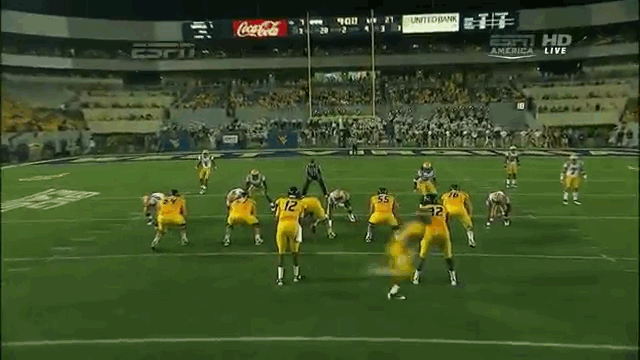 Denard Robinson (Class of 2009)
Robinson played high school ball at Deerfield Beach, less than 50 miles up the road from "The U," but the Hurricanes didn't even recruit "Shoelace," who went on to star and set several school, Big 10 and national records at Michigan.
In 2010, he became the first NCAA football player to throw and rush for 1,500 yards in a season and set a Big Ten single-season record with 4,272 yards of total offense. Granted, Miami would have had to have run the read-option for "Shoelace" to have been successful with the 'Canes, but missing out on Robinson and Smith in the Class of 2009 doubled the pain of Jacory Harris' struggles.
Teddy Bridgewater (Class of 2011)
A five-star recruit from Miami Northwestern High School, Bridgewater decommitted along with several other recruits after head coach Randy Shannon was fired at the end of the 2010 regular season. Bridgewater opted for Louisville, where he piloted the Cardinals to two Big East titles and an upset victory over Florida in the 2013 Sugar Bowl along with game MVP honors.
It all came depressingly full-circle for the Hurricanes, who were crushed by Louisville in the 2013 Russell Athletic Bowl, 36-9, as Bridgewater out-passed Miami's Stephen Morris 447 yards to 160 in his final college game.
Rakeem Cato (Class of 2011)
Cato set several Miami-Dade County passing records at Miami Central High School, but it wasn't enough to catch the eye of the Hurricanes. Cato was recruited by Florida International, Cincinnati and Marshall, his eventual choice.
In the last two seasons, Cato has thrown for 76 touchdowns, rushed for seven more, and has thrown for over 8,100 yards, including tying the Marshall record for passing TDs in a season with 39 in 2013. With two bowl victories under his belt, Cato is poised to make even more noise as a senior, who many believe is a dark horse Heisman candidate.
Meanwhile, "The U" is deciding between two freshmen quarterbacks, Kevin Olsen and Brad Kaaya, and Kansas transfer Jake Heaps to start under center. And once again, Hurricane fans must look at the talent that escaped South Florida and be asking themselves, "What if?"
&nbsp