New Missouri Football Unis Revealed?
Comments
Most football programs change their uniforms and helmets when there is a big change like a new head coach and Missouri is undergoing a makeover for its entry to the SEC.
The school is planning to reveal its new uniforms on April 14. But to whet the appetite of fans, Missouri allowed current Philadelphia Eagle and former Mizzou standout receiver Jeremy Maclin to get a sneak peek.
Check the video below, which shows only Maclin's reactions to the uniforms along with quick cutaways to blurred views of the threads. Luckily for those who can't wait, an intrepid Missouri fan slowed down the video and provides screen grabs of what he could glean from it - including what may be a good look at the Tigers' new helmet that features the roaring Tiger logo instead of the traditional block "M" that the team has worn since 1971.
We know the block "M" has a long tradition with the school but we have to admit it was a pretty boring look. The new matte black helmet and large, bright yellow tiger is a big upgrade in our opinion that looks like a Nike Pro Combat helmet that actually works and isn't massive overkill. From what we can tell, the new uniforms are going to be highlighter yellow, which could be a little over the top and a step back from the current unis that are sharp.
We're skeptical on the uniforms but give the makeover an overall A-.
Enjoy what you can see below and compare to the current look.
.
New Missouri Uniforms
.
Old Missouri Uniforms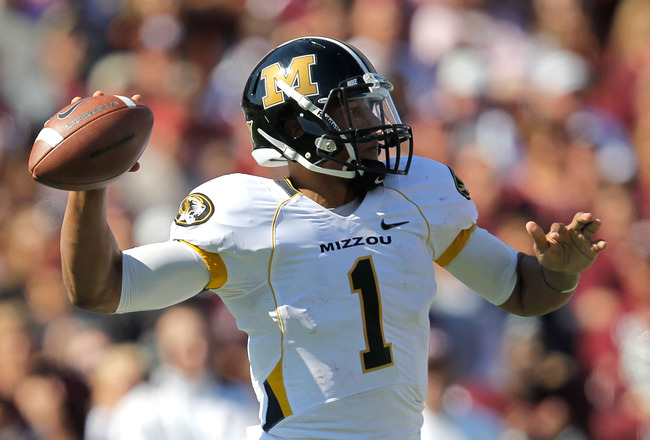 &nbsp